Dr. Kamiar Alaei: The New Department Chair of Health Science
Image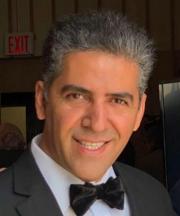 The College of Health and Human Services (CHHS) is excited to announce that
Kamiar Alaei
, MD, MPH, MS, DrPH, MSt, will be joining CHHS as the Department Chair of Health Science starting July 1, 2020.
"I am so honored and pleased to join the Health Science Department and the college of HHS," Dr. Alaei said. He continued, "This is especially so considering it is during this critical time that the global community has been significantly impacted by COVID-19. Across the world, all lives and careers have been influenced by the pandemic. The role and importance of health are more tangible for everyone and appreciated by all sectors. Under the visionary leadership of Dean Lounsbery, I am very much looking forward to applying my knowledge and global networks in global health and human rights in all our Departmental efforts and in collaboration with the University community."
Dr. Alaei is a global health policy expert who has been working in conservative social settings for two decades. He has been the co-President of the Institute for International Health and Education working in several countries in the Middle East and Central Asia. He studied medicine, epidemiology, international health, health policy, and international human rights law at prestigious universities such as Harvard and Oxford.
He and his brother Arash co-founded the first 'Triangular Clinic' for three target groups in Iran (drug users, HIV patients, and STD cases), documented by the World Health Organization as a 'Best Practice Model'. 
In recognition of his work, Dr. Alaei was awarded the following:
Dr. Alaei has authored and co-authored numerous peer-reviewed journal articles in prestigious publications including the Lancet Global Health, the British Medical Journal and AIDS. He has been featured and interviewed by major academic journals such as Nature, Science, and The Lancet.
We look forward to the expertise and experience Dr. Alaei will bring to CHHS and the Department of Health Science at CSULB.
"Dr. Alaei will bring a wealth of leadership and practical experience in global and community health equity and social justice to the Department of HSC," CHHS Dean Monica Lounsbery said. "We are delighted to welcome him to the BEACH!"