CHHS Grad Attends Disney Imagination Campus 50 Teachers Celebration
Image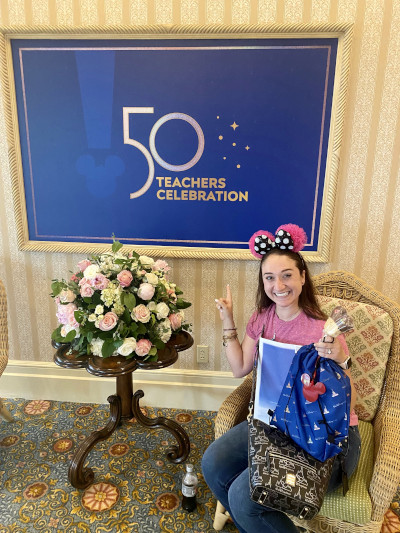 Rachel Posteraro graduated from CSULB in 2020 (B.S. in Kinesiology – Physical Education/Teacher Education with a Minor in Dance) and was one of 50 teachers chosen to attend the 'Disney Imagination Campus 50 Teachers Celebration.' This special event and conference took place over Memorial Day weekend at Walt Disney World, celebrating their 50th anniversary.  
To enter the contest, Rachel had to submit a short essay describing how she encourages students to use their imagination to creatively solve problems. Rachel decided to write about an impactful student teaching experience she had while working on her teaching credential.     
Rachel recounts teaching her students about the five elements of dance (shape, space, time, force, and flow) and how to create a dance that incorporates those five elements. She asked her students to submit a video, drawing, or a paper expressing what they learned during this lesson. Like most teachers during the pandemic, Rachel taught many of her classes over Zoom and remembers working with a particular non-verbal student. She was not sure if the student was able to grasp the entirety of the lesson, but when he submitted his video, the student was able to convey everything that Rachel had taught during her classes.  
Rachel recalls the emotion she felt watching that video with her teaching mentor. "The student may not have been able speak, but he was able to show me that he could express himself through movement which encompasses my entire teaching philosophy -- that dancing is for everybody." Rachel emphasized that the joy of dancing and movement is for everyone regardless of age, gender, race, or ability level.   
Image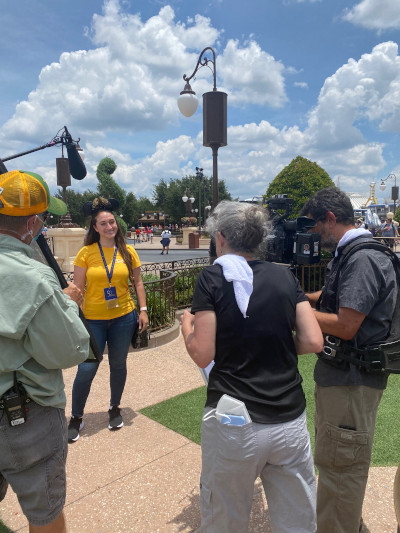 At the conference, Rachel met educators from all over the country and got to experience inspiring sessions led by Disney leaders and imagineers and attended special entertainment events at the park, including a celebratory parade at Magic Kingdom Park. Rachel is passionate about the arts and loved that the conference highlighted creativity and innovation.  
Rachel made lasting memories and bonded with fellow teachers at the 'Disney Imagination Campus 50 Teachers Celebration' and will apply everything she learned to her current role as an Adapted PE teacher for the Anaheim Union School District.  
"This was truly a once in a lifetime experience, and I'm so grateful!"