2020 Faculty Stipends Announced
Ethics Across the Curriculum and Research Stipends Awarded to 19 CSULB Faculty
The Ukleja Center for Ethical Leadership at California State University, Long Beach is providing students from academic majors as diverse as dance, finance, recreation and leisure studies, nursing, mechanical and aerospace engineering, and sociology with essential ethical decision-making tools before entering the workforce.
Through one of its key initiatives, Ethics Across the Curriculum, the Ukleja Center offers $3,000 stipends to faculty who integrate a 3-hour ethics module into their courses. By selecting recipients from 5 colleges – Arts, Business, Engineering, Health and Human Services, and Liberal Arts – the Ukleja Center is truly enhancing the integration of ethics across the campus.  In addition, the center has begun offering $5,000 faculty stipends for original ethics research.  Prior stipend recipients served on the two proposal review and selection committees chaired by Danny Paskin and Gwen Shaffer.
Image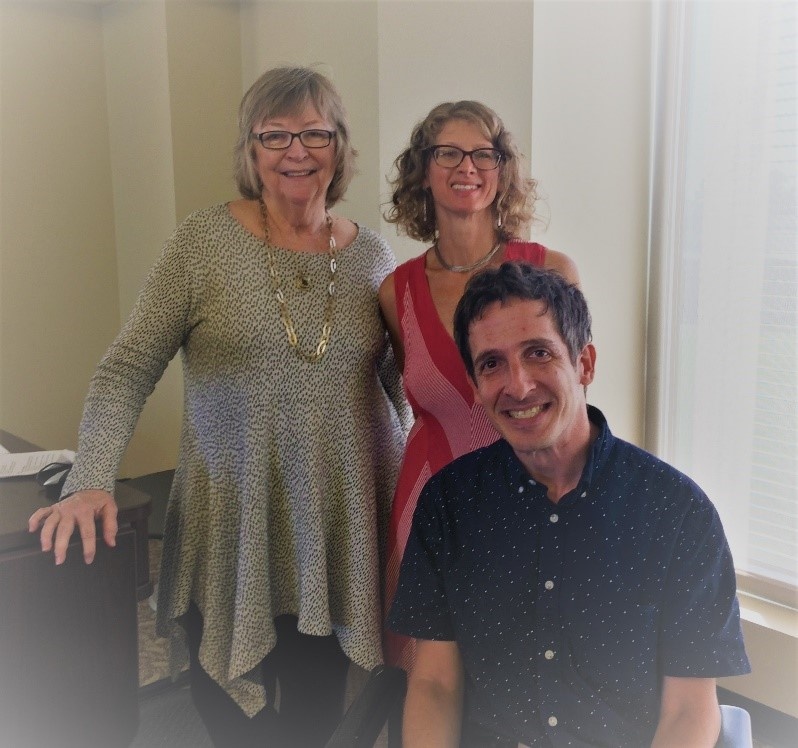 President Jane Close Conoley with Gwen Shaffer and Danny Paskin
The 17 faculty members receiving 2019-2020 pedagogical stipends are:
Rebecca Bryant – Ethical Conduct in Dance Pedagogy: Touch and Consent
Katie Dudley – Just Relax, You're on Vacation: Ethical Issues in Tourism
Laura Gonzalez – Ethics in Finance: Self-Regulation and Moral Malleability
Barbara Grossman-Thompson – Strings Attached?: The Ethics of Lending in International Aid
Maryam Haddad – Teaching Ethics to Junior Chemical Engineering Students
Kent Hayward – An Introduction to Ethics for the Beginning Filmmaker
Jeff Janisheski – Ethical Directing: Developing a Code of Ethics for Theatre Directors
Matin Lackpour – An Introduction to Ethics in the Engineering Profession
Chungsup Lee – Code of Ethics in Recreation Therapy 
Rezvan Ramezani – Ethics in Engineering
Michelle Taylor – Putting a Stop to Preschool Suspension and Expulsion: Ethical Considerations for Working with Young Children
Sarah Taylor – Ethics and Family Violence: Considerations for Family Life Educators
Suzie Weng – Ethics in Integrated Healthcare
Daniel Whisler – Just Because We Can, Doesn't Mean We Should: A Foundation of Ethical Engineering
Jake Wilson – Ethics in Environmental Sociology
Debra Windle – Ethical Considerations for the Professional Nurse in a Changing Health Care System
Ronnie Yeh – Teaching Global Business Ethics in the Hospitality Industry
This year's ethics research stipend recipients are:
Michelle Barrack – Knowledge of the Ethics of Dietary Supplements and Related Intake Behaviors among a Multiethnic Sample of University Students 
Kristina Lovato – Ethics and Care: Addressing the Health and Mental Health Needs of Latinx Families Impacted by a Deportation-Related Family Separation
Over 125 Ethics Across the Curriculum and Faculty Ethics Research stipends have been granted by the Ukleja Center since 2005.  All CSULB colleges and disciplines are invited to participate and lecturers, as well as tenured faculty, are encouraged to apply.  The next application deadline is March 1, 2021.
The Ukleja Center for Ethical Leadership offers training to enhance the integration of ethics in everything we do.  It focuses on a three-pronged approach to applied ethics – education, university research, and community engagement – to equip people with the transformational power of ethical leadership.
# # #
Contact:           Janey Roeder, Director