Business Professional Certificate (BPC)
Attend 14 workshops to receive a certificate of completion. 
The Business Professional Certificate (BPC) is available and open to all grade levels. 
Students are able to join at any time by completing the SCPD Application. Once the SCPD Application is complete, students are automatically enrolled into the BPC program.
In order to reserve a seat and attend a BPC workshop, students must RSVP on BeachSync.  Walk-ins are always welcome, as long as space is permitted.
The BPC Certificate is awarded to students who successfully fulfill the requirements of the program, which is attending 14 workshops by the time they graduate.
IMPORTANT INFORMATION
Image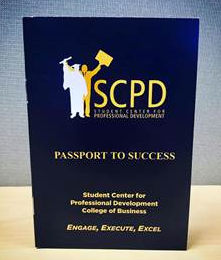 Students are responsible for ensuring that their activities are properly recorded in their Passport and in the SCPD office to ensure proper certification award. The SCPD office maintains a database of student activities to ensure that commitments are being kept and it is important that this database be accurate.
Do not lose your Passport. It is a record of your achievements. You will be charged $25.00 for a replacement passport.
Professional development workshops are also sponsored by other campus organizations and sometimes cover the same or similar topics. Some of these organizations include The Leadership Academy, and Career Development Center. SCPD will give students credit for attending workshops sponsored by these organizations if they are similar in content to workshops provided by SCPD.
Other workshop substitutions include Community Service, an Art Event, Ethics at the Beach (UCEL event), or the COB-493 Internship Course.
In order to receive credit for a workshop substitution, a student must obtain approval from the SCPD Program Coordinator in advance.
Please be aware that workshop topics are subject to change, as SCPD is constantly working to enhance the BPC program to best prepare students for the business world.
SCPD Orientation
Behavior-Based Interviewing Skills
Business Etiquette
Conflict Resolution
Effective Job Search Strategies
Elevator Pitch
Financial Planning
Get Your Resume Noticed
How to Negotiate for the Job You Deserve
How to Reach Your Goals
Leadership in the Workplace
Mission, Vision, Values
Mock Interviews
Networking & Social Media
Public Speaking
Real Talk; Grades Aren't Everything
Teambuilding
If the applications are closed the Form will not be accepting your information and you will see a message regarding this application being closed.