Staff Spotlight: Nupur Shah
Image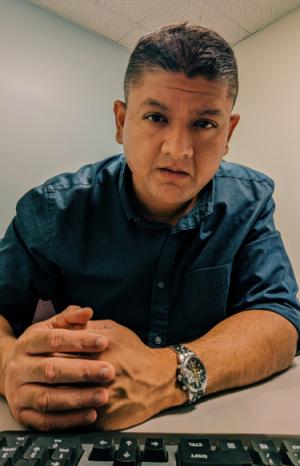 Nupur you've been with Cal State Long Beach for over 15 years. Tell us about the path that brought you here.
I started working at CSULB in 2000 as a student assistant at the Technology Help Desk while working on my BS in Computer Science. After graduating in 2005, I started working as a Senior Web Architect at the College of Business. I saw a great opportunity to get an MBA. I obtained my MBA in 2011 and shortly thereafter I became the Head of IT for the College of Business. The energy and the mission of this university are what's keeping me working here.
What does it mean to you to be a part of the College of Business and support student success via IT?
Every day is a different challenge and an opportunity to help students and faculty achieve their goals. We are currently living in challenging times, but helping faculty and students adjust to new technologies in order to provide quality education makes it all worth it. We continuously seek out new ways of delivering instructional material to make teaching as seamless as possible. IT is in a unique position as we all heavily rely on it, but we still need to make sure that IT does not get in the way of delivering excellent education to students.
What do you hope students take away from their time at COB?
Aside from learning formulas and theories, I really hope students get the full experience of making lifelong friendships and connections. I always say there is so much to learn inside and outside of the classrooms! Paths aren't always clearly defined when it comes to personal growth and development. The diverse student population here at CSULB, particularly at the College of Business, really helps carve a great character out of every student.
What excites you about working at CSU Long Beach? Is there a moment you can share when you were inspired by a student's journey?
A few years ago I gave a speech in front of a large audience of parents for incoming students. After my presentation a father approached me in tears, explaining how proud he was of being able to send his daughter here. She was the first in their family to attend a university. Seeing the joy and pride in his eyes was a grounding reminder of how important higher education is to many families and not always so easy to achieve. So many parents work hard and sacrifice so much to send their kids to school, have them graduate, and succeed in life. I am forever thankful to that father for reminding me why we are all here. It is our mission to help every student succeed.
In addition to being the Director of IT at the COB, you've been involved in other areas at COB, namely: the Beach Investment Group What does it mean to you to invest your time and energy in this co-curricular?
I was heavily involved in Beach Investment Group (B.I.G.) while earning my MBA. I think it's such a unique opportunity for students to jump into the pool of stock market investing with real money. The program not only taught me about making better financial choices, but it also taught me how to better engage with teams, make decisions, and execute plans. I believe in the program's mission so much that after graduating I joined the board, and scholarship committee, and mentored the students for a few years. It's been a pleasure to give back to this program.