Faculty Support and Training
Academic Technology Services (ATS) provides materials, professional development programs, and workshops specific to the needs of the CSULB campus.
Growing with Canvas (self-paced course)
This online course created by Instructure provides an overview of everything you need to get started. The course will be released into your Canvas account within two business days after submitting the request. Find it on your Canvas Dashboard.
CSULB Canvas Workshops 
Access a list of all upcoming live workshops and recordings of past workshops presented by ATS.
The Canvas Training Services Portal
Access a wide variety of self-paced and live training developed by the makers of Canvas. A premium subscription to the Training Services Portal is available through June 2023- so take advantage of these excellent resources now!  View this list of recommended Training Paths [PDF] to get started.
Video Tutorials and Demos
Explore the gallery of videos and recorded demos to learn how to use Canvas features. Get started quickly with "Set Up Your Canvas Course in  30 Minutes or Less," a series of 7 videos of Canvas essentials.
​Quick Start: Basic Course Building
Follow these tips for building a basic course quickly in Canvas.
Canvas Instructor Guides 
Get detailed written instructions for using all of the Canvas features. you need to run your class.
Canvas "Sandbox" Courses
Sandbox courses are provided in your Canvas Dashboard. These are empty course shells where users can try out Canvas features and draft content that can later be copied to live course shells when they are released each semester. No students are enrolled in your sandbox course. Visit our Canvas Course Types page for more tips on using the sandbox, development, and live courses.
Course Layouts (Templates) 
Import a pre-built Canvas Layout (template) and edit it to fit your subject matter. Choose from three different layouts with varying levels of complexity.
Course Migration Job Aid [PDF]
Follow these instructions for copying your migrated BeachBoard course content into the Canvas Live course you will be teaching.
Getting Started to Teach in Canvas Checklist [PDF]
This checklist will help guide you to ensure that your Canvas course has all the recommended, essential elements.
Course Merge
Combine student enrollment from multiple sections ("Source" courses) into a single course environment by submitting a request to ATS.
Passport to Canvas Student Course Request Form
Passport to Canvas is a self-paced course that includes everything students need to know about using the platform. It covers how to keep track of assignments, check grades, and view feedback from instructors. It also helps students learn how to organize learning material and stay in touch with classmates. Students must request this course from ATS-- so share the link to this request form with your students.
Canvas Student Support and Resources
See more resources available to students on this page.
CANVAS Instructure Community Resources
Image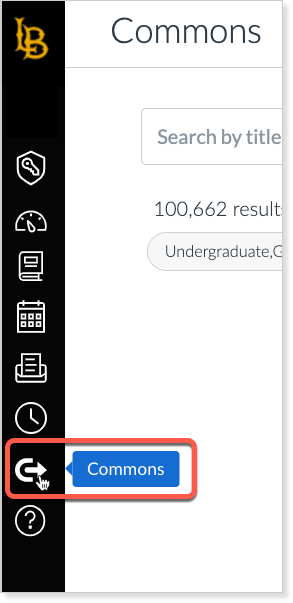 Canvas Commons is a learning object repository/ digital library of educational content that enables educators to find, import, and share resources. Resources include courses, modules, quizzes, assignments, discussions, pages, documents, videos, images, or audio files. Content created by CSULB users is available.
How do I access Canvas Commons?
The Canvas Commons link is on the left Global Navigation panel on Canvas. Content shared by CSULB users will appear at the top of the Commons dashboard by default. Use the search or filter controls to find specific content.
What can I do with Commons?
Create your own personal repository to store course content and materials submitted by peer educators and re-use them across all of your courses. You can contribute to the community by sharing resources that you've created that would be of benefit to others.
The Canvas Community is an online gathering place where Canvas users can share, collaborate, and shape Canvas together.