ICBSC Teams Win ! 2021
By
Barbara Barcon, Management/HRM and ICBSC Advisor
CSULB teams win Big in this year's 57th Annual International Collegiate Business Strategy Competition!
(ICBSC)
Teams from around the world competed all semester and concluded with an Intensive Phase Event on April 21-23.  The COB entered 3 teams and each one won at least one award.  Two of the teams took home Best Overall!
57th Annual International Collegiate Business Strategy Competition 2020-2021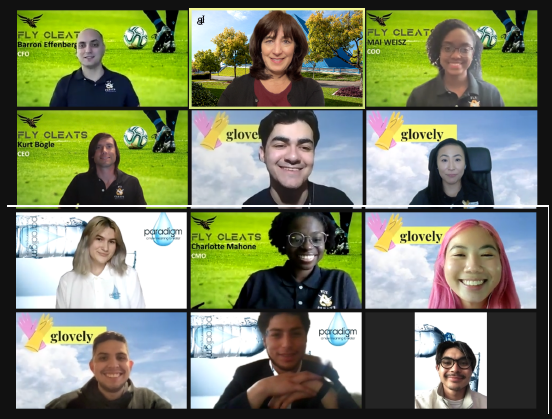 After a semester of virtual planning, analysis, document writing and decision making the 22 Teams from 12 universities across the country (and Canada) concluded last weekend with the grueling intensive phase.  They met with their Board of Directors (professionals, also from across the country) to convince them that they made the right decisions and are the right management team to move the company forward.
All three of the CSULB teams, 2 undergraduates and 1 graduate, performed admirably.  Team Glovely, an undergrad team, came in 3rd place overall in their "World."  Led by Steven Salazar as CEO and Jinny Uh as COO, Melanie Tran as VP of Marketing, and Jose Godinez as CFO.  While grad team Fly-Cleats took the top honor with First Place in Best Overall!! They were also runner-ups in Best Documents.  Fly Cleats was led by Evening MBA students Kurt Bogle as CEO, Barron Effenberger as CFO, On-Line MBA student Mai Weisz as COO, and M.S. Marketing Analytics student Charlotte Mahone as VP Marketing.
Students commented on what amazing learning and life experience it was for them.  Some even said it was their best college experience, period.
Recruiting for next year's teams will start in the fall.  If you are will be at least a junior in spring 2022 or an Evening MBA or Marketing Analytics major and are interested, please contact Barbara Barcon at Barbara.Barcon@csulb.edu for more info.
GO Beach!!
READ THE PRESS RELEASES FOR 2021
It was an amazing accomplishment for The Beach.
Barbara Barcon  ICBSC Advisor @ COB for interested students (senior undergrads or evening MBAs) in next spring's competition can read our ICBSC information and contact Barbara.Barcon@csulb.edu