3 CSULB Teams Win Big! 2022
By
Barbara Barcon, Management/HRM and ICBSC Advisor
CSULB teams win Big in this year's 58th Annual International Collegiate Business Strategy Competition!
(ICBSC)
Teams from around the world competed all semester and concluded with an Intensive Phase Event on April 21-23.  The COB entered 3 teams and each one won at least one award.  Two of the teams took home Best Overall!
Image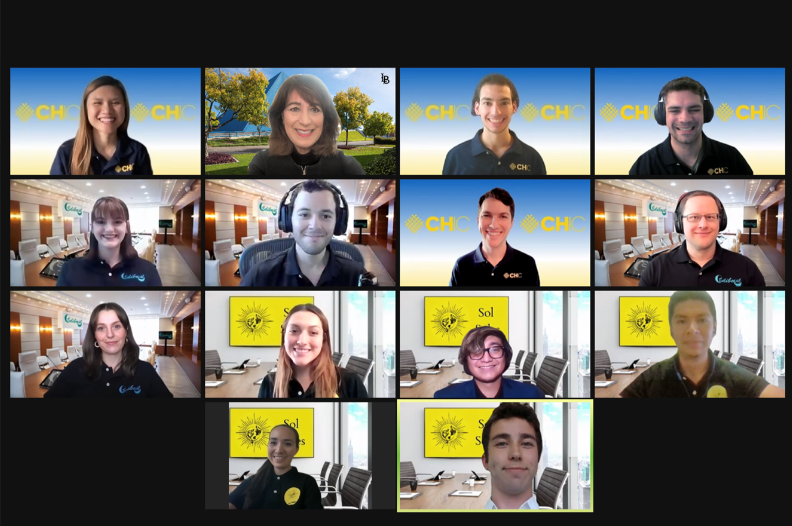 The class and the competition simulate a real business that the teams run as members of the Executive Team.  They enter quarterly decisions each week (and 4 in one day during the intensive phase) and determine how much. to produce of their product, where to produce, how to market, which models to release, how to finance their company, and all while creating shareholder value and competing with other schools. 
This year's CSULB teams consisted of 2 MBA teams and 1 undergraduate team.  All did an amazing job and were rewarded as follows:
Sol Soles - Best Documents and Best Overall

CEO Samantha Borrego, COO Christopher Tapia, CFO Jacob King, CMO Andrea Urtuzuastegui, and CIO Edgar Juarez 

Chic - Best Documents

CEO Randall Belyea, COO Robert Papadopoulos, CFO Isaac Gordon, and CMO Chieu Le

E**b**** - Best Documents and Best Overall

CEO Sam Garcia, COO Corrina Rodacker, CFO Thorsten Oppermann, and CMO Teddy Ibrahim
The competition is held each year in the spring.  Recruiting for next year's class will start in the fall but if you are interested, please contact the CSULB Course Advisor, Barbara Barcon at Barbara.Barcon@csulb.edu to discuss.  It is open to Evening and online MBAs, as well as Masters in Marketing Analytics and Undergraduate Junior and Seniors.  There is an application and selection process to fill the CSULB teams but all interested are welcome to apply.
"ICBSC Project and the simulation taught me to put together all the knowledge I have gained in traditional classes into a real competitive environment."  Art Acuna
It was an amazing accomplishment for The Beach.
Barbara Barcon  ICBSC Advisor @ COB for interested students (senior undergrads or evening MBAs) in next spring's competition can read our ICBSC information and contact Barbara.Barcon@csulb.edu