SOA Gallery Guidelines and Schedule
Gallery hours are 12-5 Monday-Thursday. Openings are Sundays from 5-7pm.
The following information is for students planning exhibits in School of Art galleries. 
All students utilizing School of Art Galleries agreee to:
Stay in contact with student's consulting faculty member regarding exhibition plans, and to notify them of any significant changes to these plans;
Present the exhibition announcement and all other promotional materials for review by the consulting faculty member before distributing any of these materials;
Handle the exhibition in full compliance with CSULB Regulations for Campus Activities, Student Organizations and the University Community;
Obtain the consulting faculty member's signature to be posted along with student's artist statement in gallery prior to the first day of the exhibition;
Handle the exhibition in full compliance with the CSULB SoA Gallery Guidelines for Exhibitions and current safety procedures and risk management guidelines.
It is the responsibility of the student to read and understand gallery guidelines, and failure to comply with them may result in the cancellation or closure of the student's exhibition and forfeiture of the gallery key deposit.
Important Gallery FAQs:
Q: Can I use adhesives on the gallery walls or floors?

A: It is best to discuss any use of adhesive or sticky materials with the graduate advisor and gallery coordinator. Double-sided tape may not be used under any circumstances. Many adhesives leave residue that continues to attract dirt after the exhibition, so special care must be taken and certain materials may not be used.

Q: How do I get my exhibition announcement approved?

A: All announcements and promotional materials, including web-based and e-announcements, must be reviewed by the student's faculty member prior to being distributed. It is important to leave 2-3 days for this process.

Q: How do I reserve a gallery space?

A: Gallery applications are distributed by email mid-semester. You will be notified towards the end of the semester, via email, whether or not you are granted a space. You MUST confirm your gallery space within two weeks after receiving an email informing you that you have been scheduled for an exhibition in order to secure your space. If you would like to switch dates with another student, you must make arrangements with them, and must get approval from both your faculty member and the graduate advisor or schedule coordinator. 

Q: How do I reserve multimedia equipment for my exhibition?

A: The School of Art has a limited selection of display technology (projectors, monitors, media players, etc.) that students may check out for exhibitions through the Print Center. Reservations for this equipment are on a first-come, first-served basis, and should be made well in advance of the exhibition. Students should email Thomas Stewart or stop by the SOA Print Center in FA4 during open hours with any equipment requests.

Q: Who do I need to contact before my exhibition?

A: You must contact Todd Ciborowski two weeks before your show to inform him about the layout of your show, and if you have any needs (i.e. pedestals, etc.). You also need to be in contact with your consulting faculty member several weeks before your exhibition. In addition, if you need to reserve any multimedia equiment, contact the Print Center.

Q: How do I pick up gallery keys?

A: There is a mandatory Friday, 10am meeting for all students scheduled to show. The meeting begins in FA4 - 102. You will need to review important guidelines, sign forms, and then will be given a gallery key.

Q: I want to install something in the gallery courtyard or ouside of the galleries. How do I go about this?

A: In order to have an outdoor installation, including in the gallery courtyard, you must obtain written permission from the graduate advisor prior to your show.

Q: I'm thinking of using my gallery in an unconventional manner. Who do I need to discuss my plans with?

A: If a student intends to use a gallery in an unconventional manner and/or in a manner that may impact surrounding spaces, he or she must confer with the graduate advisor first, before putting their plans into action. Examples of some things that would constitute an impact on surrounding spaces include fumes and noise. Open flames, incense, or any other burning materials are not allowed in the galleries. The graduate advisor must also be consulted on any proposed gallery use that would potentially and/or permanently impact floors, walls, doors or ceilings of the gallery before the student makes any changes to the space, and before noon on the Friday before the exhibition opens. This does not include impact that normally arises from hanging or placing work in these areas. In addition, any use that may involve (even slight) risk to gallery visitors must be brought to the attention of the graduate advisor at least 2 weeks in advance. Giving earlier notice is better, as permissions may need to be requested through various university offices. Please be aware that some activities, even those that do not violate university codes of conduct, may not be allowed in the galleries.

Q: May I use live animals in my exhibition?

A: If a student wishes to include a live animal in their exhibition, he or she must write a proposal detailing how the animal will be exhibited and what precautions will be in place to ensure the health and well-being of the animal and the safety of the exhibition visitors. This proposal must be signed by the student and approved, via signature, by the faculty member, the graduate advisor, and the Director of the School of Art. The CSULB School of Art is strongly opposed to the use of animals for any form of exhibition where distress, intimidation, danger, or harm to the animals is likely to occur.

 
Who can serve as Consulting Faculty
Every student exhibition must involve a full-time faculty member, usually from the student's home program. This faculty member must be tenured or on tenure-track.
MA/MFA Project exhibition: All three Project Committee members must sign the posted exhibition statement that includes the following wording: "We recommend that this exhibition satisfies a requirement for the (MA or MFA) Degree."
MA/MFA Individual Advancement exhibition: The Project Committee Chair must sign the posted exhibition statement after the Advancement Review, "I recommend that this exhibition satisfies a requirement for Advancement to Candidacy for the MA/MFA Degree."
BFA Senior Show: One faculty member from the BFA program in which the student is pursuing the degree must sign the posted exhibition statement that includes the following wording: "I recommend that this exhibition satisfies a requirement for the BFA Degree."
Non-Degree exhibition: A Consulting Faculty member from the School of Art must sign the posted exhibition statement.
Roles and Responsibilities of Consulting Faculty:
For a student to receive a gallery date, faculty members must first sign the student's Request for Gallery Date form, indicating they clearly understand and support the student's exhibition plan.
Faculty members are required to review exhibition announcements and all other promotional materials, including web-based and e-announcements, before any such materials are distributed in any manner. Students are advised to allow plenty of time for this process before printing or incurring any production costs. Students who distribute material without this review process may jeopardize their show and/or all gallery privileges and will not be reimbursed for any costs incurred.
Faculty members sign off on the student's exhibition statement, indicating they have consulted with the student on the exhibition. The signed statement is to be posted in the gallery for the duration of the exhibition, before the exhibition opens. Any exceptions to his policy must be brought to the attention of either the School of Art graduate advisor or School of Art Director, either of who may sign in lieu of faculty member in exceptional circumstances.
Faculty members and exhibiting students are to bring any potential problems or issues to the attention of the graduate advisor and School of Art Director.
Where to get Exhibition Announcements/ Postcards
Many students prefer to use digital exhibition announcements. Recommended postcard businesses that students have used in the past are: Postcards.com, vistaprint.com, Nextdayflyer.com, Modernpostcard.com, Mypostcardprinting.com.
Information to Include on Announcements:
Your name
Title of exhibition
Status information - you must clearly indicate undergraduate BA or BFA exhibition or graduate MA or MFA exhibition if appropriate
Exhibition dates and hours (M-TH 12-5)
Gallery name: use the formal name of your assigned gallery
School of Art, California State University, Long Beach
Map & Parking information: use our gallery map (below) 
Your contact information or website (optional)
Faculty Consultation for Announcements:  Announcements and promotional materials that are considered inappropriate for distribution will not be allowed. Faculty members must preview the student's exhibition announcement and all other promotional materials, including web-based and e- announcements, before any such materials are distributed in any manner. Students are advised to allow plenty of time to obtain faculty consultation on these materials before printing or incurring any production costs. Distribution of announcements or other promotional materials and information without this consultation may result in cancellation or closure of student's exhibition, and forfeiture of the gallery key deposit.
Posting of Announcements and Other Materials on Campus: All posted materials must fall within the policy on Publicity and Posting.
Drag this image to your desktop to use for exhibition announcements.
Image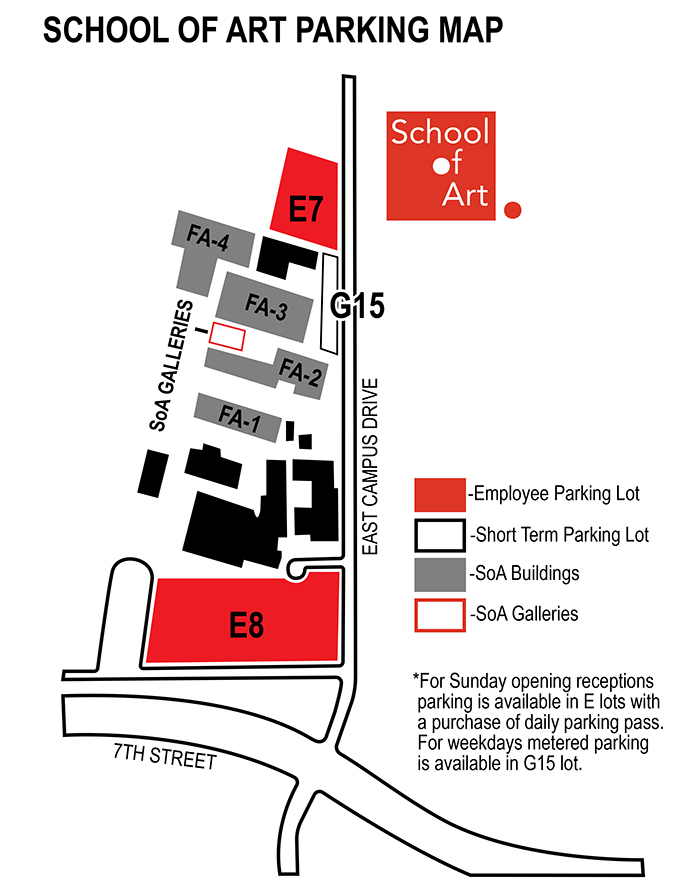 Gallery Keys & Gallery Condition Responsibilities
You must attend a mandatory meeting with Michael Nannery and the Todd Ciborowski, the Gallery Coordinator at 10am on the Friday morning you begin to install. The meeting begins in FA4-102 where you will check out your gallery key.
When the key is checked out to you, it is for your use only, and is your responsibility. It is not to be handed off to others.
Use of the galleries requires that students agree to pay a $150 charge for lost keys. Students are also responsible for repairing any damages to gallery walls, floors, equipment, or courtyard areas. These spaces must be returned to their original condition.
Gallery keys must be returned before 10:00 a.m. on the Friday after your show. There is a night key dropbox just outside of the main office in FA4.
Keys must be properly returned by the persons who checked them out. They may not be passed off to the next person installing a show in the gallery.
Timeline 
Friday (beginning at 10am) begin installation. If you do not make contact with the gallery coordinator by Friday at noon, your gallery may be given to another exhibitor.
Weekend installation hours are 10am-6pm on Friday, Saturday, and Sunday. Students may not be in the galleries or gallery courtyard outside of those hours. Students are required to use the buddy system for weekend installation hours. When adjusting lighting or using ladders, two students must be physically present in the gallery.
Unlocked galleries must not be left unattended during open hours or installation.
Opening receptions are 5-7pm on Sundays. All galleries must be closed by 7pm and noise levels kept to a minimum after 7.
Monday – Thursday gallery hours are 12-5pm. You are expected to gallery sit in front of your individual gallery to answer questions during open hours. At least one exhibiting student needs to be sitting at a table in the courtyard during these open hours.
Thursday evening starting at 5 pm, dismantle the exhibition -- sand, patch and touch-up, paint the walls, return pedestals to their storage area, clean floor, courtyard, etc., leaving the gallery clean and prepped for the next exhibitors. Put all trash in dumpsters, including trash from trash cans outside the galleries. Multimedia equipment must be returned to the Art Print Center by 6:30pm, or you need to make arrangements with Todd to leave this equipment in a locked and secure space.
Friday: return key to the advising office Thursday evening or

 

by 10 am Friday morning. If the art advising office is closed you may use the key drop outside of the SOA Director's office in FA4.
Communication with others at least TWO weeks before your exhibition:
Contact the Gallery Coordinator to explain the layout of your show, and if you have any equipment needs or other needs (i.e. pedestals, etc.).
Reserve any multimedia equipment through the Print Center.
Get approval from your consulting faculty member on any exhibition announcements (digital or otherwise).
Contact the graduate advisor regarding any unconventional gallery usage or materials (previous examples include use of live animals, use of the gallery courtyard, performances involving any risk to performers or visitors, use of bodily fluids, explicit exhibition content, etc.)
Arrange for a fellow student to help you install your work. Due to limited traffic on campus, you are required to use the buddy system during installation hours Friday through Sunday, no later than 6pm.
Supplies and Equipment:
Hanging objects from the gallery ceilings is allowed with prior permission from and consultation with the gallery coordinator. Hanging objects in the gallery courtyard is only allowed with prior written permission from the gallery coordinator and graduate advisor.
Only use SOA gallery paint (no exceptions) on walls and pedestals. No oil based or glossy paint may be used on these items OR the gallery walls. Use ONLY the paint provided by the School of Art. ALWAYS use drop cloths when painting.
Multimedia Equipment Check-out day is Friday. The Print Center is not open on weekends or over holidays, so it is recommended that equipment be checked out as early as possible on Friday and tested early enough to address technical issues before the Print Center closes.
There are some tools available in the gallery storeroom, but it is advisable to bring your own tools and materials rather than to rely on the condition of gallery and department tools. Be prepared to furnish some hardware items yourself and please inform the Gallery Coordinator if tools are broken or missing from your gallery cart.
Use only the orange ladders for adjusting lights. You need to ALWAYS have a second person in the gallery when using a ladder. 
Exhibition Title and Signage:
You are responsible for your own gallery signage. Recommended, and most popular, are the peel-away type vinyl letters available in several colors from sign shops. Exhibition title and signage are part of the exhibition and should be discussed with your consulting faculty member. We are currently able to reimburse students for up to $95 for wall vinyl. You must provide a receipt that shows your vinyl was paid for in full and that displays your name. These are submitted to Ardel Deltgen whose office is in the School of Art Advising Center.
Please note that during the pandemic, many local sign shops have stopped making decals / wall vinyl in-house. There will be an extended turnaround time of 3-7 days if you do not want to pay a rush charge. Local Businesses that can provide Wall Vinyl include Fedex/Kinkos and Signorama. Submitted files must be vector art. Lettering should be at least 1" tall. You can get decals in a variety of colors if they are in stock. Cost varies on the complexity of the artwork. 
Exhibition Statement:
Every exhibition must include a typed artist's statement. This statement may include acknowledgements. This statement is part of the exhibition and must be signed by a faculty member. The statement should be located at or near the gallery entrance, or multiple copies of the statement should be provided on a pedestal for visitors, faculty and students. Every degree-required exhibition must have a clearly placed exhibition statement. It must identify the exhibitor and student status, such as a BFA Exhibition, MA or MFA Project Exhibition, etc. and be signed by the student's faculty member or committee chair on a signature line following this statement: "I recommend that this exhibition satisfies a requirement for the ___ Degree" (BFA Degree / MFA Degree / MA Degree, etc.) Non-Degree shows should have a statement posted and signed by a faculty member.
Exhibition Labels:
You should clearly label all works in your exhibition or have a list available. Labels should display the title, medium, date and other information that would be interesting to your viewers. A sharp, black type font is suggested. It is most common to mount a label next to each piece, but you could also prepare a numbered list of works with a corresponding number next to each work. Multiple copies of the list should be provided for gallery visitors.
Price Lists Prohibited
Please note that these are not commercial galleries and do not post a price list nor put prices next to the works (except for the Annual Holiday Sale). You may, however, make note that "a price list is available on request" and where, i.e. by contacting the artist, etc.
Exhibition Content and Student Responsibilities
Students are encouraged to accept responsibility for their creative expression, and to consider the impact of this expression on members of the college campus and surrounding communities.
While the School of Art encourages gallery exhibitors to explore their creative and expressive range, and honors and supports freedom of speech, exhibitors must understand that an exhibition in a CSULB School of Art Gallery is subject to and must be in compliance with CSULB Regulations for Campus Activities, Student Organizations, and the University Community.
Additionally, in cases where exhibitions contain potentially disturbing or offensive material, artists are encouraged to consider posting additional signage in consultation with the faculty member and the Graduate Advisor. These consultations must occur before noon on the Friday before the exhibition begins, and for best results should occur at least two weeks before the exhibition opens. The faculty member, graduate advisor, and/or School of Art Director may require the posting of additional signage with wording, design, and placement at their discretion.
The following statement is posted at all gallery entrances. Students are responsible for ensuring that signs can be easily seen by visitors to the gallery. This signage may not be removed, altered, or obscured.
School of Art Student Galleries
The CSULB School of Art Galleries serve as venues for an exhibition program focused on work by current CSULB School of Art students and, occasionally, faculty, staff, alumni, or guest artists.
Exhibitions may provoke diverse responses: wonder, appreciation, confusion, illumination, or irritation. Work may offend some viewers for reasons including nudity, violence, sexual activity or reference to race, religion, or politics. If controversy arises from display of a particular work of art, we welcome public discussion based on the conviction that such debate is an important function of art, particularly in the university context.
Freedom of speech is a constitutional right. We defend both the artists' right to create such work and the School of Art's right to display it. At the same time, works on display do not represent the views of the School of Art or CSULB.
The artworks, exhibitions, and accompanying statements or texts in these galleries are the expressions and creative/intellectual products of their creators. Permission to photograph or reproduce anything on display in these galleries must be secured from the creator and/or holder of intellectual property rights.
Hours:
All exhibitors are required to keep gallery hours of 12 noon – 5 pm Monday thru Thursday and to unlock and lock their galleries. You are expected to gallery-sit your own exhibition during these hours in order to provide security for your work and for the gallery, and to be available to talk with students, faculty and staff. In an emergency, you may make arrangements for someone else to sit for you. 
Unlocked galleries must not be left unattended and there must be at least one student in the courtyard monitoring gallery traffic and compliance with CSULB Covid-19 requirements at all times. Students should plan to gallery sit for as many open hours as possible during their exhibitions. 
The following is a list of responsibilities that students should observe after an exhibition.
Remove all posted material such as labels and titles.
Return Multimedia Equipment:

Collect remote controls, power supplies, adapters, and any other small parts together, returning them to provided containers as appropriate.
Place TVs in their blankets with the number up so it can be read on check-in.
Return equipment to the Art Print Center by 6:30 PM on deinstall day.

Re-paint walls with white paint provided:

Pull nails and spackle the holes:

Pull out nails with the claw end of a hammer or pliers
Apply a small amount of spackle (provided) with putty knife or your finger. Use only enough to fill the hole.
Using a drop cloth to catch the dust, sand the spackle after it dries – usually 10-15 minutes - with sandpaper. DO NOT PAINT UNSANDED SPACKLE!
Sweep and empty the trash in the dumpster in Lot 8A by Ceramics.

Re-paint walls with white paint provided:

Use a brush or roller with GALLERY WHITE PAINT ONLY.
Students are not allowed to paint the walls with any paint other than gallery white paint.
If you have somehow stained a gallery wall or damaged a floor please contact the Gallery Coordinator for instructions on how to proceed. Do not use unapproved solvents or paint.

Clean up the gallery, your tools, and courtyard:

Return ladders, brushes, rollers, trays, putty knives pedestals, tools, etc., to the gallery cart
Sweep up and dispose of gallery/courtyard litter and gallery trash in the dumpsters by Lot 8A. Do not leave the gallery trash cans full and overflowing.
Please leave the gallery in great condition or better than you found it.

Return Gallery Key: Thursday evening or Friday morning by 10 AM. Drop the key in the key drop near the Administrative Office (FA4-106).
Drag the image below to your desktop for a printable floor plan.
Image