SWE Event Gives Local High School Students a Taste of Engineering
Nearly 150 students from area high schools learned about creating rocket motors, retaining walls, drinking water, and more at Women Engineers @ the Beach Friday. The annual event, organized by the CSULB Society of Women Engineers (SWE) chapter, is designed to inspire students to study engineering.
"It wasn't so long ago that I was in your shoes," SWE President Evelyn Meza, a CSULB Biomedical Engineering major, told the students from Artesia, Paramount, and Paramount West high schools. "In high school, I realized this was what I wanted to do. And now I get to be creative and get to help people through my work."
Image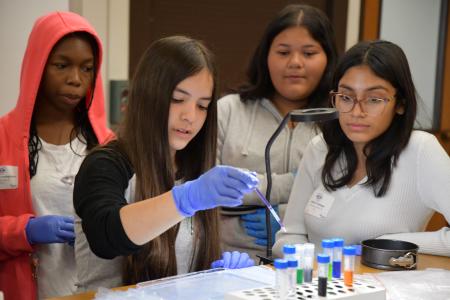 Students learned about various facets of engineering during workshops on biomaterials, 3D printing and microfluids, human factors, water purification, solid propulsion, food waste, port engineering, and building structures. A student panel also talked about their experiences studying engineering. 
The workshops were led by Siavash Ahrar, Perla Ayala, Maricela Maldonado, and Ga-Young Suh from the Biomedical Engineering Department; Joe Kalman from the Mechanical & Aerospace Engineering Department; Pitiporn Asvapathanagul of the Civil Engineering and Construction Engineering Department; and Kim Vu and Thomas Strybel from the Psychology Department. Student interns and representatives from the Port of Los Angeles, American Society of Civil Engineers, and SCS Engineers also led workshops.
Image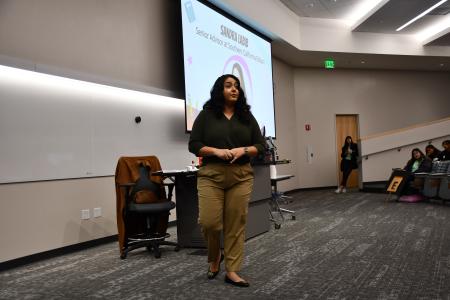 Keynote speaker Sandra Labib, a senior manager at Southern California Edison and an Artesia High School graduate, shared her journey growing up as the daughter of Egyptian immigrants and deciding to study engineering, in spite of not being great at math.
Her mother worked at a discount store. Her father worked the night shift at Jack in the Box and the day shift at Carl's Jr. "I loved it when he came home with those star chicken nuggets," she said.
Labib got her first job, as a Subway sandwich artist, while still in high school. She used it to pay for her basketball equipment. "I took my job so seriously—I tell you, I didn't miss a pickle," she said.
She decided on engineering after doing a Google search and learned the field paid well, and led to many opportunities. It was only later she realized that she'd have to study calculus, physics, and chemistry—"all these classes that scared me just by their names."
Labib applied for an internship at an Edison group while still a sophomore, with only the Subway job on her resume. When she got called for an interview, she ran into the group's principal engineer in the elevator. Although Labib thought she did well on the interview, she didn't receive a call back for six months. However, when they did call her back, they offered her a job.
Labib graduated from CSULB with a Civil Engineering degree and after working for Edison for three years, Disney hired her as a construction manager. "The only thing holding you back is you," she told the event attendees. View more photos