CSULB Heavy Civil Team Places Second in Reno
Published February 17, 2022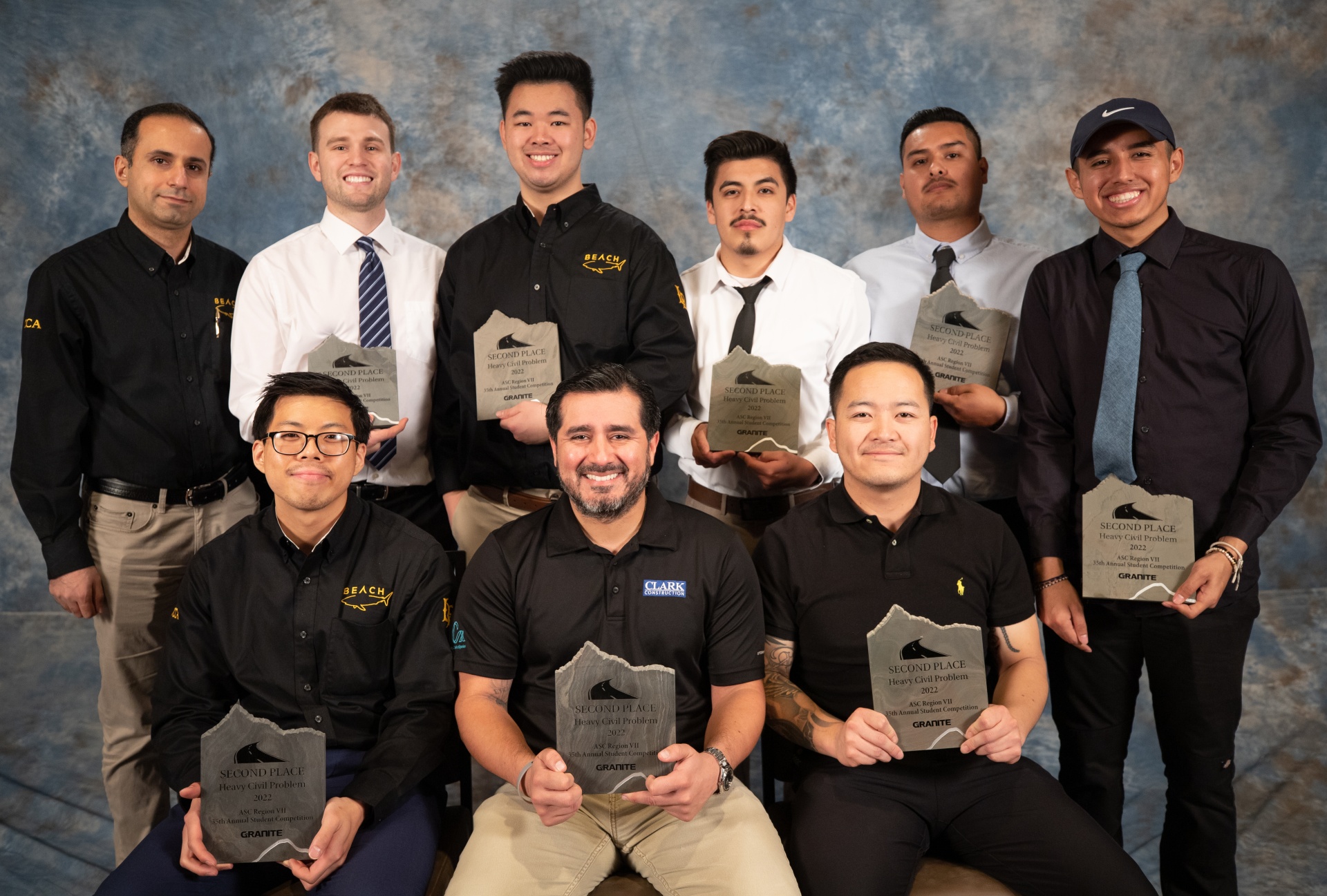 The CSULB Heavy Civil team, coached by Civil Engineering and Construction Engineering Management Assistant Professor Vahid Balali and representatives from industry partner Sukut Construction, won second place in the annual ASC competition in Reno this year.
Competing in Region 7, which includes universities from California, Hawaii, Oregon, and Washington, the CSULB team included captain John Beltran and members Edgar Prado, Osberto Ramirez, Gabriel Sollano, Derek Tan, Tom Vu, Alvin Wong, and Brett Workman. 
The Washington State University Heavy Civil team placed first in this year's competition, and the Cal Poly San Luis Obispo team placed third. Last year, the CSULB Heavy Civil team placed third.
More than 1,300 students and 180 faculty from 53 universities competed in this year's Region 6 and Region 7 competition in four categories: Commercial, Concrete, Design-Build, and Heavy Civil. The competition was attended by more than 1,300 representatives from 136 companies, and included a job fair with more than 100 exhibitors.
CECEM Professor Elhami Nasr said according to the judges, this year's competition included higher scores and fiercer competition, with differences in team scores sometimes 1 percent or less. "Despite many obstacles and unprecedented logistics challenges, our students and faculty have done a great job and displayed great commitment and dedication to enhancing our students' learning and achievement," he said.
COE Dean Jinny Rhee congratulated the Heavy Civil team for its strong finish. "Great job to all who were involved in the Reno Competition. These types of experiences are what students will remember long after they graduate from our institution."
CECEM Chair Lisa Star thanked the faculty advisors for their efforts in preparing student teams for the competition. Advisors included Dr. Nasr and Dr. Balali, as well as professors Tesfai Goitom, Joseph Kim, Tang-Hung Nguyen, and Tariq Shehab.   
"A second place win in the Heavy Civil competition is a great achievement," said Star. "Many thanks for the faculty advisors' hard work and making it possible for our students to be involved in the Reno events."