Volunteer Income Tax Assistance (VITA) 2023
CSULB COB VITA will see you next Tax Season 2024
Image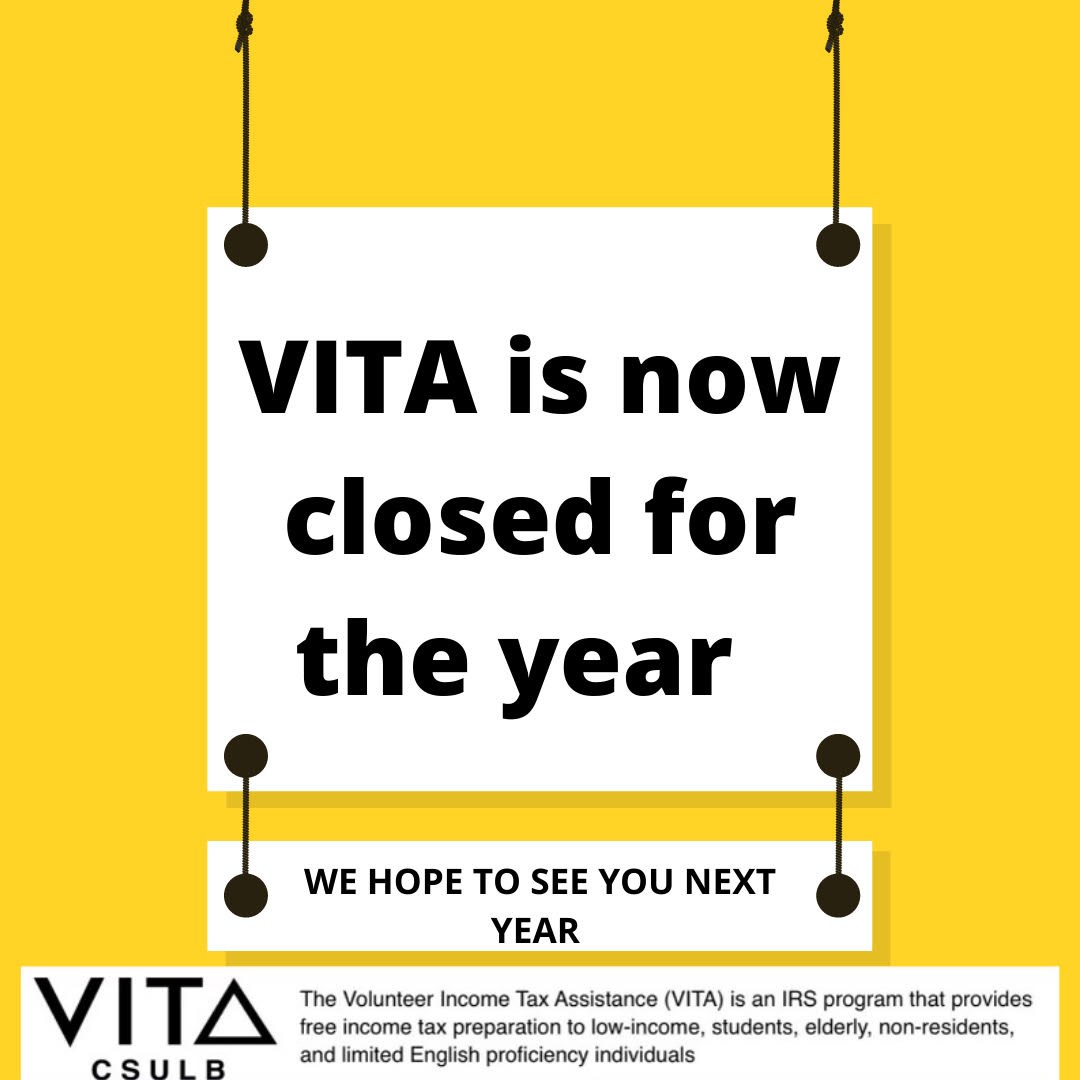 What is VITA?
The Volunteer Income Tax Income (VITA) is an IRS program that provides free income tax preparation to low-income, students, the elderly, non-residents, and limited English proficiency individuals. 
Filing Taxes
Get your tax returns prepared at the CSU Long Beach VITA site. IRS-certified tax preparers can assist you in preparing both federal and state tax returns.
The Facts
Our CSU Long Beach College of Business VITA program is available to qualifying taxpayers with an income level of $60,000 or less. Our Team has refunded over $1,000,000 in taxpayer dollars last tax season.
Necessary Items
Government-issued photo ID
Original social security card or documents of
Individual Taxpayer Identification Number (ITIN)
for all family members
All W-2 and 1099 Forms (if any)
Other income or expense information
Tuition fees and expenses paid (Form 1098-T)
Total expenses paid for child/daycare
Daycare or dependent care provider's address,
phone and identifying number (SSN or EIN)
Bank account and routing number required
for direct deposit refund
Last year's tax return is helpful but not required
Hours of Operation
January 30, 2023 - April 8, 2023
Monday - Thursday from 10:00 a.m. to 8:00 p.m.
Friday from 9:00 a.m. to 3:00 p.m.
Services are first-come, first-serve. Appointments will be prioritized. The last client will be accepted at 7:00 pm from Monday to Thursday and 1:30 pm on Friday.
Closed February 20 and from March 27 to March 31
More Information
Tax Preparation Options
We offer face-to-face and virtual (Zoom) services. You can choose from walk-ins, appointments, and drop-offs.

Walk-ins welcome. Appointments are not necessary but preferred. 
Location
Driving Address: 1250 Bellflower Blvd, Long Beach, CA 90840
We are located in the computer lab of the College of Business Building, Room 243
Online Tax Preparation
We are open for virtual walk-ins and appointments on Zoom.
Zoom Link and  ID 83448387424
COVID Precautions
​​​​​​If you are sick or showing symptoms of sickness, please stay home and participate in our virtual tax preparation services through our Zoom link.
Masks are required for all clients. Free masks will also be provided to those without one.
In-person services are subject to change according to CSULB COVID-19 guidelines.