Explore Student Research
The Undergraduate Research Experience
Image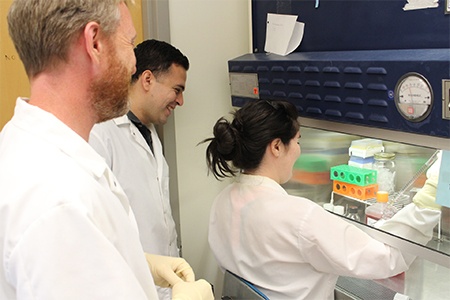 The College of Natural Sciences and Mathematics (CNSM) is a national leader in integrating undergraduate research and education. CNSM students have the unique opportunity to engage with their faculty and fellow undergraduate and graduate students on research projects throughout their undergraduate career at California State University, Long Beach (CSULB).
Participation in research helps students develop skills in critical thinking, creative problem solving, and communication. These skills are highly valued in any career; they are real-world skills often not explicitly emphasized in classes or scheduled laboratories but of primary concern to employers.
Image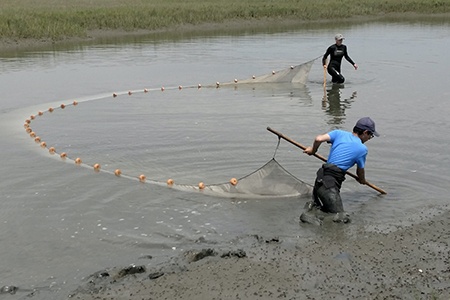 Our research seeks to address questions asked in a wide variety of subjects including astrophysics, heart and neurologic disease, cancer drug delivery methods, earthquakes, and "urban ocean" issues such as overfishing, pollution, and invasive species. As a student here, you will find research opportunities in all six departments of the college: Biological Sciences; Chemistry and Biochemistry; Geological Sciences; Mathematics and Statistics; Physics and Astronomy; and Science Education; as well as the program of Environmental Science and Policy.
Research Training Programs
The following research training programs are available to students here at CSULB. Joining a research training program is not required to participate in research as an undergraduate student, but these programs can provide access to faculty mentors, networking and social events, and funding opportunities.
Building Infrastructure Leading to Diversity
Image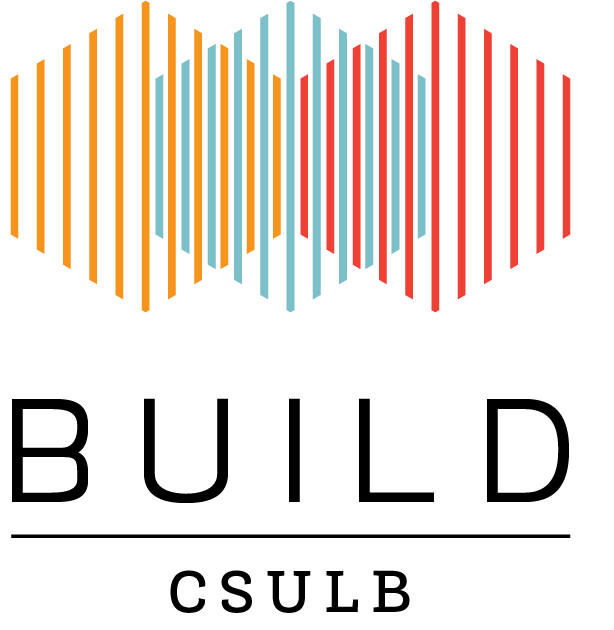 The Building Infrastructure Leading to Diversity (BUILD) program offers intensive research training opportunities for undergraduate students interested in pursuing a career in health-related research. Health-related research uses innovative methods to examine the cause, diagnosis, prevention and treatment of diseases to improve health and well-being. It is conducted across a number of different disciplines (e.g., engineering and the behavioral, biological, clinical, physical, public health and social sciences) and can include basic, applied and translational approaches to studying several health issues.
Funded by the National Institutes of Health, BUILD is committed to providing exceptional research and skills training to the next generation of scientists in order to advance scientific knowledge and technology contributing to the improvement of every individual's health in the U.S., as well as around the world.
---
Doctoral Diversity Initiative
The UCSD-CSULB Doctoral Diversity Initiative program aims increase diversity of students successfully completing Ph.D. programs and entering leadership positions in academia in the field of materials science.. The program runs on the collaboration between the UCSD Materials Research Science and Engineering Center (MRSEC) and the CSULB Chemistry and Biochemistry Department.
---
Louis Stokes Alliance for Minority Participation
Sponsored by the National Science Foundation, the goal of Louis Stokes Alliance for Minority Participation (LSAMP) is to enhance math and science skills for minority students majoring in science, technology, mathematics and engineering to enable them to successfully complete their academic degree program towards careers in the STEM disciplines.
This program involves a cooperative effort between Cal State Long Beach and Cerritos College, and includes a three-week summer workshop designed to prepare students for enrollment in calculus during the upcoming academic year and to support student involvement in activities that enhance graduate school readiness.
---
MD Alumni Research Program
The CSULB MD Alumni Research Program was generously funded by a CSULB graduate. Their goal is to support undergraduate students from diverse backgrounds who plan to enter and succeed in medical school programs. Along with modules created by our Health Professions Advising Office, selected trainees will participate in research activity for 8 weeks during summer in a faculty-mentored, directed environment in areas broadly related to biomedical fields. Taken together, these experiences are expected to infuse social and scientific values, enhance academic skills, confer research skills, foster critical thinking and problem-solving skills, and develop the scholars professionally.
---
OURS Connects
OURS Connects is an undergraduate research experience open to CSULB students of all colleges and disciplines. The semi-structured research program pairs undergraduate students with faculty research mentors so that students may contribute to the advancement of faculty research, scholarly, and creative activities (RSCA). Students will also be paired with a seasoned Peer Advisor who will guide them through the project search process and the overall research experience.
In addition to receiving resume and cover letter help, you will attend monthly research workshops to gain foundational research skills. Compensation may include volunteer hours, course credit, or pay via grant funds.
---
Research Initiative for Scientific Enhancement
Sponsored by a grant from the National Institutes of Health, the Research Initiative for Scientific Enhancement (RISE) program aims to increase the interest, skills, and competitiveness of students in pursuit of biomedical research careers. Two distinct programs exist to meet the unique academic needs and professional demands of the biomedical research field.
---
Undergraduate Research Opportunity Program
The Undergraduate Research Opportunity Program (UROP) is a one-year program that offers first and second-year students the chance to participate in the research and creative process with faculty. In the program, students learn:
how research is conducted in your area of interest and in other fields.
research skills that will benefit you not only in research, but also in your courses.
how to interact and communicate with faculty and other researchers.
what you like and may not like in terms of future academic and career directions.
how to become an inquisitive and independent learner.