R.A.D.
R.A.D. Rape Aggression Defense
Image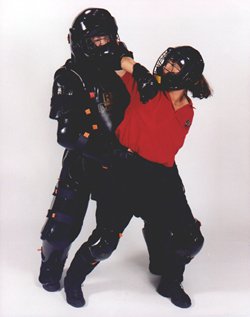 BASIC PHYSICAL DEFENSE FOR WOMEN
R.A.D. is a safety program hosted by the University Police which empowers women by teaching realistic self-defense techniques and tactics through a comprehensive 12-hour hands-on course.
The class begins with awareness, prevention, risk reduction, and avoidance education, progresses to the basics of hands-on self-defense training, and culminates in a full defense simulation. A high level of fitness is not a requirement to participate, but dynamic physical simulations will take place on a voluntary basis.
WHO CAN TAKE THIS CLASS:
R.A.D. is open to ALL women on campus and within our community. (*Priority registration will go to CSULB affiliates)
COST:
$10 for CSULB students, staff, faculty, or alumni
$20 for non-affiliates
Payment is collected on the first day of training. Cash payment preferred, checks accepted.
QUESTIONS: Contact the RAD program coordinator at 562.985.8538
WHY R.A.D.
The national standard in self-defense Instructor Certification, R.A.D. is internationally recognized for program quality and organizational commitment to excellence. R.A.D. balances the needs of women to acquire self-defense education in a relatively short period of time, with the life long commitement required for physical mastery.
R.A.D. provides short-term training in a progressive, "building block" format, and combines it with R.A.D.'s trademark Lifetime Return and Practice Policy. Only a unified, extensive program network can provide this service, honored internationally. R.A.D. instructors share life-saving information with confidence, knowing that their lessons can be continuously reinforced for a lifetime!
R.A.D. is the largest network of its kind with over 11,000 certified instructors to date and has trained more than 900,000 women since the program was launched in 1989.
R.A.D. is the only existing program with a FREE lifetime return policy.
R.A.D. is the only self-defense program ever endorsed by the International Association of Campus Law Enforcement Administrators (IACLEA), National Academy of Defense Education, and the National Self-Defense Institute.