2012 General Education Requirements
In 2018, CSULB aligned our GE requirements with Executive Order 1100 from the CSU Chancellor's Office. Beginning Fall 2019, CSULB will be realigning its GE Category designations with the rest of the CSU.  The below table outlines all of the designation changes as well as the changes introduced with Executive Order 1100.
Image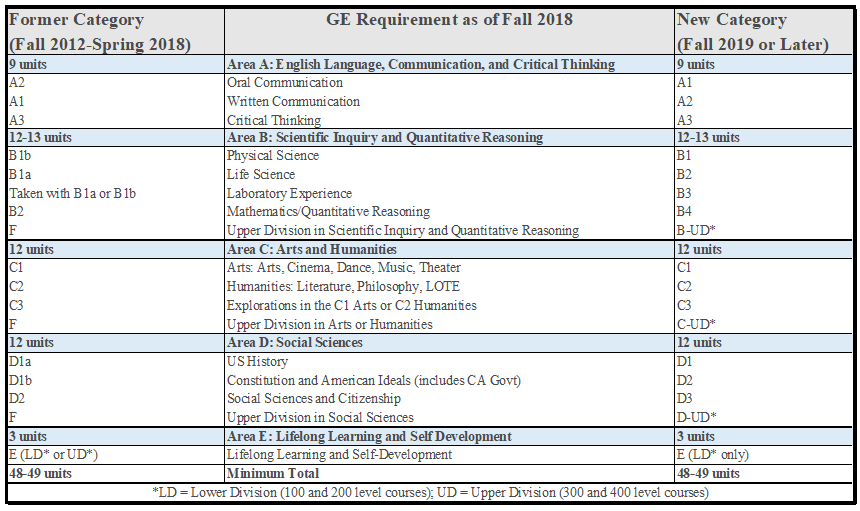 LD = Lower Division (100 and 200 level courses); UD = Upper Division (300 and 400 level courses)  Students under earlier G.E. plans or who need help with the above chart should contact their College Advising Center or the University Center for Undergraduate Advising.
Students who began continuous enrollment in Fall 2012 or later at a California Community College or other California State University must follow this pattern.
The following is an overview of the General Education requirements beginning with the Fall 2012 catalog. Click the link in the "List of Approved Courses" column to see current lists of all courses approved for that requirement. Refer to the online schedule of classes to see which specific sections of courses are being offered for a specific term. You can also run your Academic Requirements Report in MyCSULB to see your current status in completing General Education requirements.
The Foundation (A1, A2, A3 and B2 Courses)
Explorations (B1a, B1b, C1, C2 (a,b,c)/C3, and D1a, D1b, D2 and E Courses)
Capstone (Category F Courses -  Advanced Skills, Service Learning, Interdisciplinary, Integrative Learning and Writing Intensive)
Additional GE Requirements (Global Issues and Human Diversity)