Robert and Janet Spidell Endowment Fund
The first Spidell Classroom: 
On a Thursday evening in August of 2000, the Library's main lobby was transformed, with music, subdued lighting, trees, hors d'oeuvres, even a beverage bar at the check-out desk. The reason for this metamorphosis was a reception, attended by 150 campus and community leaders, honoring Robert and Janet Spidell. Mr. Spidell is a 1965 alumnus of CSULB, a former president of the Alumni Association, and a long-time friend and supporter of the University. The latest manifestation of this support was a gift from the Spidells which enabled the University Library to construct a classroom/lab for the library faculty to use in teaching and demonstrating electronic information retrieval from the library's growing number of online resources.
The Spidell Electronic Classroom, located adjacent to the Electronic Reference complex, has twenty black and silver Pentium III Compaq Ipac workstations with flat panel color LCD displays, a high-tech "smart board", and height-adjustable instructor work surface for demonstrations. PowerPoint, VCR, and an instructor wireless microphone system also are available.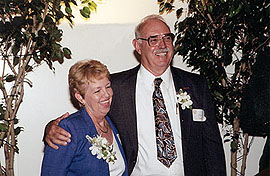 In remarks honoring Mr. & Mrs. Spidell and inviting guests to tour the new facility, Roman V. Kochan, Dean of Library Services, said the new classroom "will be a valuable tool in helping our students make sense of the library's growing number of electronic indexes, abstracts, encyclopedias, and full-text journals and books." Associated Students President Robert Garcia conveyed student thanks to the Spidells, noting that their generosity will have an impact on students for years to come. CSULB President Robert C. Maxson then stated that he shares with Robert and Janet Spidell a commitment to maintaining the quality of the library's collections and its leadership in introducing new services such as those which will flow from the new classroom.
Since that first classroom, the Spidells have supported the library in keeping our technology up to date over the decades, helping CSULB students be on the cutting edge as they graduate and enter the workforce.
For further information contact:
Library Administration
562.985.4047