Campus Printing and Design
Image

Welcome to Campus Printing and Design!
Campus Printing and Design is your one stop shop for printing and design needs. With printing services ranging from digital printing to wide format printing, our friendly and knowledgeable staff can help you with your next project, big or small.
Services
Campus Printing and Design can print documents, brochures and presentations in black and white, or color, and in a variety of sizes. With a large selection of paper in different colors  and weights, we can enhance any document and meet your tight deadlines.
Full-color and black-and-white digital printing and copying
Sales, marketing, booklets and training materials
Flyers, newsletters, brochures, transparencies and manuals
We have quantity breaks for larger jobs, so please call us at 562.985.5050 or email cpad@csulb.edu to request a quote!
Business Cards
We offer great pricing on custom business cards. With your choice of over fourteen hundred graphic digital images, icons, and logos on six different card templates, you will receive premium custom business cards at an economic price.
Our price list contains pricing for the most common services we offer.
Please contact Campus Printing and Design for custom work or additional services not listed on our price list.
No production is too big or too small. Our knowledgeable staff can help you print signs, posters, banners and more. Same day printing is available before 2 pm and 44 inches wide. Price list for standard poster sizes is available here. View more wide format products.
Price List
18"X24"          $13.50
20"X30"          $18.75
22"X28"          $19.25
24"X36"          $25.00
42"X36"          $47.25
48"X36"          $54.00
48"X42"          $63.00
56"X42"          $73.50
If you are interested in a quote, please email cpad@csulb.edu.
Documents scattered on the table? Use our finishing services to clean up your project. PowerPoint handouts and resaurant menus alike can be bound and wrapped to help you create the cleanest look your colleagues will envy.
Binding Services
Look at what we can do for you!
Coil binding
Comb binding
Tape binding
Booklet making (Saddle stitching)
Staple
Shrink Wrap
Finishing Services
The Copy Center offers a variety of finishing services to suit your needs, including:
Folding
Cutting
Drilling
Laminating (up to 24" wide)
Mounting
Padding
Tabs
Image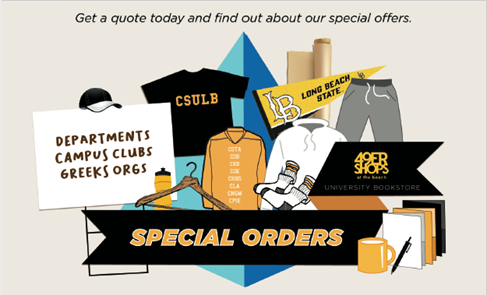 We offer custom printing on a myriad of products for your next promotional item.
Best selling items for custom printing:
T-shirts
Polos
Jackets
Tote Bags
Mugs
Lanyards
Lapel Pins
Notebooks
Water Bottles
License Frames
For any additional information or quotes, please email Jazmine.ramos@csulb.edu.
Campus Printing and Design offers a full range of shipping services through USPS, UPS and FedEx with a wide variety of delivery options from overnight to ground delivery.
We are more than just a print shop; we also provide graphic design services for all your graphic projects. Our designers work quickly to communicate your message with power and clarity.
When creating your vision, the designers will be in communication with you to ensure the project properly represents your objective for your target audience. Depending on the scope of the project, you may be contacted to work closely with the design team to support the creative process and provide needed context to complete the project.
For more information, please email cpad@csulb.edu.
Sometimes you just want to do it on your own.  There are many self-service print lab options for students.
Image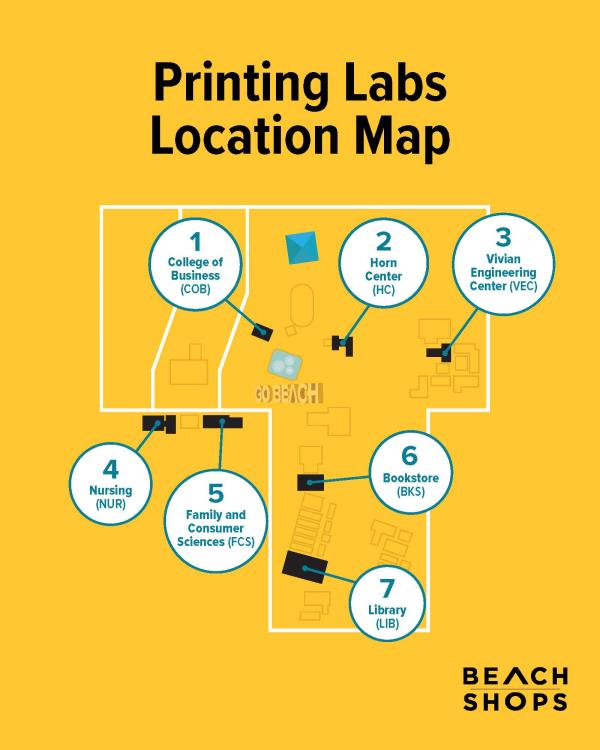 Locations
College of Business Administration (CBA)
Horn Center (HC)
Vivian Engineering Center (VEC)
Nursing (NUR) Open Access Lab Learning Center, RM26
Family and Consumer Sciences (FCS)
University Bookstore
Library/Computer Lab (LIB)
How to use the machines
Operating instructions are provided at the machine to help guide you through the process.
How to pay
The self-service print labs work with money put on your student ID card, also known as your BeachBucks, and do NOT accept cash. To add funds to your BeachBucks account go to any value transfer machine (VTS) located next to the copier. For more detailed information about what your card can do for you visit the ID Card Services page.
Wireless Printing
Please visit University Wireless Printing for instructions on printing from your wireless device. You must be connected to the BeachNet network or campus VPN before you are able to print.
You can pay for your prints via BeachBucks at the time of pick up at the University Bookstore or at a release station. More information about adding funds to your BeachBucks account is available on the How to Add Money page.
We can send local, long-distance, and international faxes, as well as receive faxes.
Faculty/Staff Services
Print your course materials and lab manuals with our high-speed digital printers. Either send us an email with the digital file or bring the original documents in-store and the printers can print your materials in no time.
We will assist you with the production of many products and services:
Course Packs to be sold in the Bookstore
Class handouts
Examinations
Multiple original, collated, and stapled copies
Copyright Services
We offer a free copyright check service with any course material submission. Our friendly staff will review the material and obtain copyright and permission requests that are required by law. Allow us to do the background work while you prepare for the semester. Permission from copyright holders is often needed when creating course materials. Permission is needed when you utilize someone's work in a way that infringes the exclusive rights granted to that copyright holder , ie., reproducing part or all of a copyrighted work. More information on copyright is provided when ordering course packets.