Isabel Patterson Memorial Fund
The Isabel Patterson Memorial Fund supports an outstanding collection of preschool, elementary and secondary level nonfiction, fiction, and picture books located in the University Library, Children's Literature Collection. The fund was established through the Charitable Remainder Trust Ms. Patterson initiated with the university in 1979.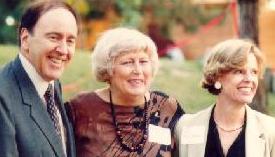 In 1951 Isabel Patterson graduated from CSULB with a degree in English and began teaching in Long Beach. Through investments in local real estate she became a self-made millionaire. Ms. Patterson began a lifelong pattern of philanthropy in the Long Beach community with special emphasis on children. She developed a close friendship with former university President Stephen Horn and his wife, Nini. In 1973 she provided the funds to build the CSULB Isabel Patterson Child Development Center.
Ms. Patterson received an honorary doctorate from CSULB in 1994, an accomplishment of which she was especially proud. Her name still appears on many campus buildings.
Image