The Library and Canvas
New in Canvas! Two ways to access the library: A library Course, and Library Tools
Check Out the Library
(Coming soon, if you don't have it yet.)  Open this course, that you will find on your Courses page, to learn all about library services and how to use them by completing the modules. On your Canvas page, click the library course tile.
You will see these Modules: 
Welcome to the Library: Introduction to the building, services, and librarians 
How to use your library account 
How to get help with research 
How to find an article 
How to find a book 
How to cite your sources 
How to print, copy, scan in the library 
This asynchronous Course teaches the basic skills required to effectively use Library resources. This Course is perfect for 1st Years and Transfer students, but it is really for all students who need to know how to use the library.
This Course is a work in progress and there is a link to submit anonymous comments.  We will be working with the feedback continually.
The library is in your other Canvas courses!
In your other Canvas classes, there is now a Library Tools link on the left side.  Click this to see Library subject and course guides, library reserves for your course, database lists, and even your librarian! *
Image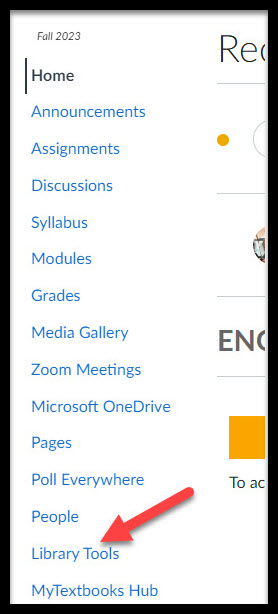 * If you don't see the Library Tools link, ask your professor about it.
For more information, contact lib-ricc@csulb.edu