Library Hosts César Chávez Exhibit: "In His Own Words: the Life and Work of César Chávez"
Campus Community Update #246
September 28, 2009
Library Hosts César Chávez Exhibit:  "In His Own Words: the Life and Work of César Chávez"
Beginning October 1, the University Library, in conjunction with the Center for First Amendment Studies, The Chicano and Latino Studies Department, and the Multicultural Center, will present "In His Own Words: The Life and Work of César Chávez," an exhibition of photographs and autobiographical reflections produced by Humanities Texas, the state affiliate of the National Endowment for the Humanities. "In His Own Words" is made possible by a We the People grant from the National Endowment for the Humanities.
Image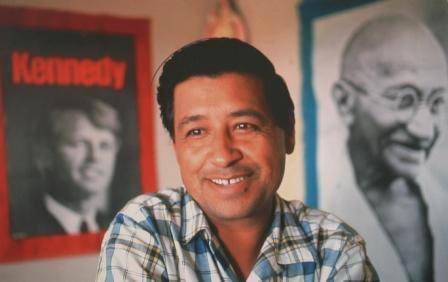 As a child, César Chávez experienced the freedom and joy of growing up on his family's farm in Yuma, Arizona. But the Depression brought hard times, and Chávez's family was forced from their land into a life of migrant work. Throughout his youth and young adulthood, Chávez experienced the pain and suffering of farm labor and the cruelty of racism.
It was during these difficult times that a seed of determination was planted. Influenced by the principles of his parents and his religion, the ideals of his mentors and the study of successful civil rights leaders, Chávez developed a clear and uncompromising vision for change.
Chávez went on to found the first farm workers union. He worked to secure better pay, improved job safety, better living conditions and many other essential rights and protections for laborers. In turn, he became an inspiration to millions who continue the fight for justice and equality.
Featuring thirty-eight photographs paired with personal recollections, "In His Own Words" examines the ethics and experiences that drove Chávez to work tirelessly to improve the lives of American farm workers, recognizing this important twentieth-century leader as a civil rights hero, an influential labor leader and a champion of change.
The exhibition will be available for viewing on the fifth floor of the Library from October 1st to November 13th during all library hours: http://csulb.libcal.com/. On Tuesday October 13 at 4 p.m. John Hammerback, author of The Rhetorical Career of Cesar Chavez and related titles, will present a lecture at the exhibit site.