How CSULB is continuing to support Black students
Published August 28, 2023
The California State University recently issued a plan designed to both elevate Black achievement and address the continuing declines in Black student enrollment, retention and graduation rates across the 23 CSU universities. 
The report, "Advancing Black Student Success and Elevating Black Excellence in the CSU: A Call to Action," included 13 recommendations ranging from a comprehensive enrollment strategy to creating welcoming and affirming spaces on each campus. 
"The time is now, perhaps more than ever, to specifically focus on our Black students' achievement through recruitment, retention and graduation," said Cal State Long Beach Provost Karyn Scissum Gunn.  
She added that The Beach's percentage of enrolled Black undergraduate students (3.69% in fall semester 2022) falls "far too short" of the Long Beach community at large (12.1%, according to U.S. Census data). In addition, only 48% of Black students who enrolled in fall 2016 CSU-wide earned their degree in six years, compared to 71.3% of their white peers.  
The Beach is doing its part to ensure Black student success, with numerous programs aimed at recruitment, enrollment, financial aid, academic success, mental and emotional wellness, and establishing a sense of community.  
Here's a look at some of the efforts The Beach is making to advance Black student success and elevate the Black experience on campus. 
Preparation, recruitment and welcome
Image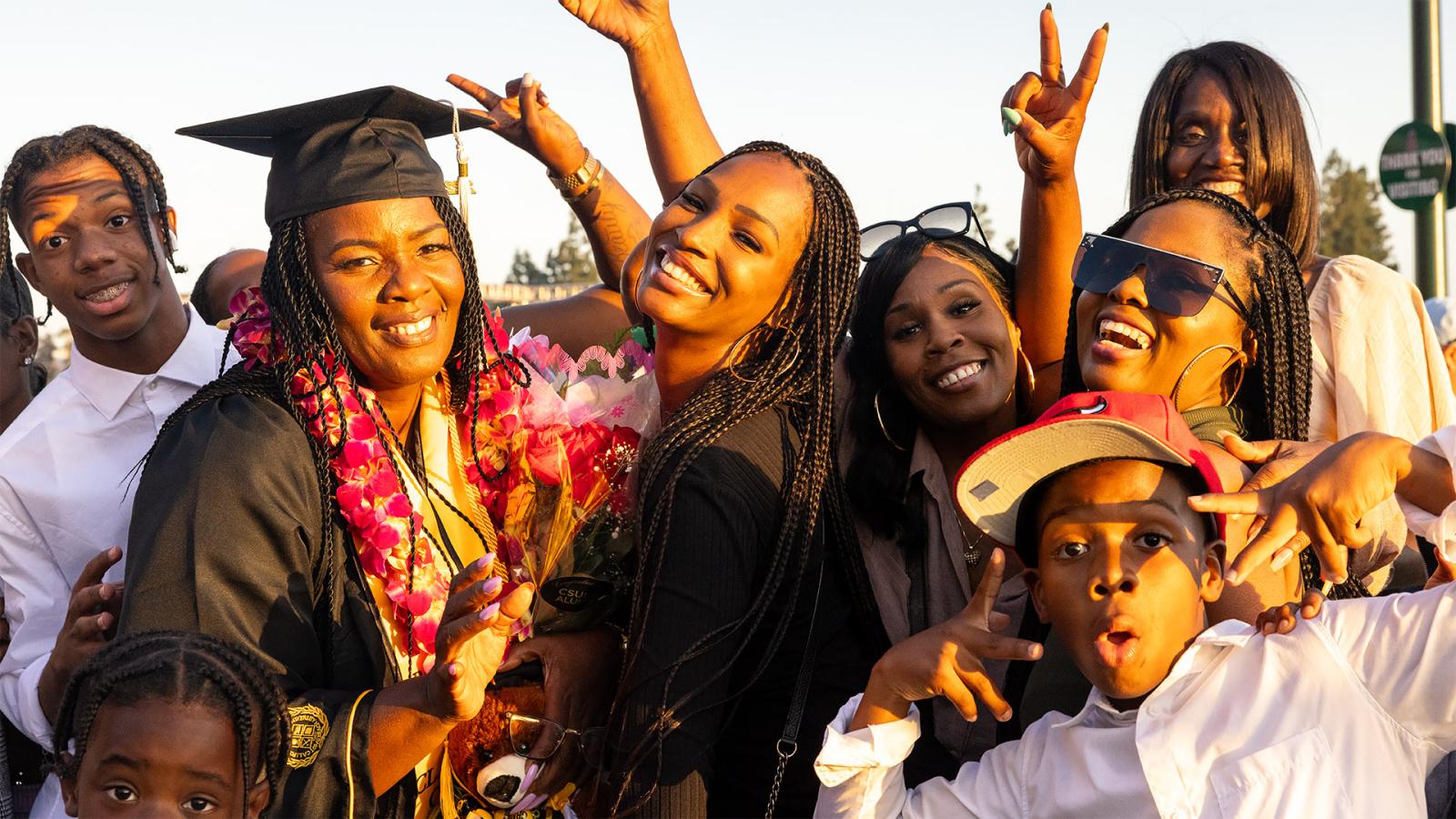 CSU Super Sunday 
Super Sunday is an annual CSU-wide event held in February, during Black History Month, at area African American churches. 
The CSU partners with faith-based leaders in churches across the state to discuss the importance of preparing for college, and the transformative power of a college education and degree. 
"Super Sunday continues to be an important outreach effort for our campus, the CSU and our communities," said President Jane Close Conoley earlier this year. "It helps potential Beach students realize they can get an affordable education, and that it is never too early to prepare for college, and never too late to return." 
Last year, Provost Scissum Gunn and Beth Lesen, vice president of student affairs, spoke at two Long Beach churches: Temple Baptist Church and the ROCK Christian Fellowship. Elijah Sims '07, '22, coordinator of student success & support at Long Beach City College and interim director of the Long Beach College Promise, visited Brister Baptist Church in Compton.  
Since its launch in 2005, more than 1 million people have participated in this signature awareness event of the CSU's African American Initiative, which aims to increase the preparation, support, retention and degree attainment for Black and African American students.  
Day at The Beach 
During the annual Day at The Beach – which takes place each April – a reception is aimed specifically toward admitted Black students. It's hosted by Africana Studies, the Black Faculty and Staff Association, and the Black Students Union.  
During the reception, which includes lunch, faculty and staff greet prospective students and family members. They inform them of Black student opportunities and give them a sense of belonging and resources.  
Administrators talk, and counselor Shelly Collins from CAPS typically attends as well.  
Separately in April, the Black Beach Experience connects Black high school students with Black CSULB students to hear about their unique stories, experiences and opportunities. It's hosted by the Black Student Union on campus. 
The Black Cultural Welcome is going to be held Sept. 12 on the first floor of the University Student Union. It's a mixer for incoming Black students to meet faculty, staff and fellow students. Various student organizations are also invited to attend to promote their activities. Africana Studies and other departments are also present to welcome new students and share their programs.
BOSS program 
The BOSS program (Business of Student Success) – an independent, Long Beach-based nonprofit – equips youth, especially Black and economically disadvantaged boys of color, with the tools and skills to succeed in all aspects of their lives. BOSS focuses on middle and high school boys' intellectual, physical and emotional well-being. BOSS places an emphasis on STEAM learning and the strengthening of critical thinking skills.  
Every summer, CSULB hosts 60-70 boys in a two-week summer camp that engages them in reading, math, coding, robots and career and college counseling. They also play sports and often have sports and entertainment notables visit for inspirational speeches. CSULB faculty and students serve as speakers, mentors, coaches and camp counselors. 
Kagba Suaray, Ph.D., a math professor at The Beach, is on the BOSS leadership team and serves as its math/STEM initiative consultant.  
"Through role modeling, we're showing young men that there are people that look like you who have achieved in STEM," Suaray said. "There are (Black) inventors and innovators of the past. As a community, we need to light that spark up again." 
Financial opportunities, scholarships  
Mary Jane Patterson Scholarship 
The Mary Jane Patterson Scholarship – named after the first African American woman to earn a bachelor's degree from an established four-year college in the U.S. – was established at CSULB in 2019 as part of the Teachers for Urban Schools Project. The project was designed for students enrolled in a teacher education program at The Beach who are interested in teaching in urban classrooms and working with Black students. 
The Teachers for Urban Schools initiative was launched to address the nationwide shortage of teachers of color, particularly African American teachers.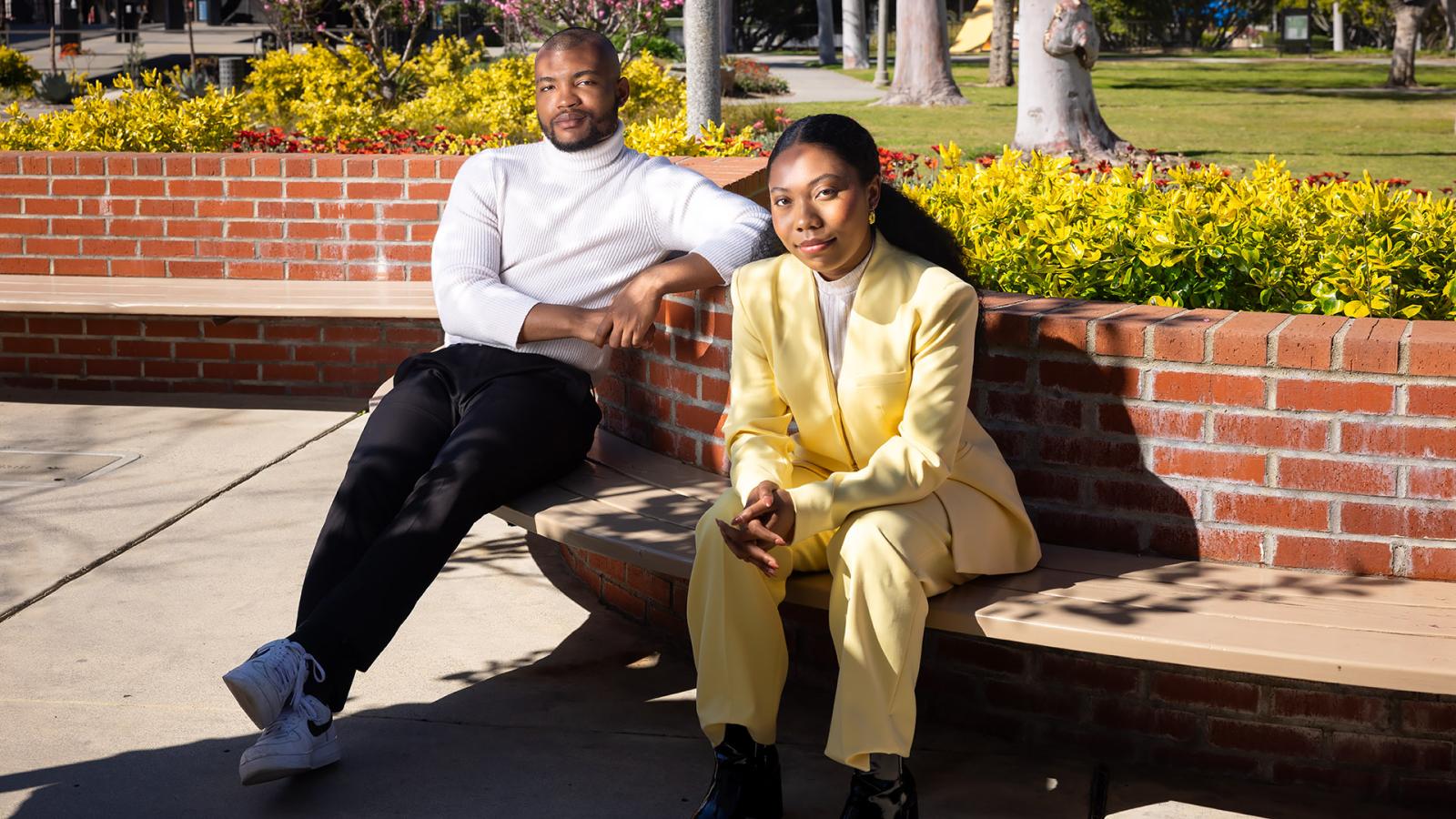 Black Alumni Scholarship and Gala 
The Black Alumni Scholarship provides financial support to African American students at The Beach. Founded in 2021 by John Hamilton, former associate vice president of student success & equity, the scholarship offers support to qualified students for tuition, books, transportation and living expenses.  
Each year, CSULB faculty, staff and alumni organize a fundraising gala, typically in downtown Long Beach. To date, the gala has raised about $300,000 for scholarships and CSULB's Black Resource Center. 
Farmers & Merchants Bank has been a supporter of the program since its founding. "Since the first meeting with Dr. Hamilton and Tracy (Kelly, student success & equity coordinator), we have been inspired by their devotion and mindful approach to providing support to students through the creation of a strong, loving community committed to empowering students through education," said Tiffany Roberts, vice president of Farmers & Merchants Bank and director of the FMB Foundation.  
Eliminating achievement gaps in our communities by building and strengthening programs that lead to a more equitable future for all is one of the priorities of CSULB's comprehensive No Barriers fundraising campaign. 
Catalyst for Change scholarship and internship 
Catalyst for Change provides scholarships and internships for CSULB students who are interested in social and racial justice. 
The program was established in 2020 in the memory of George Floyd, as well as honoring Breonna Taylor, Ahmaud Arbery, Tony McDade, Ron Settles and countless other Black men and women who have suffered or died as a result of police brutality or inactivity.  
Funds for Catalyst for Change come from the Beach community and the Brotman-Skoff family, who established an endowment to support the program. 
"We hope the Catalyst for Change program can give students the ability to gain meaningful work experience without having to sacrifice an income," said Pegi, Gabi and Jeff Skoff. "The goal of this program is to holistically support students to build critical workplace skills that translate to a real advantage for them."   
Academic support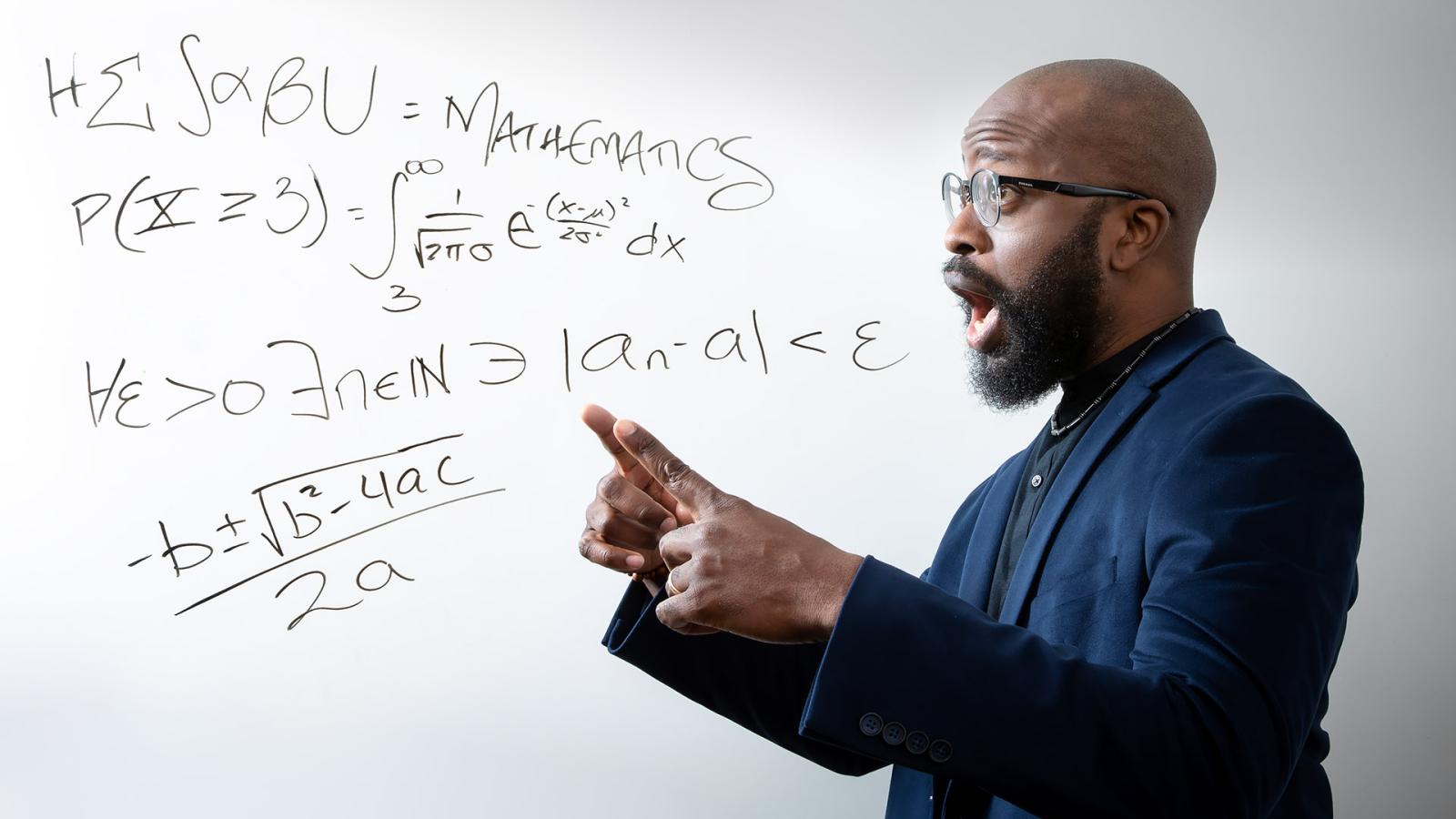 Hesabu Circle 
The Hesabu Circle – co-founded by CSULB mathematics professor Suaray – encourages more Black representation in STEM, particularly in the field of mathematics. "Hesabu" is the Kiswahili word for "mathematics." Established during the protest-filled summer of 2020, the Hesabu Circle aims to rebuild Black identities as mathematic achievers.  
The group is a program designed to help Black students of all ages from around the world connect with Black math professionals and educators. 
The Hesabu Circle has hosted a number of virtual and in-person events, such as field trips, mentoring workshops, interactions between K-12 students and Ph.D. mathematicians, and professional development opportunities. 
Africana Studies Department 
The Africana Studies major is designed to provide students with a rich intellectual experience through the study of African peoples – continental and diasporan. Africana Studies seeks to critically examine and understand the Africana initiative and experience from an Afrocentric or African-centered perspective. 
There are many accomplished faculty members in the Africana Studies Department, including Maulana Karenga, Ph.D., chair of the department and founder of Kwanzaa.  
The Africana Studies Student Association is an affiliated group of students who major and/or are interested in the field.  
Black & Pan-African Scholars House 
Located in the H building of Parkside, the Black & Pan-African Scholars House provides a safe, welcoming place for students who are a part of or support the Black community on campus. Living in this house offers opportunities to engage in discourse about the Black/African American/African experience on campus.  
Residents also receive mentorship from staff and faculty, and get a chance to explore their multiple identities, plan and attend events, and create friendships. The community connects residents to offices/departments across campus and provides academic, social, wellness and cultural resources.  
Resources for students 
The Black Resource Center, located in Faculty Offices 4, is a community space to hang out, study and meet. It's equipped with a microwave, fridge, computers and a printer, and is often used by clubs and organizations as a meeting space. 
The BRC provides scholarship and internship opportunities, and hosts culturally empowering programs and events, such as the Black Cultural Welcome. Assistant Director Paul Carter also organizes the Black/Pan-African Graduation ceremony, aka the Black Cultural Celebration. 
The Black Student Union serves as an umbrella to a variety of other African American organizations, such as the National Pan-Hellenic Council, the National Society of Black Engineers, King II King, Queen II Queen and the Africana Studies Student Association. 
The BSU is the largest Black organization at CSULB. It promotes academic excellence, cultural consciousness, social responsibility and reconnection with family. The BSU aims to serve The Beach's Black community, as well as the Black community through the greater Long Beach area. The BSU also keeps African American students up to date on events and activities. 
Men's Success Initiative 
The Men's Success Initiative at CSULB is a program focused on cultivating a sense of brotherhood among students working toward graduation, and men of color who have found success. The program emphasizes three foundational tenets: 
Empowering men of color to achieve both personal and academic success; 
To challenge antiquated perceptions on gender and masculinity; and 
Develop a thriving community of brothers by retaining (and graduating) undergraduate men of color.  
The initiative offers free tutoring, academic workshops, scholarship information, academic and personal advising and mentoring.  
The Men's Success Initiative has also established many partnerships with on and off-campus organizations, such as 100 Black Men of Long Beach and the Math Collaborative at Jordan High School in Long Beach.  
For more information, check out the initiative's website. 
Mental and emotional health 
CSULB has specific mental health resources for African American students. Black Table Talk is a recurring group session that occurs during the school year when folks want to talk about current events, or high-profile occurrences that affect the African American community, such as incidents of police brutality. 
For more individual care, students can request 1-on-1's with a Black therapist. Counseling and Psychological Services features two Black therapists, Dr. Shelly Collins and Nina King.  
Sister Friends is a weekly support group for Black women students. The group meets Thursdays from 1-2:30 p.m. in University Student Union, Room 204. For more information, check out Sister Friends' Instagram page.