How CSULB program supports students, social justice while honoring Black lives
In the weeks following the May 2020 murder of George Floyd by police in Minneapolis, people and institutions across the country sought ways to implement real, lasting social change. 
At Cal State Long Beach, students, faculty and staff founded the Catalyst for Change program, which offers scholarships and internships for students involved in social and racial justice.  
The program was established in the memory of Floyd, as well as honoring Breonna Taylor, Ahmaud Arbery, Tony McDade, Ron Settles and countless other Black men and women who have suffered or died as a result of police brutality or inactivity. The scholarship and internship were designed to support CSULB students who serve as catalysts for change through racial and social justice.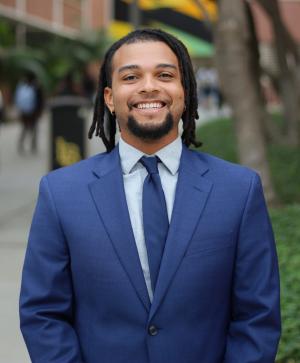 "Because of the ongoing reality of Black lives being lost due to police violence, the purpose is to create opportunities for students to take part in social activism, and to combat some of the tragedies that we're seeing on a national level," said Paul Carter, assistant director of the Black Resource Center on campus, who oversees the Catalyst for Change program. 
The creators of the program "were very intentional in wanting to make sure these scholarships are impactful to students, and that students gain a lot from these experiences," Carter said. 
Catalyst for Change (CFC) has roots before May 2020, when conversations were taking place about supporting Black students, but officially kicked off in 2020. Africana Studies Professor M. Keith Claybrook Jr., Health Science Professor Amber Johnson, civil engineering graduate Isaiah Phillips '21, and Jeremy Scruggs, former assistant director of the Black Resource Center, all had a hand in the formation of the program.  
According to Claybrook, after the Floyd murder and unrest across the country and globe, the Brotman-Skoff family, longtime donors to the university, reached out and expressed a desire to support students who were involved in championing racial and social justice.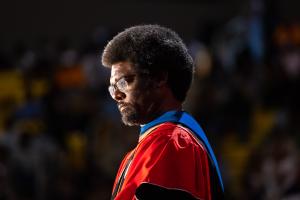 "The scholarship and internship opportunity is a specific avenue that speaks to the broader effort of the campus to support our students, who are a numerical minority," Claybrook said. Black students comprised 3.7% of the spring 2023 population at CSULB, according to university data.  
Ayoola Anthony Fadonougbo, a fourth-year biomedical engineering student, received a $2,000 CFC scholarship and completed a six-month internship. He recently finished serving a second year as president of the Black Student Union. 
"The scholarship helped me, it benefited me economically with household expenses, food, bills, things of that nature," he said. "Tuition as well …. It has limited economic stress and burden on my part. I understand why people do not finish school. It has helped take that burden off, for me to focus on doing my schoolwork. It has helped me progress within my academic and schoolwork where I can reach graduation." 
Fadonougbo did his internship with the Long Beach-based April Parker Foundation, which provides services for African and Black families, as well as under-served communities, in Los Angeles and Orange counties. He said he learned a lot from his internship and scholarship experiences. 
"When it comes to Black and African peoples' oppression, it is understood that we are not completely free," Fadonougbo said. "I have the power to organize and change that."  
Funds for Catalyst for Change come from the Beach community and the Brotman-Skoff family, who established an endowment to support the program – which is open to all students interested in social and racial justice. 
"We hope the Catalyst for Change program can give students the ability to gain meaningful work experience without having to sacrifice an income," said Pegi, Gabi and Jeff Skoff. "The goal of this program is to holistically support students to build critical workplace skills that translate to a real advantage for them."  
Funding undergraduate scholarships and paid internships so that every Beach student will be unencumbered financially from crossing the finish line is one of the priorities of CSULB's No Barriers comprehensive fundraising campaign. It's all part of creating a national model for student achievement, empowerment and equity.  
Aureeyahn Edmundson '22, who received her bachelor's degree in Africana Studies, completed an internship for the Afrikan Black Coalition from 2020 to 2022. The nonprofit coalition helps connect those in Black student unions across the CSU and UC systems and has been doing so for over 20 years. During her time with the coalition, she became leadership development director. 
"It was the first time ever I had an opportunity to be provided a paid internship to do work for the people," said Edmundson, a first-generation college graduate. "It was beneficial for me as a student, and also gave me access to funds to do other things in my life." 
Edmundson said she used some of the money for living expenses, but mostly saved it for the future.  
"I don't think I would be who I am, if it wasn't for programs like this," she said.  
Since graduating in December 2022, she's been working as a community engagement coordinator at the April Parker Foundation. 
"I have to do this work, because if I don't, who's going to do it? My ancestors fought, died, and were assassinated for my right to be here. That's why I do this work. We can change our circumstances and our conditions."