Super Sunday: CSULB reinforces the transformative power of higher education
Published February 20, 2023
Cal State Long Beach campus leaders will reinforce the message of the transformative power of a Beach degree as part of Super Sunday on Feb. 26, an annual event held at area African American churches. 
The CSU has partnered with faith-based leaders in churches across the state to discuss the importance of preparing for and graduating from college. For nearly two decades, Super Sunday has given future students and their families the opportunity to discover more information about the process of enrolling at a California State University.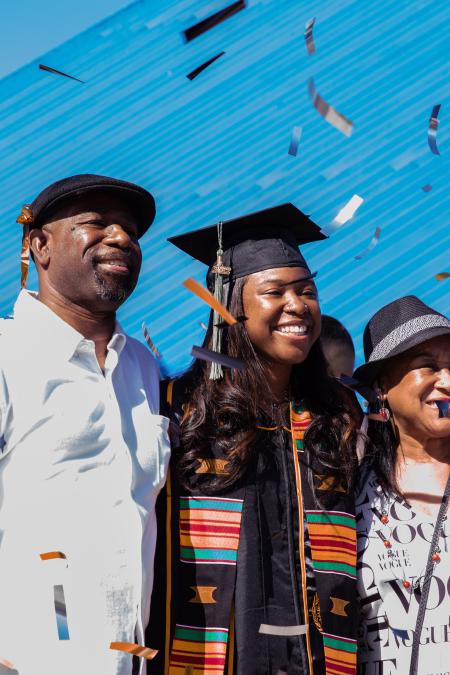 "Super Sunday continues to be an important outreach effort for our campus, the CSU and our communities," said President Jane Close Conoley. "It helps potential Beach students realize they can get an affordable education, and that it is never too early to prepare for college and never too late to return.
"Our central message, though, is that a college degree can lead to life-changing and transformative opportunities for students, families, and whole communities." 
Provost Dr. Karyn Scissum Gunn will share her message at Temple Baptist Church in Long Beach, stressing how a college degree is affordable and within reach for Black and African American families. 
Beth Lesen, vice president of student affairs, will speak at The ROCK Christian Fellowship in Long Beach, and Dr. Elijah Sims '07, '22, coordinator of student success & support at Long Beach City College, will visit Brister Baptist Church in Compton. 
"The CSU Super Sunday event serves as an excellent way to connect and outreach to our predominantly Black and African American faith-based communities," Scissum Gunn said. "This system-wide effort highlights the power of transformative and equitable educational experiences for ALL students, especially those from historically underrepresented backgrounds.  
"This year, I have the great honor of representing The Beach and spreading the news of our commitment to the public good. An excellent event as we continue celebrating Black History Month, I am eager to share our message of access, affordability, and opportunity with our partners, and showcase the CSU's impact on our diverse Long Beach community."
The area churches taking part are: 
Since its launch in 2005, more than a million people have participated in this signature awareness event of the CSU's African American Initiative, which aims to increase the preparation, support, retention and degree attainment of Black and African American students.
Sylvia A. Alva, CSU executive vice chancellor of academic and student affairs, said Super Sunday "seeks to empower African American youth and their families to start early on the path to college and to understand that a CSU degree is accessible, affordable, achievable and transformational."  
She said that "Our 23 universities are committed to ensuring students in historically underrepresented communities have the resources and support they need to thrive, experience a sense of belonging, and achieve college and career success."