Black Alumni Scholarship program builds community, support for Beach students
For David Ifediba, finding a Beach "family" was all he needed to help him feel like he wasn't navigating campus alone. 
After struggling a bit his first year to find a sense of community, the second-year graduate student in school psychology discovered folks at the Black Student Union, the Black Resource Center and the Student Affairs Division. 
"Once I found my niche, things just kinda made more sense," he said. "I found my community and my area to go to. The Student Affairs office has been instrumental to my growth. Dr. (John) Hamilton and Tracy Kelly both … treated me almost like another son. They provided me resources all the time that I would not have found anywhere else." 
Ifediba, a Nigerian American who's also a first-generation college student, is one of 30 students who have received a Black Alumni Scholarship over the past three years. 
"The scholarship has been instrumental in helping me with my cost of attendance," he said. "It's allowed me just to focus on campus. With the extra funds, I've been able to pay for living expenses, especially in So Cal, where it's super expensive. I've been able to give back to the community that has given to me." 
The Black Alumni Scholarship was founded in 2021 by Hamilton, associate vice president of student success & equity. This weekend, the program is celebrating its third "One Village, One Purpose" fundraising gala at Ovation Square in downtown Long Beach.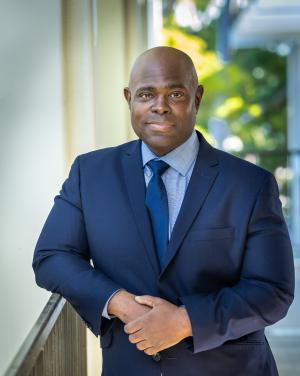 One main reason for starting the scholarship was to develop an institutionalized, consistent way of providing support to African American students at The Beach, who comprise about 3.7% of the spring 2023 population. Before the program, Hamilton said he and his wife provided informal support to students for tuition, books, transportation and living expenses. That lasted about 10 years.  
But he realized he couldn't fund students from his own pockets forever, and a more formal system and event needed to be established to get more Beach-affiliated people involved.
"We want students to be able to stay at Long Beach State," Hamilton said. "Especially our first-generation Black students, some of whom are working 20-plus hours per week. We want them to still be deeply involved in what they're studying and doing. And they need to be getting funding to stay in school … to support their graduation."  
To date, the gala has raised about $300,000 for scholarships and CSULB's Black Resource Center. 
"Over the last two or three years, this gala has helped build a community across campus," Hamilton added. "It's a way for our Black alumni to come back and connect. It's our Black excellence event. It's our Black Harlem in Long Beach." 
The keynote speaker at this year's gala will be Shirley Weber, secretary of state for California. The master of ceremonies will be Mike Gipson, representative for the 65th District in the state Assembly. And the mistress of ceremonies will be Diamond Byrd, a graduate student and executive vice president of Associated Students Inc. 
This year's honorees will include distinguished CSULB alumni and Long Beach community members: Darick Simpson, president of the Miller Foundation; Pastor Wayne Chaney Jr. of Antioch Church of Long Beach; Doris Robinson, executive director of the CSULB-LBUSD Math Collaborative; and Kagba Suaray '98, professor of mathematics and statistics at The Beach. Current and previous scholarship recipients will also be recognized. 
"We don't have a lot of tenured professors in mathematics," Hamilton said about Suaray, who's also a founder of Hesabu Circle, a collection of Black math scholars that provides support and guidance for math colleagues and students. "We want to show our Black community that we are on the highest level of academics, of STEM. Of course, (Suaray) is an alum as well." 
Hamilton noted that over the past five years, he has received feedback from students and parents that they don't want loans that have to be paid back with interest. They would prefer to obtain grants and scholarships. 
To that end, organizers have managed to get dozens of corporations, foundations and individuals to contribute. 
Farmers & Merchants Bank has been a supporter of the program since its founding. "Since the first meeting with Dr. Hamilton and Tracy (Kelly) we have been inspired by their devotion and mindful approach to providing support to students through the creation of a strong, loving community committed to empowering students through education," said Tiffany Roberts, vice president of Farmers & Merchants Bank and director of the FMB Foundation. 
Eliminating achievement gaps in our communities by building and strengthening programs that lead to a more equitable future for all is one of the priorities of CSULB's comprehensive No Barriers fundraising campaign. 
Gigi Givens, a second-year student majoring in business finance, said the scholarship money she received has helped pay for textbooks and Long Beach transit, since she doesn't drive. A bus pass costs $100 each semester. 
"I think finances are a struggle for a lot of students," she said. "I come from a low-income family with a single parent and three older sisters. The fact that there are people out there who want to assist us – I think that aspect really motivates me, because there are people who want to see us succeed." 
Givens added that donors and fellow scholarship winners have been a great network for her.  
"I feel like I met some really incredible people, including other Black Alumni Scholarship recipients. We're all from different majors." 
And now she wants to pay it forward. 
"Whenever I do see a Black student on or off campus, I tell them to get involved with the Black Resource Center and other resources. I'm hoping I can have an impact on at least one Black student, so they can tell their friends through word of mouth."