Scholarships
Image

CSULB is proud to offer several scholarships to help students cover the costs of their education. These funds come from a variety of university, federal, state, and private sources--but unlike loans, they do not have to be repaid. Opportunities are available for new and continuing students. 

Important Reminder: Scholarship recipients must be enrolled at CSULB in the semester they are receiving their funds. 
Explore the resources below to find scholarship opportunities that match your interest and eligibility. Be sure to closely review application deadlines and application requirements! 
Image

More Resources for Students:
Explore the tools, resources, and frequently asked questions below to help prepare you for applying for scholarships. Plus, use the Ask Elbee chatbot, or submit a help ticket to connect with the Financial Aid and Scholarships team for further support.
Navigating the FAFSA and/or DREAM application as well as other various forms of financial aid can sometimes be confusing. After all, there are many different types of aid awards and eligibility requirements depending on what you might be looking for.
Explore the Financial Aid TV library to find short Q&A videos to help you understand the various types of aid (including scholarships) and how to best complete your financial aid application(s).
The personal statement is generally one of the most important components of your scholarship application. It allows the readers of the selection committee to learn more about you and your goals as they relate to a particular scholarship. 
When writing your personal statement, consider the following guidelines: 
Stay at or under the word limit. 
If there is a word limit, stay as close to it as possible. Use 12-point font unless directed otherwise. Selection committees may have many applications to review and not enough time to read verbose essays. 
 
Make sure to directly answer the question (if there is a specific prompt). 
This may sound obvious, but many writers sometimes write lengthy, illustrative stories without ever answering the original question posed to them. Try rephrasing the question or prompt in your introduction to make sure you address the scholarship's main criteria! 
 
Draft your statement in a Word document before you apply. 
Since most applications have online or fillable PDF fields, try writing your personal statement in a Word document first so you have a chance to make edits. Once you have saved your response(s), you can copy and paste your polished response(s) in the final application. Always be sure to proofread, proofread, proofread!
Need More Writing Support? 
If you need help writing or proofreading your personal statement, explore the following campus resources: 
Image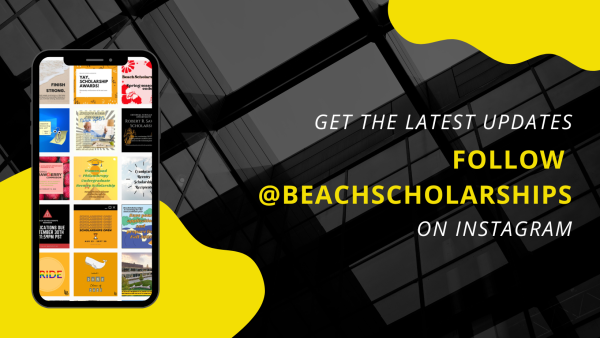 Get the latest CSULB scholarships news, writing tips, Q&As, and more by following @beachscholarships on Instagram!
Image

General Scholarship FAQs:
Here are a few tips to keep in mind in the search for scholarships: 
Every student's financial aid package is unique and may be impacted by additional grant funding. It is important to review your financial aid package again if you are the recipient of a scholarship. 
In general, all financial aid is limited by two factors: your cost of attendance and your unmet need. 
The cost of attendance, or budget, is the standard amount that it has been determined it costs a student to attend CSULB for nine months. This includes billed expenses, such as tuition and fees, and non-billed expenses, such as transportation and books and supplies. Aid cannot be awarded above this amount, since, theoretically, all educational expenses would be covered under the standard cost of attendance. There are exceptions that can be made on a case-by-case determination by our office. If you believe that you have significant educational expenses that are not being considered in the standard cost of attendance, you can submit a Cost of Attendance Appeal. 
Unmet need is the difference between your cost of attendance and what you are expected to be able to contribute to your education (your expected family contribution). Need-based programs, such as Federal Work-Study; Subsidized Loans; State University Grant; Cal Grant; and scholarships, all must fit into your unmet need. If you receive need-based funding that exceeds your unmet need, the new funding will likely replace loans and then State University Grant or Cal Grant.  
If you have specific questions about how a scholarship affects your financial aid, please reach out to us. 
Stipends are paid in monthly installments. They will be disbursed to your account around the 20th of each month you are awarded. You can confirm the months you are receiving a stipend with your program administrator or faculty PI.
Yes, there are several ways to give to our students and become a Beach supporter today! Start by visiting csulb.edu/give and review the different options available. 
Auto-match means that you have been applied to certain scholarships based on your Applicant Record, your General Application, and any college/department application. You do NOT have to complete any additional information to apply for auto-match scholarships.
A confirmation email will be sent to each applicant upon completion of the General Application, college/department applications and any Recommended applications. Please be sure to check your spam or junk mail if you have not received a confirmation email.
Unfortunately, No. Since scholarships disburse the semester after the deadline date, you must be enrolled in the following semester to receive the scholarship disbursement (i.e: spring scholarship deadline means you will receive the scholarship money in fall. Therefore, if you are graduating in spring, you will not be eligible for CSULB scholarships that are due in the spring).
External Scholarships and Partner Programs FAQs:
Disclaimer: CSULB is committed to creating a community in which a diverse population can learn, live, and work in an atmosphere of tolerance, civility and respect for the rights and sensibilities of each individual, without regard to race, color, national origin, ancestry, religious creed, sex, gender identification, gender expression, sexual orientation, marital status, disability, medical condition, genetic information, age, Vietnam era veteran status, or any other veteran's status. CSULB is an Equal Opportunity Employer.