Nugget Menu
Image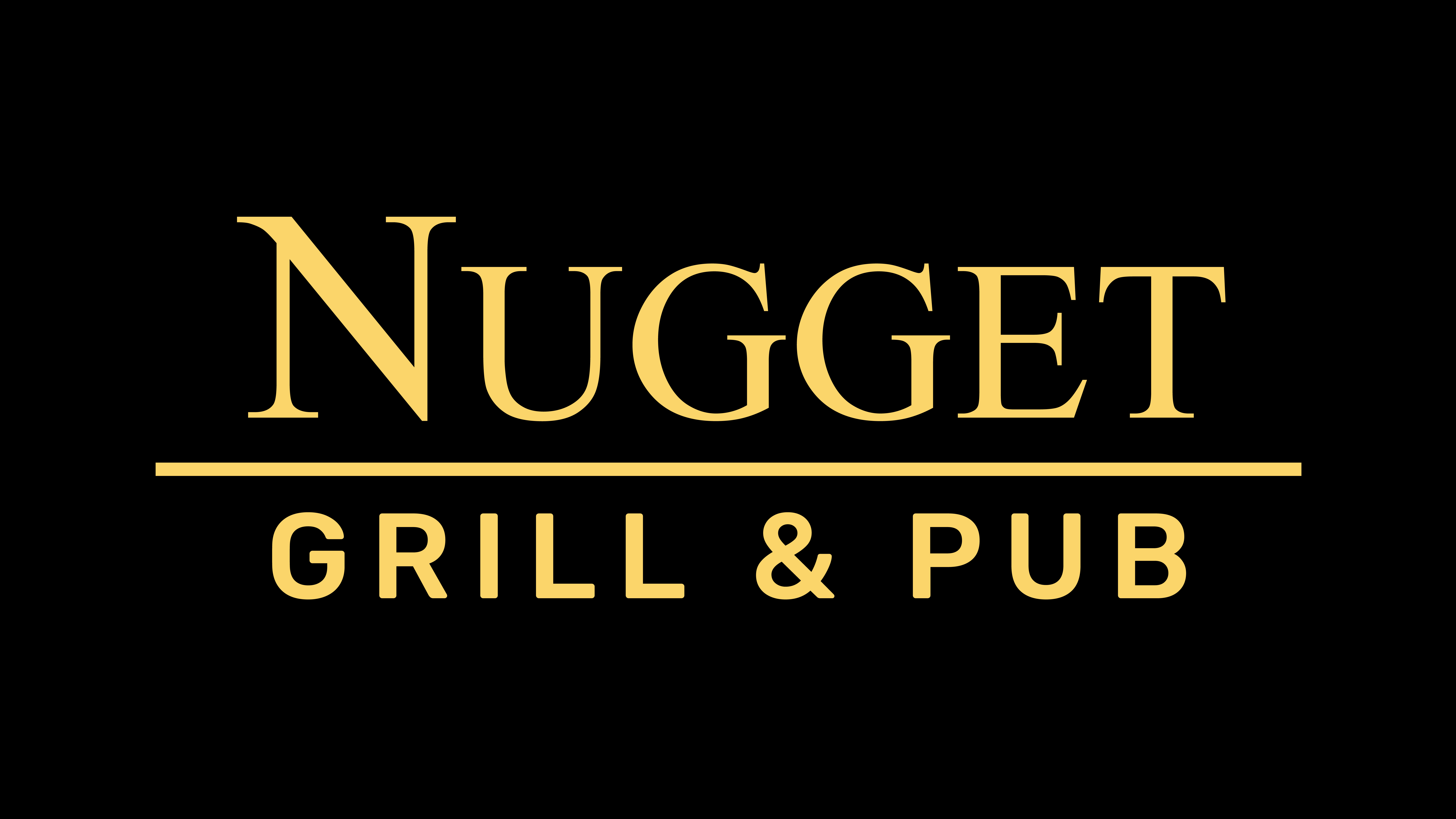 Fountain Drinks      24oz   $2.49      32oz   $2.79
Coffee     12oz   $2.95      16oz   $3.25
Proudly serving Starbucks Coffee
Nugget Breakfast
Served from 7:30 AM to 11:00 AM
Add two eggs any style and your choice of meat (smoked bacon, sausage, or turkey sausage) for $3.99
Pancakes     $ 4.99
Two pancakes with whipped butter
Contains milk, soy, and wheat
Two Eggs with Meat     $ 8.59
Two eggs any style, choice of meat (smoked bacon, ham, sausage, turkey sausage, or Spam) with hash browns, and choice of toast (English muffin, sourdough, or wheat)
Contains eggs and wheat
Cheddar Cheese Omelet     $ 7.99
Two egg omelet with cheddar cheese and choice of meat (smoked bacon, ham, sausage, turkey sausage, or Spam) served with hash browns
Contains eggs, milk, and wheat
French Toast     $5.99
Two slices with whipped butter
Contains egg and wheat
Two Egg Breakfast     $ 5.89
Two eggs any style, hash brown, and choice of toast (English muffin, sourdough, or wheat)
Contains eggs and wheat
Feta Cheese Omelet     $ 8.99
Two egg omelet with Feta cheese and a vegetable blend (tomatoes, red onion, spinach, mushroom) served with hash browns
Contains eggs, milk, and wheat
Add breakfast meats for an additional cost
Sunrise Bagel Sandwich     $ 4.59
Over hard egg, honey Dijon mustard, tomato, cucumber, and red onion, on an everything bagel
Contains eggs, wheat, and sesame seeds
The B.E.T. Bagel Sandwich    $ 7.19
Over hard egg, smoked bacon, cheddar cheese, tomato, sriracha mayo, and hash browns, on an everything bagel
Contains eggs, milk, wheat, and sesame seeds
Breakfast Sandwich     $ 5.99
Scrambled egg, cheddar cheese, with choice of bread (English muffin, plain bagel, everything bagel, sourdough, or wheat toast) and choice of meat (smoked bacon, ham, sausage, turkey sausage, or Spam)
- Upgrade to Croissant $2.50
- Without meat option $4.49
Contains eggs, milk, wheat, and sesame seeds
Breakfast Burrito     $ 8.99
Two scrambled eggs, choice of meat (smoked bacon, sausage, turkey sausage, or Spam), hash browns, and cheddar cheese wrapped in a flour tortilla with a side of salsa
Contains eggs, milk, and wheat
Elbee Burrito    $ 11.49
Two scrambled eggs, smoked bacon, hash browns, cheddar cheese, avocado, and chipotle sauce in a flour tortilla with a side of salsa
Contains eggs, milk, wheat, and soy
Spam and Egg Burrito     $ 8.49
Two scrambled eggs, grilled Spam, green onion, white rice, and sriracha mayo wrapped in a flour tortilla.
Contains eggs, milk, and wheat
Spinach and Mushroom Burrito     $ 8.99
Two scrambled eggs, hash browns, sauteed spinach, and mushroom wrapped in a flour tortilla
Contains eggs and wheat
Ranchero Burrito     $ 8.49
Two scrambled eggs, pinto beans, hash browns, and cheddar cheese wrapped in a flour tortilla with a side of salsa
Contains eggs, milk, and wheat
Breakfast Bowl     $ 8.99
Two scrambled eggs, choice of meat (smoked bacon, sausage, turkey sausage or Spam), hash browns, and cheddar cheese
- Without meat option  $7.89
Contains eggs, milk, and wheat
Ranchero Bowl     $ 7.79
Two over-medium eggs, Pinto beans, hash browns, cheddar cheese, and pico de gallo in a bowl with salsa on the side
Contains eggs, milk, and wheat
Spam and Egg Bowl     $ 8.49
Two scrambled eggs, white rice, grilled Spam, and green onions drizzled with Sriracha mayo
Contains eggs and milk
Toast     $ 2.29
Choice of wheat, sourdough, English muffin, or toasted with butter
Contains soy and wheat
Bagel with Cream Cheese     $3.79
Choice of plain or everything
Without cream cheese $2.69
Contains milk and wheat. Everything bagel contains sesame seeds
Side of Smoked Bacon     $2.79
3 slices of smoked bacon
Side Hash Brown Potatoes     $2.69
Shredded hash brown potatoes
Contains wheat
Nugget Lunch
Served after 11:00AM
Make any meal a combo by adding small fries and a 24oz fountain drink for $3.99.
Upgrade to onion rings, sweet potatoes, or seasoned fries for an additional cost.
Burger add-ons: Cheddar cheese +$0.60, Smoked bacon +$1.69, Avocado +1.69, Grilled onions +0.25, Make it a double +1.50, Protein style available upon request.
Cali Cheeseburger     $8.99
Beef patty, pepper-jack cheese, chipotle dressing, jalapenos, lettuce, tomato, red onion, avocado, and pickles on a potato bun
Contains eggs, milk, soy, and wheat
Hamburger     $7.09
Beef patty, Thousand Island dressing, lettuce, tomato, red onion, and pickles on a potato bun
Contains eggs, milk, soy, and wheat
Turkey Burger     $6.49
Turkey patty, Thousand Island dressing, lettuce, tomato, red onion, and pickles on a wheat bun
Contains eggs, soy and wheat
BBQ Bacon Cheeseburger     $9.49
Beef patty, smoked bacon, cheddar cheese, onion ring, and Sweet Baby Rays® BBQ sauce on a potato bun
Contains wheat, milk and soy
Gardenburger®     $7.09
Gardenburger® veggie patty, Thousand Island dressing, lettuce, tomato, red onion, and pickles on a wheat bun
Contains eggs, milk, soy, and wheat
Bacon Cheeseburger     $8.99
Beef patty, smoked bacon, cheddar cheese, Thousand Island dressing, lettuce, tomato, red onion, and pickles on a wheat bun
Contains eggs and soy
Brunch Burger     $10.29
Beef patty, egg over-medium, hash brown patty, smoked bacon, and cheddar cheese on a potato bun
Contains eggs and milk
Hawaiian Cheeseburger     $8.99
Beef Patty, Swiss cheese, grilled pineapple, teriyaki sauce, mayo, lettuce, tomato, red onion, pickles on potato bun
Contains eggs, milk, soy, wheat, and sesame seeds
Chicken Pesto Bowl     $8.29
Charbroiled chicken, brown rice, grilled zucchini with creamy pesto sauce
Contains eggs and milk
Carnitas Bowl     $8.29
Carnitas, Spanish rice, pinto beans, pico de gallo, chedddar cheese, and avocado with corn tortilla chips
Contains milk, soy, and wheat
Caprese Bowl     $8.49
Brown rice, buffalo mozzarella, tomato, basil, arugula, herb vinaigrette
Add grilled chicken  $2.99    Add Deli Turkey   $2.99    Add falafel  $1.99
Contains milk and soy
Black Bean & Rice Bowl     $7.49
Brown rice, black beans, tomato, green onion, cilantro, avocado, arugula, herb vinaigrette
Add grilled chicken  $2.99    Add Deli Turkey   $2.99   Add falafel  $1.99
Contains soy
Hawaiian Teriyaki Bowl    $8.49
Charbroiled chicken, white rice, teriyaki sauce, grilled pineapple, and cabbage
Add grilled chicken  $2.99    Add Deli Turkey   $2.99    Add falafel  $1.99
Contains soy and sesame seeds
Falafel and Rice Bowl     $7.49
Brown rice, Green Chickpea falafel with Tzatziki sauce, herb vinaigrette, feta cheese, lettuce, tomato, red onion, cucumber, served with pita bread
Contains milk, soy, wheat, and sesame seeds
BBQ Chicken     $10.99
Charbroiled chicken breast, lettuce, BBQ sauce, tomato, black beans, corn, cheddar cheese, avocado, and chipotle dressing
Contains eggs, milk and soy
Sesame Chicken     $9.99
Charbroiled chicken breast, lettuce, shredded carrot, crispy noodles, cucumber, green onion, and sesame vinaigrette dressing
Contains soy and sesame seeds
Honey Crisp Chicken     $11.89
Crispy Southern style fried chicken, lettuce, tomato, cucumber, bacon, corn, cheddar cheese, and honey Dijon dressing
Contains eggs, soy, and wheat
Caesar Chicken Salad    $9.99
Charbroiled chicken breast, lettuce, parmesan cheese, croutons, and Caesar dressing.
Contains eggs, milk, and fish
Buffalo Crispy Chicken     $9.99
Crispy Southern style fried chicken, buffalo sauce, lettuce, cucumber, carrot, celery, and Ranch dressing
Contains eggs, milk, soy and wheat
Pasta Salad     $3.29
Penne pasta, black olives, tomato, cucumber, feta cheese, and herb vinaigrette
Contains milk, soy, and wheat
Garden Side Salad     $3.29
Lettuce, tomato, cucumber, and choice of dressing
Turkey California     $7.99
Roasted whole breast turkey, cheddar cheese, avocado, lettuce, and tomato on sourdough bread
Contains milk, soy, and wheat
Honey Crisp Chicken     $6.49
Crispy southern style fried chicken, honey Dijon dressing, and pickles on a potato bun
Contains eggs, soy, and wheat
BBQ Pulled Pork Sandwich     $6.49
Roasted pork carnitas, Sweet Baby Ray's® BBQ Sauce, and coleslaw on potato bun
Contains eggs, milk, soy, and wheat
Chicken Sandwich     $8.69
Charbroiled chicken breast, pepper-jack cheese, chipotle sauce, tomato, red onion, pickles, and lettuce on a potato bun
Contains eggs, milk, soy, and wheat
Chicken Pesto Sandwich     $9.79
Charbroiled chicken breast, pepper-jack cheese, creamy pesto sauce, lettuce, and tomato on baguette
Contains milk, soy, and wheat
BLT     $6.49
Smoked bacon, lettuce & tomato with mayo on toasted sourdough bread
Contains soy
Tuna Melt Sandwich     $7.49
Tuna salad (tuna, red onions, celery, relish, mayo) and cheddar cheese on grilled sourdough bread
Contains eggs, milk, soy, wheat, and fish
Patty Melt Sandwich     $7.99
Beef patty, cheddar cheese, grilled onions, and Thousand Island dressing on grilled sourdough bread
Contains eggs, milk, soy, and wheat
Turkey Club Sub     $9.79
Roasted whole breast turkey, smoked bacon, mayo, lettuce, and tomatoes on a baguette
Contains eggs, soy, and wheat
Spicy Cauliflower Sandwich     $7.99
Fried cauliflower florets in a spicy batter made with Aleppo pepper and cumin, ranch dressing, lettuce, and tomato on a potato bun
Contains milk, soy, and wheat
Falafel Sandwich     $7.49
Green Chickpea Falafel with Tzaziki sauce, herb vinaigrette, Feta cheese, lettuce, tomato, red onion, and cucumber on a pita bread.
Contains milk, soy, wheat, and sesame seeds
Grilled Cheese     $5.49
Cheddar and mozzarella cheese on grilled sourdough bread.
Add Ham   $1.99          Add Bacon   $2.99
Add Avocado   $1.69    Add Deli Turkey   $2.99
Add Tomato   $0.80     Add Grilled Onion   $0.25
Contains milk, soy, and wheat
Cheese     $8.25
Pizza Sauce and mozzarella cheese
Contains milk, soy, and wheat
Pepperoni & Mushroom      $9.75
Pizza sauce, mozzarella cheese, pepperoni, and mushroom
Contains milk, soy, and wheat
Pepperoni & Sausage     $9.75
Pizza sauce, mozzarella cheese, pepperoni, and sausage
Contains milk, soy, and wheat
Hawaiian        $10.99
Pizza sauce, mozzarella cheese, Canadian bacon, and pineapple
Contains milk, soy, and wheat
BBQ Chicken      $10.99
Sweet Baby Ray's® BBQ sauce, mozzarella cheese, red onion, sliced chicken breast and cilantro
Contains milk, soy, and wheat
Very Veggie    $11.49
Garlic olive oil, caramelized onions, zucchini, Roma tomatoes, mozzarella cheese, and baby arugula, topped with balsamic glaze
Contains milk, soy, and wheat
Pepperoni     $9.75
Pizza sauce, mozzarella cheese and pepperoni
Contains milk, soy, and wheat
Pesto     $10.99
Pesto sauce, mozzarella cheese and diced tomatoes
*Pesto Sauce - blend of kale, basil, and parmesan. Does not contain nuts
Contains milk, soy, and wheat
Pesto and Chicken     $11.49
Pesto sauce, mozzarella cheese, sliced chicken breast and diced tomatoes
Contains milk, soy, and wheat
Caprese       $11.49
Garlic olive oil, buffalo mozzarella, Roma tomatoes, fresh basil, topped with balsamic glaze
Contains milk, soy, and wheat
Mushroom Arugula       $10.99
Garlic olive oil, caramelized onions, mushroom, mozzarella cheese, topped with arugula and parmesan cheese
Contains milk, soy, and wheat
Chicken Quesadilla    $8.49
Sliced oven-roasted chicken breast, pepper jack cheese, avocado, sour cream and salsa
Contains wheat and milk
Carnitas Quesadilla    $8.49
Roasted pork carnitas, pepper jack cheese, topped with avocado, sour cream and salsa
Contains wheat and milk
Chicken Tenders     $6.49
Southern style breaded chicken tenderloins
Contains wheat
Falafel Appetizer     $5.99
Served with salsa, avocado and sour cream
Contains milk, soy, wheat and sesame seeds
Cheddar Cheese Quesadilla     $6.19
Served with salsa, avocado and sour cream
Contains milk and wheat
Fries    $2.49
Contains soy
Onion Rings   $4.49
Contains soy and wheat
Spicy Cauliflower Bites $4.99
Fried cauliflower florets in a spicy batter made with Aleppo pepper and cumin.
Contains milk, soy, and wheat