Faculty Access to MyBMAC
Faculty Access to MyBMAC
Image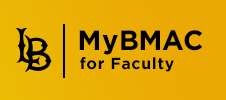 The Bob Murphy Access Center (BMAC) is excited to announce the launch of MyBMAC, an interactive web-based database which operates by providing a streamlined accommodation process that centralizes the communication of accommodation requests/approval between students, faculty, and BMAC staff. MyBMAC is accessible through the Single Sign-On (SSO) MyBMAC chiclet.
Fall 2022 Accommodations Updates
BMAC has streamlined a new process for disability-related excused absences and extensions of individual assignments accommodations. Students will be asked to consult with their individual faculty to confirm implementation for these accommodations, which will then be submitted as a written agreement within MyBMAC. Note: if the student fails to initiate and complete this process, the accommodation(s) will not be implemented.
Please review the Extensions of Individual Assignments and Disability-Related Excused Absences Policy and Guidelines documents for more details about this new process and contact bmac@csulb.edu regarding any questions/concerns. 
Extensions of Individual Assignments
MyBMAC Database Overview
MyBMAC will allow for the following types of access:
Student ability to request accommodations online as well as update their information as needed. Students may access the following:
New student application
Appointment scheduling system
Request BMAC Accommodations and Services
Course Notetaking Services
Faculty who are teaching a course during a semester with registered BMAC students may view approved academic accommodations for students registered in the course(s) they teach, as well as access the following:
Student Accommodation Letters
​Faculty will receive MyBMAC email notifications if there are registered BMAC students in their course with approved accommodations. If there are no BMAC students registered, MyBMAC will not display any information.
Alternative Testing

Faculty will be able to view all student-requested exam date/time requests and approve/deny as appropriate.
Faculty may complete one testing agreement for quizzes, exams, or finals for all BMAC students; faculty will also be able to customize individual exam instructions for specific course sections.
Faculty may upload exams on MyBMAC's secure server. Faculty can also choose to designate specific exam version(s) to be used across multiple students/course sections.

Course Notetaking Services: The Bob Murphy Access Center offers a variety of peer and assistive notetaking technology tools and accommodations to qualifying students.​​​ Please contact BMAC atBMAC@csulb.eduif you have any questions about notetaking accommodations.