2018 - 2019 Annual Report
Image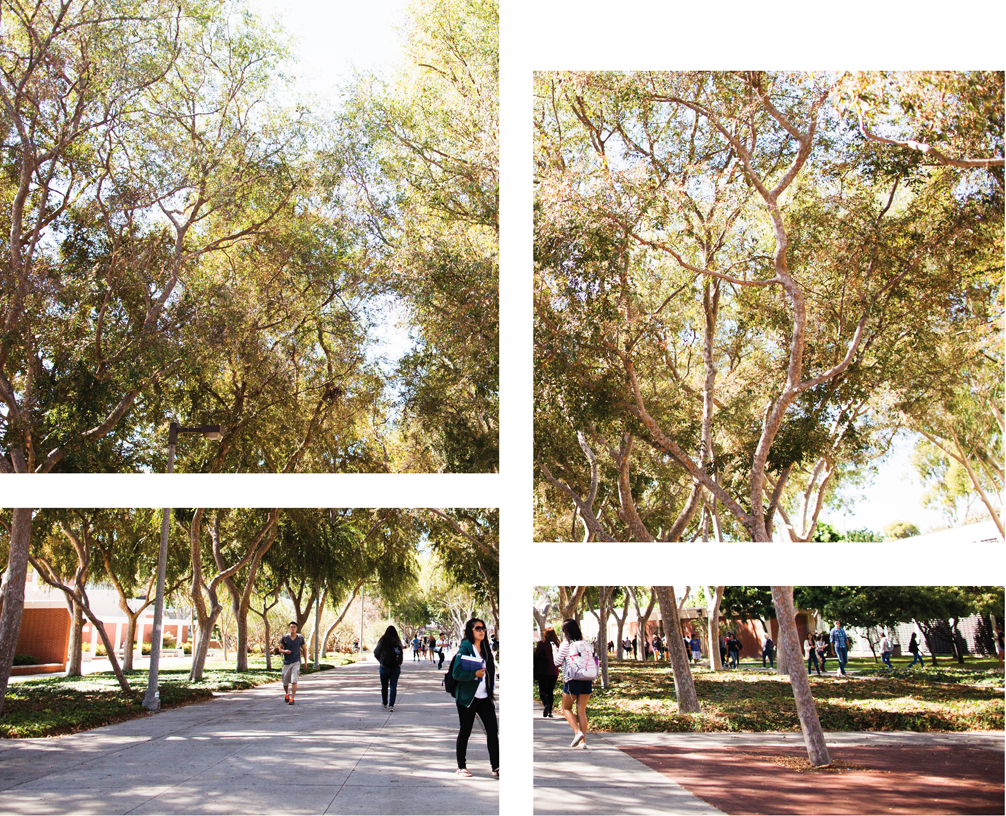 California State University, Long Beach
Image

The 2018-2019 academic year was a year of change, reflection, and growth for the Career Development Center (CDC). For the past 13 years, Manuel Pérez served as the Director and leader of the center until his retirement in December 2018. We were honored to celebrate his years of service with an outstanding celebration held with the campus community. To continue his legacy, we created the Manuel Pérez Internship Success Scholarship and awarded 5 internship scholarships for Summer 2018.
With this change and the addition of new staff over the last few years, the CDC embarked on revising our Mission, Vision, and Values. We joined together as staff to create our statements and kickoff our strategic planning process. We collaborated across our team and with many campus partners to align our services with Beach 2030 and GI 2025.
It is my pleasure to share some of the highlights of the last year with our campus. We thank you for your partnership and collaborations because we have not accomplishes this work alone, but side by side in service to our students.
Best,
Image

Erin Booth-Caro Director,
Career Development Center
Image

Digital Badges:
The Student Engagement Task Force for the Highly Valued Degree Initiative partnered with three internship classes to award digital badges within the College of Business (BUS 493), College of Natural Sciences & Mathematics (CNSM 492), and the CDC Internship Class (SRL 210L).
Additionally, the Career Development Center now offers the opportunity for all students to earn their Career Management Digital Badge by completing a series of workshops and connecting directly with employers that are recruiting on campus.
Over 161 badges were awarded during the 2018-2019 academic year
Teamwork/Leadership badge, Career Management badge, and Professionalism/Ethics badge.
Image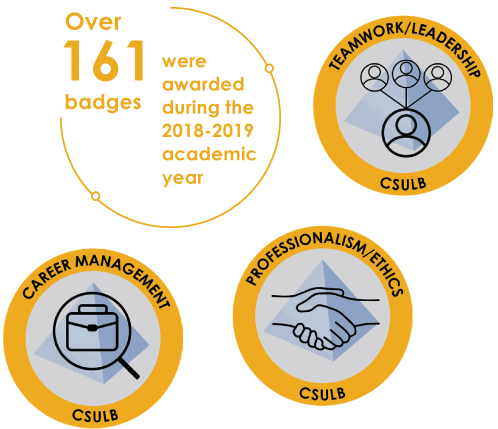 WAIV Joined The CDC:
Workability IV (WAIV) staff joined the Career Development Center this year. WAIV is a collaboration among Department of Rehabilitation Counselors, Bob Murphy Access Center (BMAC) Staff, and CDC Counselors and Employer Engagement Specialists. WAIV serves students with disabilities by helping them achieve their academic and employment goals. Over 150 students are served annually, and they successfully complete the program when they have maintained employment in their industry of interest for at least 90 days.
WAIV at the Beach - WorkAbility IV, California State University, Long Beach.
Image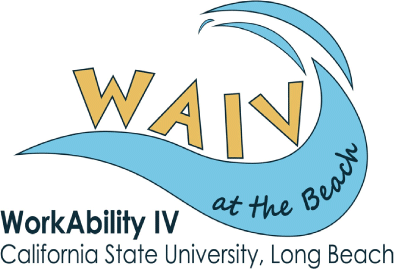 Manuel Pérez Internship Success Scholarship
Five interns were selected to receive the inaugural Manuel Pérez Internship Success Scholarship to fund their summer internship experience.

| Name | Internship Organization | Major |
| --- | --- | --- |
| Karla Picasso | District Office - Anthony Rendon | Psychology |
| My Nguyen | Kaiser Permanente | Health Care Administration |
| Jireh Dang | JusticeCorps | Environmental Science & Policy |
| Lisa Rusali | Keck Graduate Institute | Molecular Cell Biology & Physiology |
| Steph Argent | Orange County District Attorney's Office | Political Science |
Vision
Develop a holistic approach to career education that enables all students to thrive in the workforce of the future.
Mission
The CSULB Career Development Center empowers students to become effective leaders of their personal career journeys. Through career counseling, employer connections, and professional development opportunities, we prepare them to become skilled and productive members of the local, national, and global workforce.
Values
Purpose
Driven by meaning and intentionality in our work.
Collaboration
Working together with students, faculty, staff, community partners, and employers to strengthen the value of career services.
Equity
Committed to serving each member of our campus and community with fairness and dignity.
Growth
Continually learning innovative approaches and actively seeking diverse perspectives to guide our work and maximize our impact.
Increase Internship Opportunities
3,000+ internship listings were posted on CareerLINK this academic year. This number indicates a 30% total increase over the last year, including an increase in paid internships.
Student Access to Low or No Cost Career Wear
In partnership with Associated Students Inc., the Career Development Center hosted the first CSULB Career Clothes Closet Pop-Up. Over 1,100 items were donated for this event and 500 CSULB students attended.
Additionally, the CDC continued to partner with JCPenney to provide discounts on professional wear for CSULB students, faculty, staff, and alumni. A JCPenney SUIT-UP event is held once a semester with over 200 students in attendance at each event.
Internship Course Support for Faculty
Through CareerLINK's Experiential Learning Module, the Career Development Center supports faculty in managing academic internship placements, tracking hours, and processing evaluations. Currently, 174 academic internship placements have been recorded and 6 internship course instructors have utilized the module.
Share Beachboard's E-Portfolio Tool
Beachboard's E-Portfolio tool was integrated into 4 courses and 2 programs to showcase students' skills and experiences to faculty and potential employers. Over 400 students were exposed to the tool.
CSULB CareerLINK - Access to career services, jobs and internships through sso.csulb.edu
28,632 | CareeerLINK Active Student Users
22,371 | Employers on CareerLINK - Recruitment Events, Postings, On-Campus Interviews
11,838 | Jobs Posted on CareerLINK - Full-Time, Internship, Part-Time
8,897 | Career Education Event Attendees - Workshops, Classroom Presentations, Industry Spotlights
5,554 | Career Counseling/Advising Sessions - Resume Reviews, Interview Preparation, Job Search, Career Planning
5,550 |Student Recruitment Event Attendees - Career Fairs, Employer Information Sessions
1,200 | Student On-Campus Interviews (OCI)
Top Skills Ranked By Employers
Over 400 employers recruiting at CSULB through On-Campus Interviews (OCI) and Job Fairs (JF) identified the skills they seek in candidates, with Work Ethic, Teamwork, and Verbal Communication as the top skills. *Skills based on National Association of Colleges and Employers (NACE) Career Readiness Competencies
% On-Campus Interviews (OCI)
% Job Fair (JF)
Work Ethic
38.8%
44%
Teamwork
43%
38.4%
Verbal Communication
32.2%
41.8%
Interpersonal
31.4%
36.5%
Problem Solving
38.8%
26.7%
LEadership
31.4%
32.1%
Flexibility/Adaptability
22.3%
27.7%
Initiative
20.7%
27.7%
Analytical/Quantitative
31.4%
11%
Written Communication
14%
10.1%
Detail Oriented
6.6%
14.5%
Other
1.7%
6.3%
Fall 2018 Internship Conference
As a result of attending and participating, students we able to:
Assess their career readiness
Enhance their communication skills and practice their elevator pitch
Develop a career goal with actionable steps
"My goal is to expand my network by connecting with professionals, participating in leadership positions, and obtaining meaningful internship positions that would elevate my technical and interpersonal skills"
Directory
115 Student Attendees:

| | |
| --- | --- |
| Sophomores | 10% |
| Juniors | 14% |
| Seniors | 32% |
| Freshman | 35% |
| Graduates & Alumni | 9% |
Image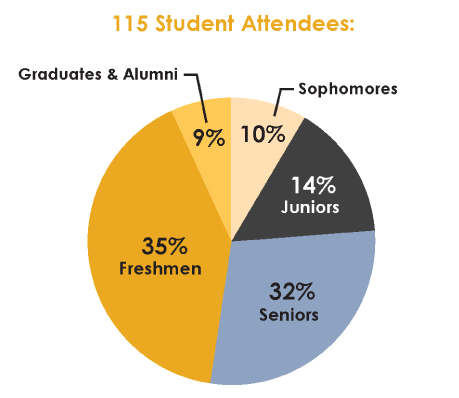 Internship Essay Contest
Recognizes student interns in each of the colleges. Each college winner is awarded $500 and an overall winner receives a $1,000 scholarship.
Winners (pictured from left to right)
Rebekah Johnson, College of Liberal Arts - Public Affairs Intern, U.S. Department of State
Abigail Victor, College of the Arts - Intern, Funny or Die
Deanna Lin, College of Health & Human Services - BSW Intern, Taller San Jose
Pryscilla Truong, College of Education - Division of Enrollment Management & Student Affairs Intern, State University of New York
*Codey Schimelpfenig, College of Business - Intern, Sandbox Agency (Overall Winner)
Christopher Sam, College of Engineering - Electrical Engineering Intern, Raytheon
Not Pictured:
Leo Giannetta, College of Natural Sciences & Mathematics - Geoscience Intern, California Resources Corporation
Image