Presence of Asbestos in CSULB Buildings
PLEASE POST FOR ALL EMPLOYEES
Image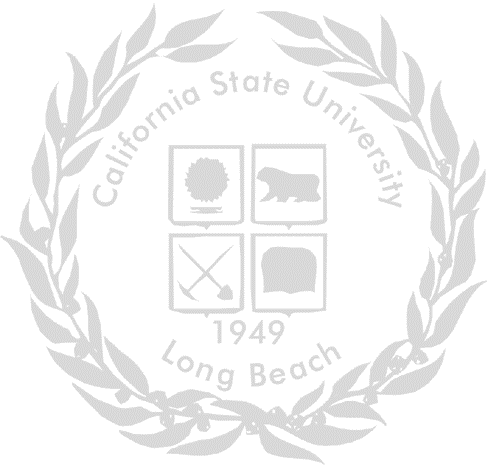 EMPLOYEE NOTIFICATION LETTER
PRESENCE OF ASBESTOS IN CSULB BUILDINGS
January 2021
SECTION 25915 of the California Health and Safety Code requires that a written notification be provided to employees informing them of the presence of asbestos in buildings. In order to comply with this regulation, this letter notifies you that an asbestos survey has been completed in several campus buildings and the known asbestos-containing construction materials (ACCM) are listed in the table below.
The presence of asbestos in a building does not mean that the health of building occupants is endangered. If ACCM remains in good condition and is not disturbed, the likelihood of exposure is negligible. However, when ACCM is damaged or disturbed without proper controls, asbestos fibers are released into the air creating a potential exposure hazard.
Thus, it is important for employees to follow proper work practices to minimize the potential for disturbing ACCM. No work involving disturbance of physical components of any University owned or occupied building may be started without the written approval of Environmental Health & Safety (EHS).  Consult with EHS and/or the University Asbestos Management Plan for specific project requirements. If you find ACCM that has been damaged, report it to Beach Building Services (BBS) at extension 54357 or EHS at extension 52283. Do not disturb damaged ACCM or asbestos debris. Only persons authorized and properly trained should perform any work which may disturb ACCM. Any renovations or demolitions required by any project on campus (department based, self-help, BBS-directed, Design and Construction Management (DCS)-directed, minor or major capital projects) must be preceded by an asbestos survey of all construction materials, completed by a Certified Asbestos Consultant (CAC).  The report generated by the CAC will become a permanent component of the project record, and must be maintained by the University for a period of 30 years. 
Any employee may review the asbestos survey reports, results of bulk sampling, or air monitoring conducted in campus buildings. All asbestos data will be available between the hours of 8:00 a.m. and 5:00 p.m. Monday through Friday at BBS Customer Service by appointment. This document in its entire form is available for review on the following website partition: Environmental Health and Services page
Asbestos containing building materials known to be in campus buildings are identified on the attached list. If you have any questions, please contact Michael Kitahara, Environmental Compliance Manager, Environmental Health and Safety, at extension 51761.  
PRESENCE OF ASBESTOS IN CSULB BUILDINGS - 2021
Presence of Asbestos in CSULB Buildings - 2021

Building Number

Building Name

Location

Building Material

1

Brotman Hall

Entire building

Chilled water lines pipe insulation

1

Brotman Hall

Entire building

Original floor tile and mastic

1

Brotman Hall

Entire building

Light beige skimcoat /joint compound

2

Student Health Services

Entire building

Carpet mastic

2

Student Health Services

Roof

Vinyl roofing

5

Family and Consumer Science

Entire building

Exterior window glazing

5

Family and Consumer Science

Entire building

Carpet and floor tile mastic

6

University Student Union

Mechanical rooms

Pipe elbow joint wrap

6

University Student Union

Mechanical rooms

Original fireproofing on beams and joists

6

University Student Union

Entire building

Fittings on heating lines

6

University Student Union

Auditorium mezzanine platform below projection booth

Fireproofing

7

Cafeteria

Boiler rooms

Hot water tank insulation

7

Cafeteria

Entire building

Pipe insulation

7

Cafeteria

Roof

Fan unit, pipe insulation

7

Cafeteria

Roof

Roof penetration mastic

9

Psychology

Entire building

Hot water pipe insulation

9

Psychology

Entire building

Floor tile and mastic

9

Psychology

Entire building

Cove base mastic

9

Psychology

410 Suite

Drywall joint compound/skimcoat

9

Psychology

Entire building

Ceiling tile mastic

10

Liberal Arts 5

Entire building

Heating hot water pipe insulation

10

Liberal Arts 5

Entire building

Ceiling tile mastic

10

Liberal Arts 5

Entire building

Floor tile mastic

10

Liberal Arts 5

Entire building

Window putty

10

Liberal Arts 5

Entire building

Interior of original chalkboards

11

Liberal Arts 4

Entire building

Floor tile and mastic

14

Liberal Arts 1

Entire building - except boiler room

Heating hot water pipe insulation

14

Liberal Arts 1

Entire building - except boiler room

Mechanical room equipment insulation

14

Liberal Arts 1

Penthouse

Domestic hot water pipe insulation

14

Liberal Arts 1

Entire building

9" floor tile and mastic

14

Liberal Arts 1

Entire building

Window putty

14

Liberal Arts 1

203 and 203 hallway

Leveling compound

14

Liberal Arts 1

Entire building

Conduit gap filler

15

Faculty Office 3

Entire building

Window putty

15

Faculty Office 3

Entire building

Hot water pipe insulation

15

Faculty Office 3

Entire building

Floor tile and mastic

15

Faculty Office 3

Entire building

Ceiling tile mastic

16

Faculty Office 2

Entire building

Ceiling tile mastic

16

Faculty Office 2

Entire building

Window putty

16

Faculty Office 2

Second floor

Residue of old mastic on wood deck

18

CLA Dean's Office

Service tunnel

Heating line insulation

18

CLA Dean's Office

Original walls

Drywall joint compound/skimcoat

19

Library

Entire building

Original floor tile and mastic

19

Library

Entire building

Fittings on heating lines

19

Library

Room 105

Joint sealing compound on air handler

20

Academic Services

3rd floor

Domestic hot water pipe insulation

20

Academic Services

Entire building

9" floor tile and mastic

20

Academic Services

Entire building

Window putty

21

Multi Media Center

Entire building

Original floor tile/mastic

21

Multi Media Center

Rooms 101 & 201

Transite wall panels

21

Multi Media Center

Entire building

Wall mastic

22

Ellis Education Bldg

Entire building

Window putty

22

Ellis Education Bldg

Entire building

Floor tile and mastic

22

Ellis Education Bldg

Entire building

Hot water line insulation

22

Ellis Education Bldg

Roof

Green/white pebbled roll-on roofing

23

Education 2

Entire building

Window putty

23

Education 2

Entire building

Tan floor tile and mastic

23

Education 2

Entire building - except boiler room

Heating line insulation

23

Education 2

Entire building - except boiler room

Chilled water line insulation

23

Education 2

Entire building

9" floor tile and mastic

23

Education 2

Entire building

Floor tile mastic

24

McIntosh Humanities Building

Floors 1 - 9

Heating line insulation

24

McIntosh Humanities  Building

Entire building

9" floor tile and mastic

24

McIntosh Humanities Building

Entire building

Window putty

24

McIntosh Humanities Building

Floors 1 – 9 above ceiling

Pipe elbow insulation

24

McIntosh Humanities Building

Basement

Steam line insulation

25

Language Arts Building

Room 325

Chiller line insulation

25

Language Arts Building

Room 325

Heating line insulation

25

Language Arts Building

Entire building

Floor tile and mastic

25

Language Arts Building

Entire building

Supply duct blown on insulation, gray in color

25

Language Arts Building

Entire building

Pipe and pipe elbow insulation

26

Theatre Arts

Mechanical rooms - except basement

Pipe insulation

26

Theatre Arts

Entire building - except basement

Chilled water line fitting insulation

26

Theatre Arts

Entire building

9" floor tile and mastic

27

University Theatre

Entire building

Heating line insulation

27

University Theatre

Theater

Fire curtain

27

University Theatre

Lower level

Original floor tile and some mastic in some rooms

27

University Theatre

Lower level

Ceiling tile mastic

27

University Theatre

1st and 2nd levels

Floor tile and mastic

27

University Theatre

1st and 2nd levels

Ceiling tile mastic

27

University Theatre

Fire doors

Door insulation

28

University Telecommunications

Center

Entire building

Heating line insulation

28

University Telecommunications Center

Entire building

Floor tile and mastic

28

University Telecommunications Center

Entire building

Ceiling tile mastic

28

University Telecommunications Center

Entire building

Window putty

32

Fine Arts 1

Room 202

Floor tile and mastic

34

Fine Arts 3

Entire building

Heating line insulation

34

Fine Arts 3

Entire building

Exterior wall paneling

34

Fine Arts 3

Entire building

Domestic hot water line insulation

34

Fine Arts 3

Entire building

Steam line insulation

35

Fine Arts 4

Entire building - except boiler room

Heating line insulation

35

Fine Arts 4

Entire building - except boiler room

Domestic hot water line insulation

35

Fine Arts 4

Entire building - except boiler room

Steam line insulation

35

Fine Arts 4

Entire building

Floor tile and mastic

35

Fine Arts 4

Entire building

Interior of original chalkboards

36

Faculty Office 4

Entire building

Floor tile and mastic

36

Faculty Office 4

Entire building

Exterior wall tan coating

37

Peterson Hall 1

Entire building

Transite panels in fume hoods

37

Peterson Hall 1

Entire building

Floor tile and mastic

37

Peterson Hall 1

Entire building

Window putty

37

Peterson Hall 1

Entire building

Original stone laboratory bench tops

37

Peterson Hall 1

Roof

Flex connectors on fume hood exhaust

37

Peterson Hall 1

Roof

Pipe insulation

38

Peterson Hall 2

First floor

Pipe fitting insulation

41

Microbiology

Entire building

Floor tile and mastic

41

Microbiology

Entire building

Sheet vinyl flooring

41

Microbiology

Entire building

Drywall joint compound / skimcoat

41

Microbiology

Roof penthouse

Duct insulation covers

41

Microbiology

Entire building

Lab bench counters

45

Faculty Office 5

Entire building

Floor tile and mastic

45

Faculty Office 5

Entire building

Exterior tan coating

46

SS/PA

Mechanical rooms

Pump and valve insulation

46

SS/PA

100, 200 & 300 levels

Floor tile and mastic

46

SS/PA

Fire doors

Door insulation

46

SS/PA

Entire building

Drywall joint compound / skimcoat

47

Physical Education

Entire building

Some pipe insulation in walls and above ceilings

47

Physical Education

121

Bullnose mastic

47

Physical Education

10, 20A, 20B

Floor tile and mastic

47

Physical Education

Exterior building

Window putty

47

Physical Education

Roof

Roof seam mastic

47

Physical Education

Roof

Silver paint

48

Applied Arts & Science Classroom

Mech room 228

Some pipe fittings in walls and above ceilings

49

Applied Arts & Science Offices

Entire building

Some pipe fittings in walls and above ceilings

50

Vivian Engineering Center

Entire building

Some heating hot water pipe insulations above ceilings / in walls

50

Vivian Engineering Center

Entire building

Floor tile / mastic

50

Vivian Engineering Center

Room 124

Door gasket on large autoclave

51

Engineering 2

Entire building

Some pipe insulation in walls and above ceilings

51

Engineering 2

Entire building

9" Floor tile and mastic

52

Engineering 3

Entire building

Heating and hot water pipe insulation

52

Engineering 3

111A

Lab countertop

52

Engineering 3

Entire building

9" Floor tile and mastic

53

Engineering 4

Entire building - except boiler room

Heating pipe insulation

53

Engineering 4

Entire building

Domestic hot water pipe insulation

53

Engineering 4

Exterior courtyard

24" transite pipe

53

Engineering 4

Boiler lab

Turbine steam line insulation

53

Engineering 4

Entire building

9" floor tile and mastic

54

Design

Room 112

Transite in welding booths

54

Design

Entire building

Pipe insulation in walls

54

Design

Entire building

Window putty

55

Human Services and Design

Entire building

Domestic hot water pipe insulation

55

Human Services and Design

Entire building

Window putty

55

Human Services and Design

Entire building

9" floor tile and mastic

55

Human Services and Design

Entire building above dropped ceiling

Sprayed on fireproofing on beams and joists

56

Engineering Technology

Entire building

Interior of fire doors

56

Engineering Technology

Entire building

Floor tile and mastic

56

Engineering Technology

015

Furnace

56

Engineering Technology

018

Fume hood panels

57

Beach Building Services

Entire building

Domestic hot water line

57

Beach Building Services

Entire building

12" Floor tile

58

Corporation Yard

Men's room / storage next to Carpenter Shop

Heating and domestic hot water pipe insulation

59

Child Dev. Center

Director's old office

Rough acoustical ceiling

60

Los Alamitos

Entire building except boiler room

Domestic hot water pipe insulation

61

Los Cerritos

Entire building except boiler room

Domestic hot water pipe insulation

62

Hillside

Buildings A - F except boiler room

Domestic hot water pipe insulation

62

Hillside

Entire facility

Window putty

62

Hillside

Entire facility

All underground natural gas

62

Hillside

Entire facility

Domestic water lines

62

Hillside

Entire facility

Associated buried service pipe

71

Cole Conservatory of Music

Entire buildings

Floor tile / mastic

71

Cole Conservatory of Music

Entire buildings

Window putty

71

Cole Conservatory of Music

Roof

Roof penetration mastic

75

International House

Roof

Roof penetration mastic

75

International House

Restrooms

Mirror mastic

300

Beachside – Cafeteria

Exterior building walls

Exterior stucco

300

Beachside – Cafeteria

Parking area, may be in enclosed pipe chases

Mudded pipe elbows/fitting insulation

300

Beachside – Cafeteria

Roof, north concrete columns

Flashing mastic

300

Beachside – Cafeteria

Ceilings

Joint compound

300

Beachside – Pacific

Stairwells and areas beneath newer flooring

Black mastic

300

Beachside – Pacific

Roof vent pipes

Silver paint

300

Beachside – Pacific

A/C units

Silver paint

300

Beachside – Pacific

supporting "T" beams

Silver paint

300

Beachside – Pacific

Windows throughout building

Window putty

300

Beachside – Pacific

Second and third floor corridor

12" floor tile and mastic

300

Beachside – Pacific

Ceilings throughout structure (may be under drop-down ceiling panels)

Acoustical spray-on ceiling

300

Beachside – Pacific

Mechanical rooms and ceiling plenums

Pipe elbow and fitting insulation

300

Beachside – Pacific

Roof

Roof penetration mastic

300

Beachside – Pacific

Room 532

Drywall sheetrock, tape and joint compound

300

Beachside – Pacific

Ceilings

Joint compound

300

Beachside – Atlantic

Storage rooms and beneath newer flooring

Black floor mastic

300

Beachside – Atlantic

Carpeted areas throughout building

Tan carpet mastic

300

Beachside – Atlantic

Windows throughout building

Window putty

300

Beachside – Atlantic

Second and third floor corridor

12" floor tile and mastic

300

Beachside – Atlantic

Ceilings throughout structure (may be under drop-down ceiling panels)

Acoustical spray-on ceiling

300

Beachside – Atlantic

Mechanical rooms and ceiling plenums

Pipe elbow and fitting insulation

300

Beachside – Atlantic

Roof

Roof penetration mastic

300

Beachside – Atlantic

Ceilings

Joint compound