Institutional Review Board (IRB)
 The CSULB Institutional Review Board (IRB) is responsible to ensure that all research projects involving human subjects are conducted in compliance with federal, state, and local regulations to protect the research participants. 
If you have any IRB-related questions, concerns, or queries, please send an email to IRB@csulb.edu. 
To find the most up-to-date Word versions of IRB forms, templates, and sample documents, please log into IRBNet and look under Forms and Templates. Click here for a guide on how to create an IRBNet account.
At its meeting on March 9, 2023, the IRB made a decision effective immediately that from now on when conducting research with human subjects, the researchers must follow CSULB Campus Policy and Procedures regarding COVID-19 and, when applicable, the local site regulations. 
Based on the Feb 2022 IRB meeting decision - In order to speed up the protocol review process, please limit the number of documents attached in your application package. 
(a) New protocol submission should attach no more than three documents: (i) IRB Application Form, (ii) Informed Consent Form(s), (iii) Appendices (Please combine all items into this one file and list them in alphabetical order, e.g., Appendix-A: Recruitment flyer, Appendix-B: Permission Letter, Appendix-C: Faculty Advisor Letter, etc.).
(b) Amendment submission package should attach no more than four documents: (i) Amendment Form (also called Request for revisions to the approved IRB protocol), (ii) revised IRB Application Form, (iii) Informed Consent Form(s), (iv) Appendices (Please combine all items into this one file and list them in alphabetical order, e.g., Appendix-A: Recruitment flyer, Appendix-B: Permission Letter, Appendix-C: Faculty Advisor Letter, etc.).
(c) Response to requested modification submission package should attach no more than four documents: (i) Cover Letter, (ii) revised IRB Application Form, (iii) revised Informed Consent Form(s), (iv) Appendices (Please combine all items into this one file and list them in alphabetical order, e.g., Appendix-A: Recruitment flyer, Appendix-B: Permission Letter, Appendix-C: Faculty Advisor Letter, etc.).
In order to better serve the CSULB research community, the IRB office provides Virtual Office Hours via Zoom meeting 
To make an appointment, please email IRB@csulb.edu to schedule the one-on-one Zoom consulting session with the IRB staff (include your IRBNet project number (if applicable) and a brief summary of what you'd like to meet about). 
In order to meet the requirements of CSU Accessible Technology Initiative (ATI) http://teachingcommons.cdl.edu/access/,  the PDF versions of the forms are posted in relevant sections of this IRB webpage, and the Microsoft Word versions can be downloaded from the IRBNet Library Manager.
Image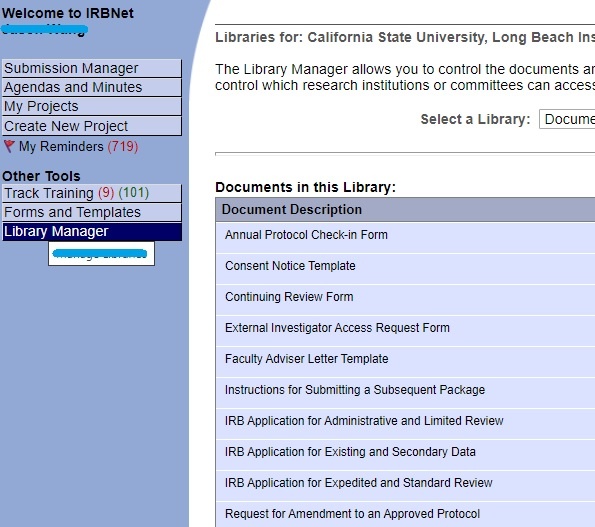 As of January 21, 2019 compliance for the revised Common Rule (also called the 2018 Rule,  adopted by 17 federal departments and agencies to regulate research with human subjects) is in effect.
The goal of the Revised Common Rule is to better protect research subjects, reduce administrative burdens and streamline IRB processes. Many useful HHS OHRP educational resources and videos on the revised Common Rule can be found at https://www.hhs.gov/ohrp/education-and-outreach/revised-common-rule/index.html.  Please note that significant changes have been made, especially regarding the definition of Research, the definition of Human Subject, the Exemption Categories, and the Informed Consent form.  Only qualified CSULB IRB members/administrators are authorized to determine which project meets the definition of "Research with Human Subjects," and subsequently, whether an IRB protocol can be approved under a particular exemption category.  Investigators are not allowed to make self-determination on such topics.  
Click here to view the IRB AY 2023 - 2024 Membership Roster.
The IRB reviews protocol submissions on an ongoing basis throughout the academic year. The IRB conducts rolling reviews, so submissions can be made year-round, including summer and winter breaks. Majority of protocols meet the criteria for Administrative/Limited/Expedited Review, and there is no submission deadline for these types of protocols.  But you should consider submitting your protocol at least two months prior to your project initiation date. 
Only protocols with high risks need the IRB to conduct a Full-board Review at its meeting. In general, the IRB meeting date is the 2nd Thursday during the regular semesters.  The IRB typically does not meet during the summer or winter break.  In order for the IRB to have sufficient time to conduct full-board review at its meeting, please make sure that the entire protocol package including all relevant appendices with "reviewable" quality is submitted via IRBNet no later than the following deadline.  
| | | | | | | | | |
| --- | --- | --- | --- | --- | --- | --- | --- | --- |
| AY 2023-24 Meeting Dates | Sept 14, 2023 | Oct 12, 2023 | Nov 09, 2023 | Dec 14, 2023 | Feb 08, 2024 | Mar 14, 2024 | April 11, 2024 | May 09, 2024 |
| Submission Deadline for Full Board Review | Aug 25, 2023 | Sept 22, 2023 | Oct 20, 2023 | Nov 24, 2023 | Jan 19, 2024 | Feb 23, 2024 | Mar 22, 2024 | April 19, 2024 |
IRB always strives to improve its efficiency. Our goal is to approve protocols requiring full board review within  8 weeks (pending submission before the deadline specified above), and to approve protocols within 6 weeks when processed via Administrative/Limited/Expedited Review.  However, it takes a team effort to achieve this goal. The actual timeframe for a particular protocol really depends on many factors including (a) the availability of the IRB reviewer with particular expertise, (b) the quality, completeness and promptness of the investigator's submission/response, (c) the workload of IRB administrators, (d) the volume of protocol submission, etc.  Delay of submission/response, lack of sufficient information/appendices, low protocol quality, sudden protocol volume increase, and summer/winter break time are among the most common causes that lead to the delay of protocol review/approval.   For these reasons, students and faculty members are highly recommended/encouraged to consult with the IRB office to initiate the protocol preparation/submission process as EARLY as possible, in order to avoid a delay.  IRB Staff will work with you to make sure your application package is complete and of sufficient quality, for it to be "reviewable."  No research with human subjects is allowed prior to obtaining approval from the IRB. 
The CSULB IRB hosted a workshop, February 13, 2018 to discuss the IRB's revised review and submission process. A lot of relevant questions were asked during the session and if you have questions about how the changes to the IRB forms and review process will affect your research, please review the video and download the attached PowerPoint slides to follow along. The video contains information about the changes in federal research regulation in addition to valuable guidance on filling out the forms and the review process timeline.
Please contact the IRB office if you have additional questions 
The IRB now has three application forms for initial submissions. Many projects that previously required Expedited Review now qualify for Administrative and Limited Review. Read below to determine which form you need to complete for your project:
Is my project research with human subjects?
YES, because I am collecting information through interaction with individuals OR analyzing identifiable private information (individuals can directly or indirectly identified).

Submission to the IRB is required. Which IRB Application should I submit?

IRB Application for Existing and Secondary Data 

​For Projects involving:

Secondary analysis of identifiable data
Retrospective and/or prospective secondary data analysis

IRB Application for Administrative and Limited Preview

For Projects involving:​

Surveys, interview and focus groups (release of data will not place subjects at harm)
Benign behavioral interventions with adults
No children or other vulnerable populations

IRB Application for Expedited and Standard Review

​For Projects involving:

Interventions and assessments (minimal and greater than minimal risk)
Behavioral interventions
Inclusion of children or other vulnerable populations

NO, because I am not conducting a systematic investigation that will contribute to generalizable knowledge through interactions with individuals OR I am only analyzing non-identifiable information.

STOP! No further action is required. An IRB Application is not required.
---
Download the appropriate form for your project below:
IRB Application for Existing and Secondary Data

IRB Application for Administrative and Limited Review

IRB Application for Expedited and Standard Review
For Student/Program Projects (Please read the Guidance on Student Projects first to see whether your project meets the submission requirements for Umbrella Project):
IRB Guidance on Student Projects Feb13_2020 (PDF)
IRB Umbrella Protocol for Administrative Review (PDF)
IRB Umbrella Protocol for Administrative Review (DOC)
Use of Microsoft 2014 or later is strongly recommended.
Please, do not attempt to unlock or otherwise modify forms. Altered forms will not be accepted
Before submitting to the IRB please confirm you have the following:
Training: Completed CITI online training via www.citiprogram.org. The IRB requires all individuals listed on research projects to complete the Social & Behavioral Basic/Refresher Course. The IRB will search for and confirm your training credentials prior to approving your project.
CITI Training Required

No CITI Training Required

Anyone interacting with research subjects (in person or virtually); AND/OR
Anyone with access to data with identifiers

Anyone working with coded, de-identified, or public data or with no links to identifiers.

Identifiers are any information that can be used to tie the research data back to a specific individual. Identifiers may include:

Names
Contact Information
Student ID Numbers
Medical Records Numbers
Social Security Numbers
Permission Letters: When recruiting subjects on or off campus or conducting research in a location other than the investigator's office/lab or public space, the IRB requires permission letters as proof that the investigator and the study has permission to recruit and/or conduct research activities at that site. The permission letter should include your (Principal Investigator's) name, the title of your project and what the site/agency/organization/class/instructor are granting you permission to do. The IRB recommends drafting the letter for the person or agency and have them place the text of the letter on their letterhead and then sign the letter.
Campus Body
Campus Recruitment Contacts
Student Life & Development (posting, recruiting and tabling in common areas on campus)

Institutional Research & Assessment

(large student data sets for secondary data analysis)

https://csulb.qualtrics.com/jfe/form/SV_0og67kHa2Ek9bA9

Request a permission letter for the purpose of submitting to the IRB for research purposes. If you are requesting identifiable data or data with links to identifiers such as emails or student ID #s, the IRB requires a permission letter from IR&A to be included with your IRB submission.

Individual Courses or Entire Departments

Request permission letter(s) from individual instructors or Department Chairs (when recruiting from the entire department by posting flyers) and list all courses or areas you will have permission to recruit. (Ex. Psy. 446 & 447 or Psychology Department bulletin boards).
Faculty Advisor Letter: If you are a student investigator, the IRB requires that your project be supervised by a faculty member. Usually this faculty member is your thesis advisor/chair or the instructor that assigned you the research task. You must use the Faculty Advisor Letter template and have your advisor complete the letter, print it out on official CSULB letterhead and sign the letter.
Online Survey: If your project involves an online survey through Qualtrics, Survey Monkey, Google Survey or any other online survey platform, please provide the URL and make sure your survey is live and available. The IRB will need to visit the survey link to confirm that the required elements are present. At a minimum, the consent notice should be the first page that research subjects see. Also, participants should have the option to skip any questions, and go back and change their answers.
Consent Notice: The new regulation advises investigators to provide potential subjects with the relevant information about their research project in a concise notice that will allow potential subjects to make an informed decision without being overwhelmed with too much information. As a result, projects will now use the Consent Notice. For projects involving minimal risk and less than minimal risk, the aim is to have the Consent Notice total no longer than one page using laymen's terms and a legible font and font size such as Calibri, Arial or Times New Roman, 12 pt. font.
Recruitment Material: The IRB must approve any flyers, advertisements, recruitment emails/telephone scripts, letters or social media posts distributed for recruiting potential subjects for your project. Include any recruitment material with your initial submission via IRBNet.
SUBMIT COMPLETED PROJECT MATERIALS TO IRBNet, WHICH IS CSULB's ONLINE SUBMISSION PLATFORM.
DO NOT EMAIL THE IRB YOUR DOCUMENTS BECAUSE THEY WILL NOT BE PROCESSED.
Administrative and Limited Review (No submission deadline)
Projects involve no more than minimal risk.
Requires 1 IRB member to review and approve the submission. The IRB may decide to escalate the project risk level depending on project activities; expedited or standard review may be required.
This review applies to

IRB Application for Administrative and Limited Review
Request for Protocol Amendments (meeting the criteria for Expedited and Standard Review)
Annual Check-Ins
Expedited Review (No submission deadline)
Projects involve minimal risk
Requires at least 2 IRB members to review and approve the submission
Only the IRB Application for Expedited and Standard review is reviewed via Expedited Review.
The IRB members may decide to escalate the project to greater than minimal risk depending on the project activities. If that is the case, the project will require standard review.
Standard Review (Submission deadline: Friday two weeks, i.e., 20 calendar days, prior to the next meeting)
Projects involve greater than minimal risk.
Requires the full IRB committee to review and approve the submission.
The full committee only meets once a month, February-May and September-December. 
IRB Submission

Upload documents to IRBNet
Include all relevant attachments 

Pre-Review

Confirms completeness
Recommend Revisions

IRB Review

Administrative/Limited
Expedited
Full Board

Modification Letter

Mandatory changes requested based on ethics and compliance

Final Review & Approval

Project approved after all modifications are adequately addressed
If your project is currently approved by the IRB, you may want to request changes to your project. In addition, if your project is active for over one year, the IRB may require additional documents for your project.
Project Amendments
If you would like to revise your approved project such as add new personnel, add new questions to your survey or add a new recruitment site, the IRB requires submission of the Request for Amendment to an Approved IRB Protocol form. In addition, you must provide any documents that are affected by the changes. These documents should be revised to reflect the requested changes. The requested changes should be highlighted, in different color, or otherwise emphasized for the convenience of the reviewer.
Submit these documents as a subsequent package to your project on IRBNet. Any requested changes, as summarized in your Request for Amendments to an Approved Protocol, must be reviewed and approved by the IRB, before they can be implemented.
Annual Protocol Check-Ins
With the new research regulation, most projects no longer have an expiration date. What this means is that you may continue your project according to the IRB approved version of your methods and procedures indefinitely. Since most projects will not expire, the requirement for an Annual Continuing Review is waived. However, the CSULB IRB must periodically confirm whether the research activities are conducted as approved, determine any adverse events, and maintain an accurate record of all active research activities. To facilitate this record keeping process, one month prior to the 1st anniversary of the initial approval the IRB will send a request to complete an Annual Protocol Check-In form to the PI. This form asks a few basic questions regarding the status of the project. If you have completed your data collection before the Annual Check-in, no further action is required, and the IRB will administratively close your project one month after the 1st anniversary of the initial approval. If you are still actively recruiting or if not all subjects have completed all research-related activities, then you will need to complete the Annual Check-In form.
Download the Annual Protocol Check-In Form
Continuing Reviews
Only projects that underwent Standard Review at the initial review, OR projects that were escalated to greater than minimal risk due to amendments to an approved project, will require a full Continuing Review form submission. In addition to the Continuing Review Form, the IRB also requires a revised IRB Application and any other documents if the PI is requesting project amendments at the time of review. One month prior to the anniversary of the initial approval or previous annual review, the IRB will send a request for a Continuing Review. 
Download the Continuing Review Form
How long will it take my project to receive approval?
It depends. The IRB tries to avoid providing exact timeframes because project review times can greatly vary depending on the time of year, the number of submissions ahead of yours, and the quality of your submission. The greatest factor affecting review times is the quality of submissions. The IRB strongly encourages having another set of eyes review your project, especially someone in your department that is familiar with the IRB process. Ensuring that all questions on the IRB Application are answered adequately, and all supporting documents are included with the submission, will limit the amount of revisions requested from the IRB, thus improving review turnaround times.
How long will my project approval last?
If your project was approved by: Administrative, Limited, or Expedited Review, your project will not expire. Otherwise, if your project was approved via Standard Review, your project will expire one year after the project approval date if a Continuing Review is not submitted before the project expiration date indicated on the IRB Approval Letter.
If my project is just for class, do I need to submit to the IRB?
Yes! Anytime you are collecting information from individuals with the intent of drawing conclusions from that information collected, you will need to submit your project to the IRB. Even if you are using secondary data analysis on data that has identifiers or links to identifiers, IRB submission is required.
Someone told me my project is IRB exempt, what does this mean?
IRB exempt means that some of the research regulations do not apply to your project. However, exempt DOES NOT mean IRB submission is not required. Exempt projects still have some research regulations that are applicable, meaning the IRB must review and approve the activities prior to beginning the project. If your project involves research with human subjects, the IRB must confirm your project affords the same rights and protections to subjects as any other research project. The difference between exempt and non-exempt projects is that the IRB oversite is less stringent. Only one IRB member is required to review the project instead of several. Additionally, the project does not expire.
Can someone in the IRB Office review my project to confirm I have everything required before I submit my project through IRBNet?
The IRB Office strongly discourages this practice because it creates double work for the investigator and the IRB Office. The IRB is more than willing to answer specific questions you have about how to answer questions on the IRB Application or confirm which documents are required for the type of project. All projects submitted to the IRB via IRBNet undergo an administrative pre-review, which is designed to ensure completeness and check for missing documents. Additionally, the pre-reviewer may recommend changes or additions to the project to make the project purpose and procedures clearer to the IRB reviewers.
Why is the IRB still sending me A "Request for Modifications" Letter  after  my project underwent an administrative pre-review?
During the Pre-review step, the IRB administrative staff may unlock your submission and provide a list of recommendations for changes based on the administrator's knowledge of what the IRB has approved in the past. The purpose of pre-review is to help you identify major problems with your submission before the official IRB reviewer(s) see it. A delayed or inadequate response to the pre-reviewer's recommendations may cause delays with the official review, but it is not the official review by the IRB. The goal of pre-review is to minimize the changes that might be requested by the official IRB reviewer, but it cannot guarantee to eliminate them. 
The "Request for Modifications" Letter is an official decision made by the IRB Committee that lists changes required before the IRB can approve your submission. Each requested modification must be addressed to the IRB's satisfaction, before the IRB can issue final approval of your project. These changes usually relate to minimizing potential risks to subjects, clarifying the subject material, confirming consistency across your IRB Application and appendices, and finally, data management. Any unresolved modifications will result in additional requests for modifications and will result in significant delays.
What is the process for External Investigators? Does the IRB allow submissions from investigators not affiliated with CSULB?
CSULB does allow the submission of research projects from External Investigators for the purpose of recruiting CSULB students, faculty and/or staff. The process for External investigators is as follows:
Create an account on IRBNet, affiliating with CSULB.
Complete CITI online training. If comparable training was completed at another institution, please log into your CITI account and affiliate yourself with CSULB as an institution so that we can verify your training is comparable to our Social & Behavioral Basic/Refresher course.
Submit via IRBNet, the External Investigator Access Request Form (PDF) in addition to the relevant documents:

The IRB Approval letter and approved application from home institution, OR, complete the CSULB IRB Application form appropriate for the project (Refer to the top of the page for the initial submission flow chart).
Permission letter(s) from CSULB faculty, department or affiliated individual granting you permission to recruit from the relevant members of the campus community. The permission letter should be on official letterhead and possess a live signature.
Flyers, presentation scripts, and any other recruitment materials..
All Informed Consent/Child Assent Forms in all languages being used in your recruitment.
Assessments: survey/interview questions or other procedures.
Roles & Responsibilities
Co-Investigator (Co-I): Shares responsibility for the ethics and adherence to protocol procedures and data management. In the event that the Principal Investigator is unable to fulfill the role as lead investigator, the Co-Investigator acts as an agent of authority to carry out the project's goals. The Co-I must be listed on the IRB Application and complete CITI training.
CSULB Institutional Review Board (IRB): Comprised of a diverse group of 14 individuals (Current IRB Membership Roster), elected to uphold the ethical principles of the Belmont Report designed for the protection of the rights and welfare of human subjects in research. The IRB must adhere to the U.S. Department of Health & Human Services and the Food & Drug Administration (FDA) regulations. The IRB has the authority to approve, require modifications to secure approval or disapprove research.
Faculty Advisor: Institutional affiliate who is familiar with the process of research and has agreed to sponsor student's research with adequate review of the protocol to ensure that the risks are clearly outlined and minimized, the proposed research has merit within the context of the academic discipline, complies with Federal regulation and University policies and the principles of justice, beneficence and respect for persons are upheld.
Principal Investigator (PI): An individual affiliated with the institution (Faculty, Staff and Students) who have been granted authority to engage in human subjects research independently or under the advisory of an institutional official to conduct research on human subjects on behalf of the CSULB Chancellor's Office. The Principle Investigator bears primary responsibility for all research activities and ensures proper conduct of research activities, assesses the risk/benefit ratio to assure it is favorable and that the data is managed in accordance with institutional guidelines. The PI must complete CITI training.
Research Assistant: A student or individual designated by the Principal Investigator of a project to oversee limited aspects of a protocol such as subject recruitment and data analysis. Individuals must be listed on the IRB Application and complete CITI training.
Research Records
Federal regulations require that researchers maintain the original signed Informed Consent documents for three years after the termination of the research. As a thumb rule, the period extends three years from the expiration date of the approved protocol or approved renewal. In addition, federal regulations require that the record of the conduct of a research project remains the responsibility of the researcher. All materials generated from human subjects, such as completed consent forms, screening data, original surveys, questionnaires, documents, physiological data, etc. must be retained by the researcher for a minimum of three years from the end of the research, unless an appropriate justification for earlier or later destruction is provided and approved by the IRB. All records should be maintained in a secure location with access granted according to their role(s) in the research.
Informed Consent Process
The essence of Informed Consent is that the researcher provides to the potential human subject sufficient information that the potential subject can weigh the risks against the benefits and make an "informed decision" about whether to participate or to continue participating in a project. Accordingly, providing information and accepting consent is a process which is begun at the beginning of subject recruitment and which concludes only when the research concludes. The primary informed consent document is essential, but circumstances may evolve in such a way that additional documentation be provided and requests for consent take place.
Suspension and Termination of Protocols
The IRB may suspend a previously approved protocol awaiting clarifications and modifications. If the IRB finds that the risk to human subjects is significantly greater than estimated at the time of approval, and with little prospect of remedy, the IRB may rescind the approval of a protocol. The IRB may rescind approval of a protocol for cause, i.e., egregious and willful departure from the terms of the approved protocol, violations of regulations, or non-compliance with regulations. The IRB may also ask that a Data and Safety Monitoring Board be formed to monitor the research.
The Informed Consent documents, when finally approved must indicate clearly in the header or footer of each page the approval (or renewal) and expiration date of the protocol as follows: "Approved from mm/dd/yy to mm/dd/yy by the CSULB IRB." Informed consent statements provided on the internet shall contain the same information.
Applicability of California State Law
All California Laws regarding the disclosure of information received from persons, including those engaged as human subjects of research, are to be complied with. Persons engaged in research who are also "mandatory reporters" of abuses to or crimes of children or adults are to be disclosed in the protocol application. The IRB may ask for a reference to the applicable State law.
The California Public Records Act applies to research with human subjects. Under the California Act certain kinds of medical and personal information are excluded. However, most IRB records may be made available for public review upon request following University implementation guidelines relating to Freedom of Information Act (FOIA).