Registration Support
As a first-time, first-year student it can sometimes be overwhelming building your very first college class schedule--considering important general education requirements, major-specific requirements, and others that might be outlined in your Academic Requirements Report (ARR). The Beach XP program is designed to help take the guessing out of finding the right courses and aims to set you up for success!
Remember: You cannot register for your classes until your SOAR registration appointment!
Explore this page to learn how to register for your Beach XP classes (after you have confirmed participation through your college). You may continue to work with your academic advisor for any modifications to your schedule.
Before You Register:
Students interested in participating in their college's Beach XP learning community program should first explore eligibility requirements. For questions about your college's particular program, contact your college's Beach XP representative. Visit the Beach XP Colleges page to learn more.
Once you have connected with your college, work with your academic advisor to ensure your class schedule includes Beach XP requirements. Students will be prompted to select their Beach XP cohort in MyCSULB Student Center when they first begin the enrollment process.
A cohort is a group of classes that are packaged together for you to place in your schedule during your first semester at CSULB. Each cohort has at least one class that provides service learning opportunities, resource connections, and skill-building workshops outside of traditional classroom experiences. Cohorts also provide the opportunity for students to connect with their peers and potential mentors.
Beach XP cohorts and classes vary by college. Beach XP classes will already be included in your enrollment shopping cart after you select your cohort during enrollment. If you are also participating in Guided Registration, you may also have additional course requirements to keep in mind when building your schedule.
Connect with your academic advisor for support or questions regarding your schedule.
All newly-admitted students are required to attend Student Orientation, Advising, and Registration (SOAR) sessions.
Visit csulb.edu/soar to learn more and sign-up.
Image

Beach XP Registration Steps:
To get started, log in to your CSULB Single Sign On account by visiting sso.csulb.edu and then select the MyCSULB Student Center app (pictured below). 
Image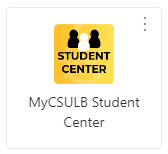 In the Academics section at the top of the page, select either ENROLL or ENROLLMENT SHOPPING CART (pictured below). 
Image

If you are officially participating in Beach XP, you may see a listing of available Beach XP cohorts from your college on this page (pictured below). Each cohort contains a group of classes that you can add to your schedule.  
Image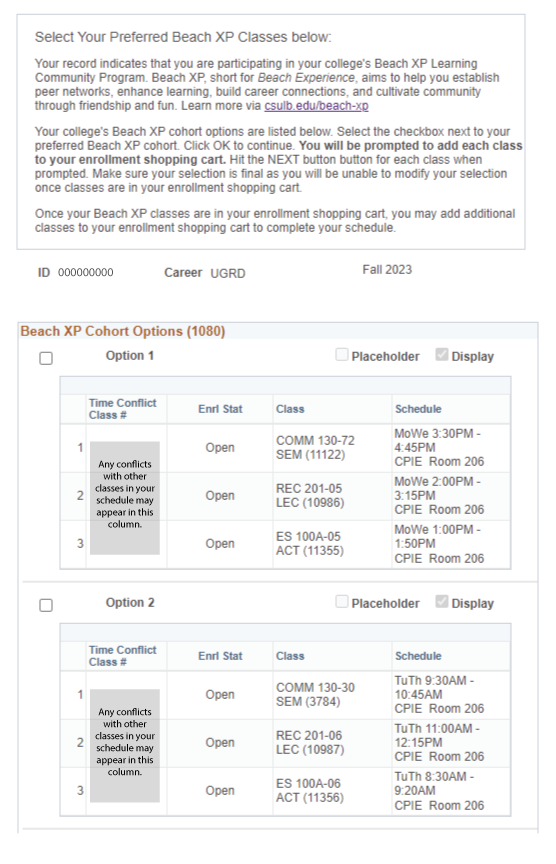 Review each option carefully for class dates and times, then select the CHECK BOX by the cohort you wish to add to your Enrollment Shopping Cart.  
Select the OK (at the bottom of the page) to continue. 
Next, you will need to add each individual class from your selected cohort to your Enrollment Shopping Cart.
Select NEXT when prompted for each class (pictured below).
Image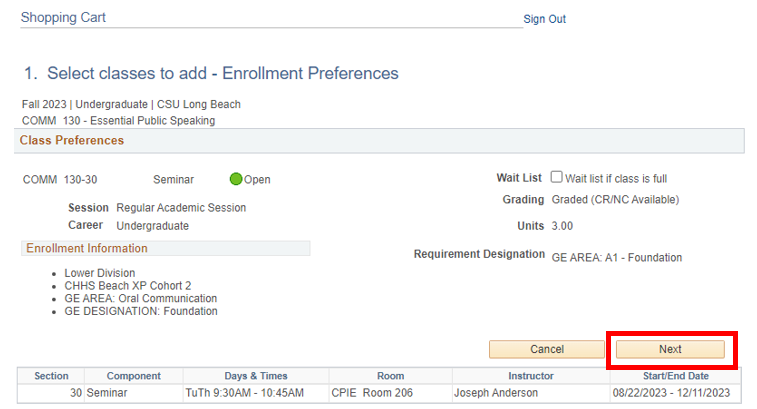 On the next page, you will see your Enrollment Shopping Cart (typically at the bottom of the page) with your Beach XP classes included. At this time, you can add any additional classes you like to your schedule and then complete your enrollment by selecting the ENROLL button (pictured below).
Image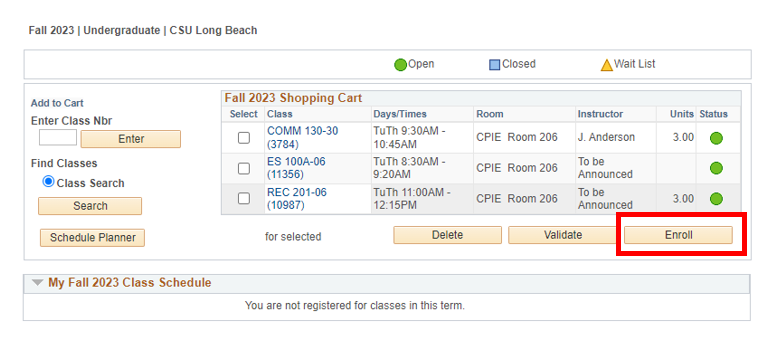 If you have any additional Guided Registration requirements, those course recommendations will also appear on this page in a yellow box (pictured below). Be sure to follow any instructions when prompted. 
Image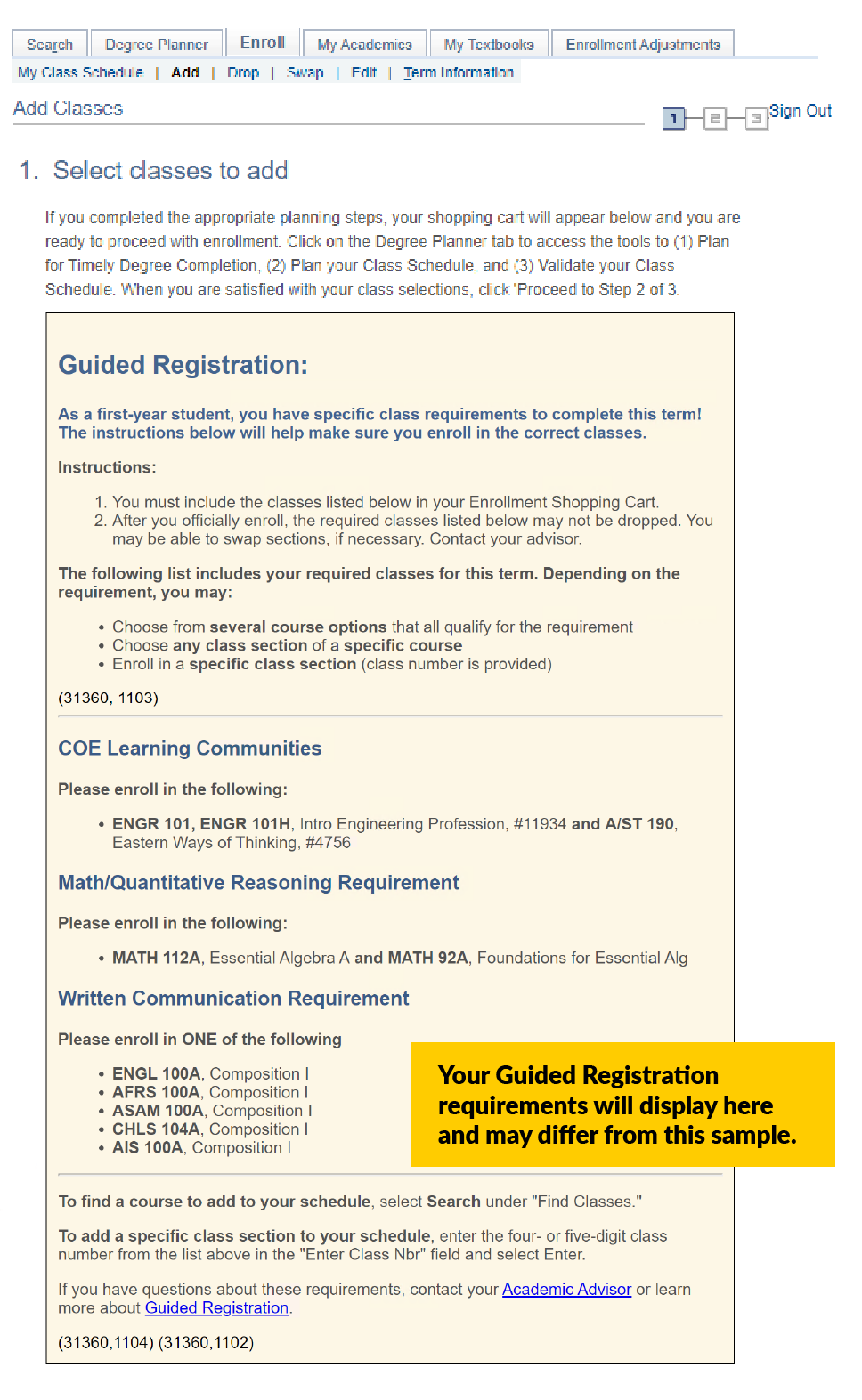 When your enrollment is complete, you will see a VIEW RESULTS page. You should see green check marks by all classes where you are successfully enrolled. Any enrollment errors will display a red x. For more general enrollment support, visit the Using Academics page.