Master of Arts, Human Experience Design Interactions (HXDI)
The Program
Beginning Fall 2023, the Master of Arts in Human Experience Design Interactions (MA_HXDI) is STEM designated. The MA_HXDI program is currently ranked #6 Best Master's in Human Computer Interaction by College Rank. Comprised of 33 semester units, the program prepares students and/or returning professionals from diverse undergraduate backgrounds for advanced multidisciplinary design work in careers of their choice. Through the MA_HXDI program, students will develop expertise in the tools and methods of experience design as a strategy for making and adding value to systems, products, spaces, and services. Through a diverse faculty and collaborations with leading organizations, students will use cutting-edge technology tools while developing novel solutions to complex challenges. These tools provide both the quantitative data to support the qualitative research of human-centered design, as well as the digital interactions of contemporary human communication and experience. This 'theory plus practice' approach prepares students to smoothly transition into the broad spectrum of professional design roles, from design research to interaction design. Through research labs in the department of design, students have the opportunity to engage in interdisciplinary research, independently and through collaborations with business, government, education, entertainment, health care, and technology organizations. These collaborations provide students with highly sought after knowledge and skills for advanced design work.
Program learning outcomes (PLOs)
The MA_HXDI program graduates will...
Communicate in written form and orally for informational, persuasive and expressive purposes to describe and analyze design research processes and solutions at an advanced level.

Research, reason, analyze and implement quantitative data in order to solve problems from a wide array of authentic context and experiential situations, creating sophisticated design solutions supported by quantitative evidence.

Think and manage complex information in a way that is clear, reasoned, reflective, informed by evidence, and aimed at creating design solutions supported by the high-level, comprehensive exploration of issues, ideas, artifacts and events before accepting or formulating an opinion or conclusion.

Demonstrate proficiency with analog and digital tools of the discipline to create, communicate and implement human-centered, research-based solutions in a globally competitive world.

Work collaboratively to solve problems, acting as leaders as well as strong collaborative team members, conducting advanced research and synthesizing results into human-centered, research-based analog and digital solutions.
---
Applying to the Master of Arts, Human Experience Design Interactions Program: a two step process
Prior to admittance into the MA_HXDI program, all students must first apply to, and be accepted by the University (visit Graduate Admissions). International students should contact international admissions ahead of the international student application deadline of March 15. The deadline for domestic students to complete applications to the University through CSUApply is April 15, although early applications receive priority consideration. Selected applicants, accepted through the CSUApply will be invited to submit additional application materials through an online platform. These applicants and their materials will be reviewed by the department graduate admissions committee. Through this competitive process, a cohort of approx. 12 students will be selected based on diversity of skills, experiences, and potential to perform successfully in an intensive, full-time, face-to-face design program.
 
Once admitted into the Department of Design, students will enroll in required graduate courses. Please see the MA_HXDI Flow Chart and the CSULB Catalog for specific course requirements and descriptions. For more detailed information see the MA_HXDI policy statement.
Download the Application Guide (PDF) from our Admissions Page.
---
Technology Requirement
The MA_HXDI faculty is committed to bringing the highest quality educational experiences to students. Changes in the tools and technologies of human-centered design area common and field research is always required. Due to the dynamic nature of both research and practice, it necessary for all students to have a personal, mobile computer—able to support design software. This requirement allows students to be independent and effectively integrate digital technologies into their workflow.
---
The Facilities
The Department's academic facilities provide collaboration spaces, and secured workspaces. These facilities are available twenty-four hours a day to all MA_HXDI students. Each workspace provides Ethernet and wireless access to the Internet through the University server. In addition, two Computer Labs, a Multimedia Lab (with large format printing capabilities), a Metal/Plastic and Wood Shop are available in the Department of Design. In addition, the University houses advanced 3D printing facilities. MA_HXDI students also have access to the Immersive Design Research Lab for developing responsive work through tools and applications.
---
Image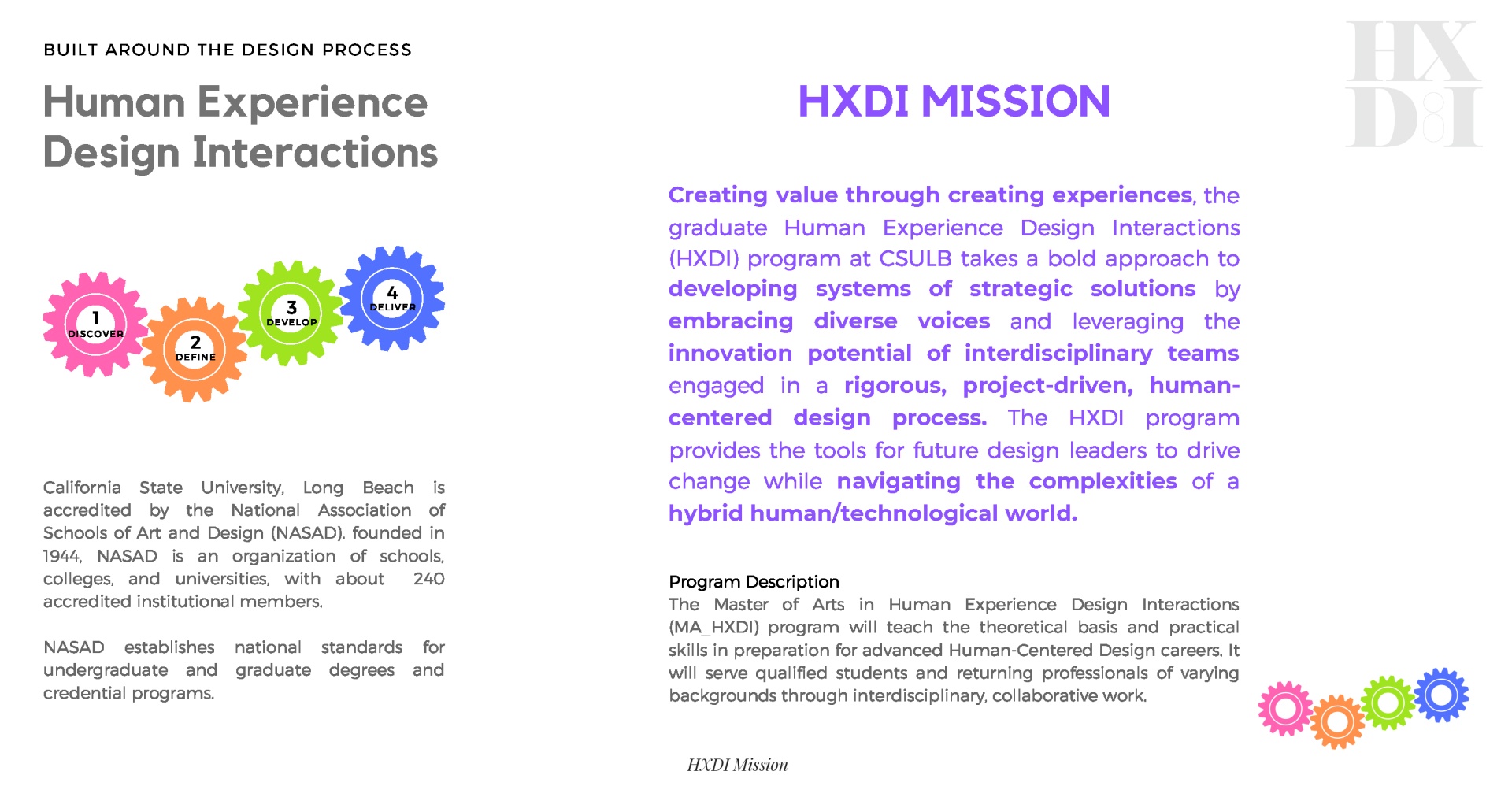 Image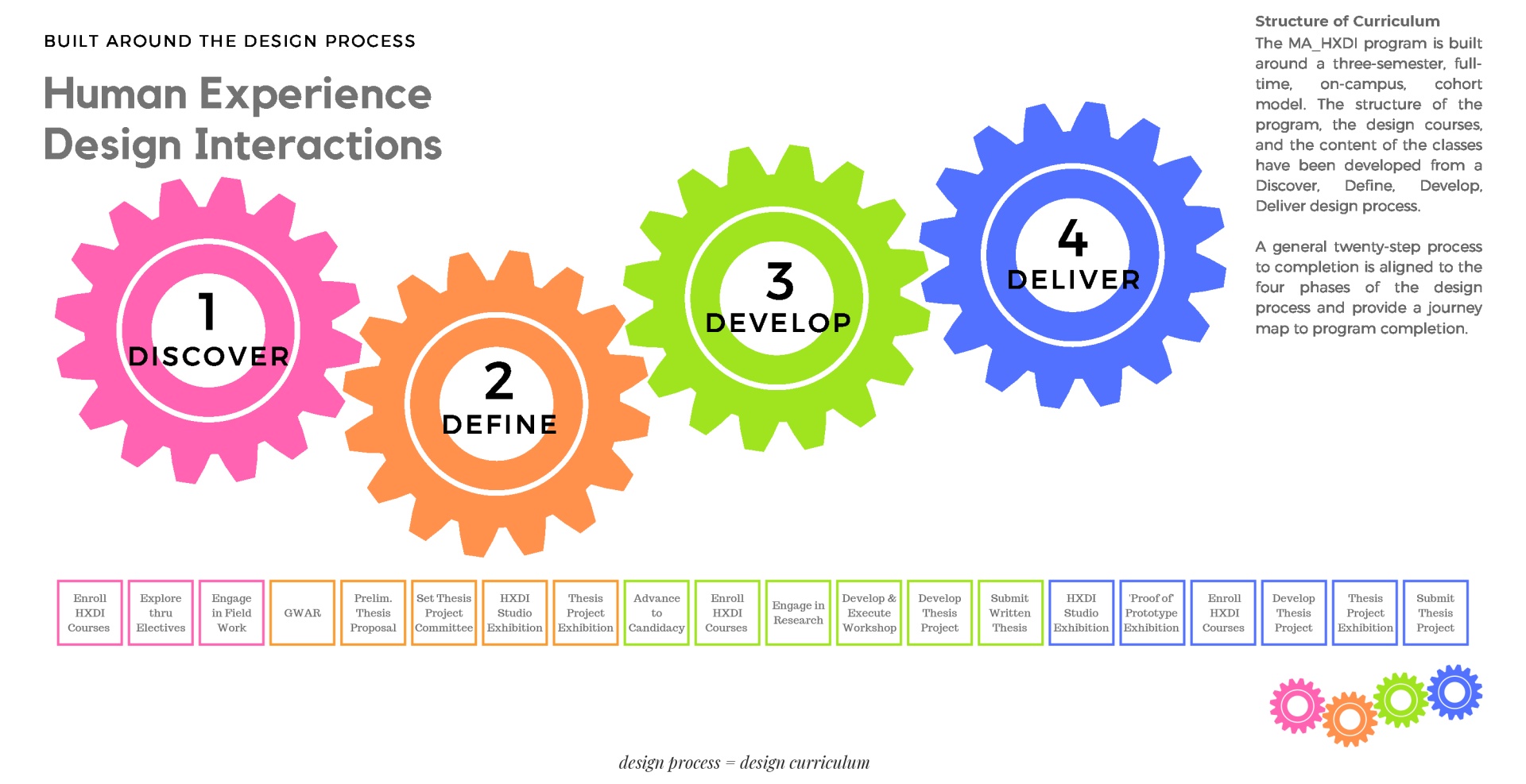 Image