Two BUILD Students Present at International Meeting
"Do not be intimidated from attending conferences!" said Rhea Addo, a CSULB BUILD Scholar who recently presented a poster for the first time at the meeting of the Society for the Study of Reproduction (SSR). She was one of three undergraduate California State University Long Beach (CSULB) students presenting posters at the internationally attended meeting – and where most presenters were professors, post-doctoral fellows, and Ph.D. students.
"I was most intrigued by the level of interest and knowledge SSR members had for the field," said Victor Abarca, also a CSULB BUILD Scholar. "Also, how every individual's research contributed to one larger picture, and one common goal."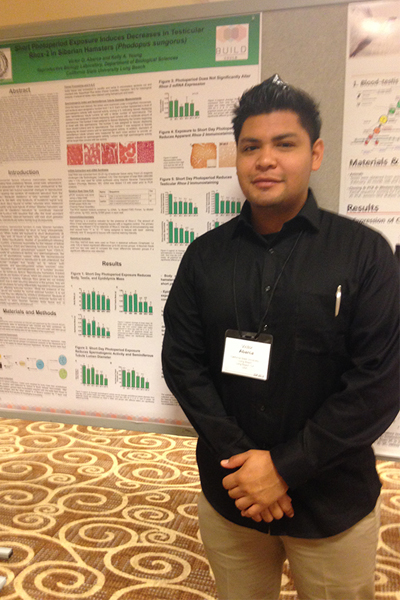 Although there were plenty of opportunities to learn new things and meet fellow researchers, the highlight of the event for both Addo and Abarca was the poster presentation. "I got to share my experience as a researcher in reproductive biology," said Abarca. "Everyone showed great interest and support for what we are doing in Dr. Kelly Young's reproductive laboratory."
"During my poster session several scientists offered me advice and suggestions to help get through some of the uphill battles I have had with my research project," said Addo. "Being able to collaborate ideas and perspectives from scientists from all over the world and the country would not have been possible if I hadn't attended SSR. Because of my experience at SSR, I feel more confident as a scientist in training."
Many – if not all – BUILD Scholars get the opportunity to present their research at professional meetings like SSR. But taking this first step can be scary. "Before I submitted my abstract to SSR, I knew that I would be one of the few undergraduates attending the meeting," said Addo. "Most presenters were graduate students, post-docs, practicing biologists, and MDs. Knowing this, I was a bit apprehensive to submit an abstract because I was afraid it would not match the creative talent represented at SSR. Well, I am glad I submitted anyway!"
Both Abarca and Addo offered advice to help fellow students, Associates and Scholars earn their own opportunities:
Abarca: "Finish what you started. There will be moments where you question your circumstances, but until you reach the end point, only then can you make a better judgment of yourself. Only then will you surprise yourself and witness your capability."
Addo: "In order to land an opportunity such as this, be sure to work closely with your mentor, so you will write a clear and concise abstract that will be accepted! Moreover, I encourage undergraduates, such as myself, to attended conferences even if they are not presenting. The networking opportunities available at national conferences are tremendous, and I encourage students to take advantage of them."
The meeting was held in San Diego, Calif., and is a large meeting of reproductive scientists from around the globe.
Alex Salomon, a MARC U*STAR student, also represented CSULB. All three students have been working in the reproductive biology laboratory of Kelly Young, Ph.D., professor of Biology and a Research Mentor for the CSULB BUILD program.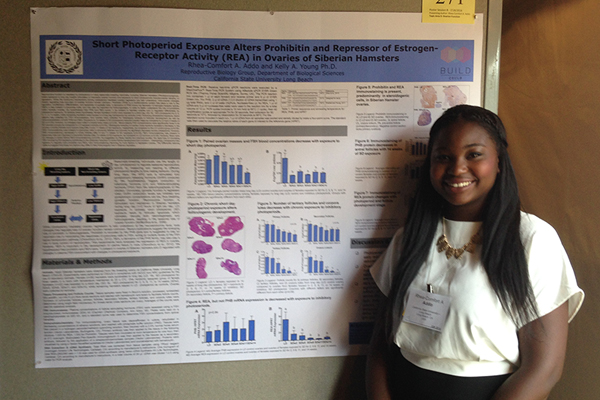 ---