Water & Landscaping
Water Conservation
CSULB has implemented numerous water conservation projects including transitioning landscape areas to drought tolerant plantings and drip irrigation, using reclaimed water for irrigation, and installing low-flow urinals, touch free automatic faucets with low flow restrictors. CSULB has also established a Water Action Plan aimed at reducing water consumption by 20% by 2020 and to continue actively identifying new opportunities to conserve our precious water resources.
Landscaping, Grounds & Campus Forest
Image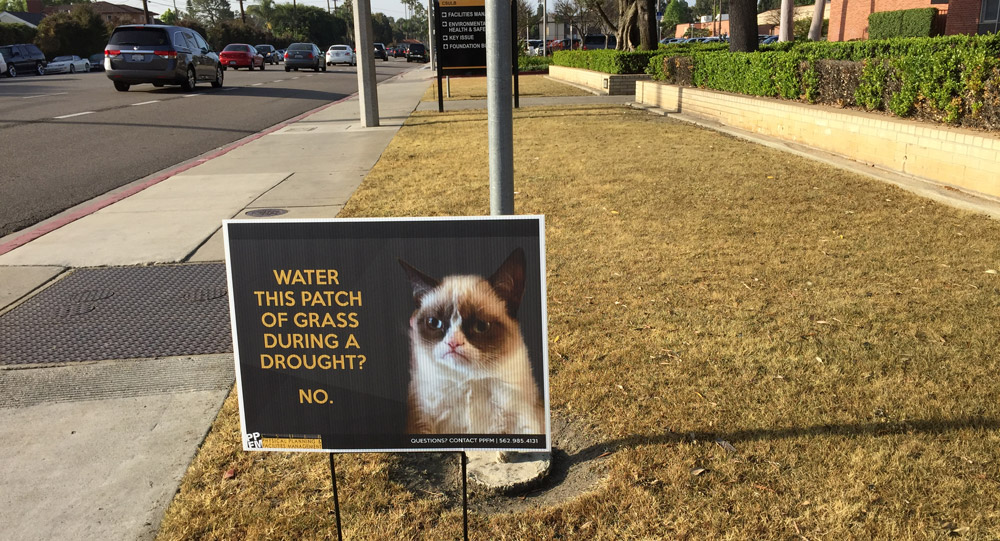 Ensuring that the outdoor areas throughout our 322 acre campus are healthy, safe, aesthetically appealing, and resource efficient is another way that we demonstrate our commitment to creating a sustainable campus environment that is conducive to learning.
Water Conservation & Turf Conversion
Water is essential for keeping our campus environment healthy and green, but conserving this precious, limited resource is still a top priority. Current landscaping water conservation strategies include:
Utilizing weather-based irrigation system
Utilizing reclaimed water for irrigation
Installing drip irrigation systems
Utilizing mulch to help preserve moisture in the soil
Campus Forest
The CSULB campus is home to an urban forest made up of nearly 7000 trees from a diverse mix of botanical species. Trees provide many benefits to people and the environment, such as:
Filtering harmful pollutants from the air
Providing shade to people and buildings (meaning less energy must be used to cool buildings)
Sequestering carbon that would otherwise be emitted into the atmosphere
Providing habitat for birds and other animal life
Helping people feel connected to nature and promoting general sense of well being
Integrated Pest Management
CSULB is committed to applying the principles of Integrated Pest Management (IPM) when dealing with indoor and outdoor pests. IPM is defined as managing outdoor pests (plants, fungi, insects and/or animals) in a way that protects human health and the surrounding environment and that improves economic returns through the most effective, least-risk option.
Core elements of IPM include:
Use of least-toxic method for monitoring and control. For example sticky traps or non-toxic bait stations
Minimum use of chemicals
Use of chemicals and pesticides only in targeted locations and for targeted species
Routine inspection and monitoring
Proactive communication
To ensure building users are informed and empowered to care for their own health with regard to pest management activities, IPM includes procedures for notifying occupants and visitors in advance of any pesticide application other than a least-toxic pesticide.