CSULB Wins Two Statewide Awards for Energy Projects
California State University, Long Beach's leadership in sustainability recognized by peer universities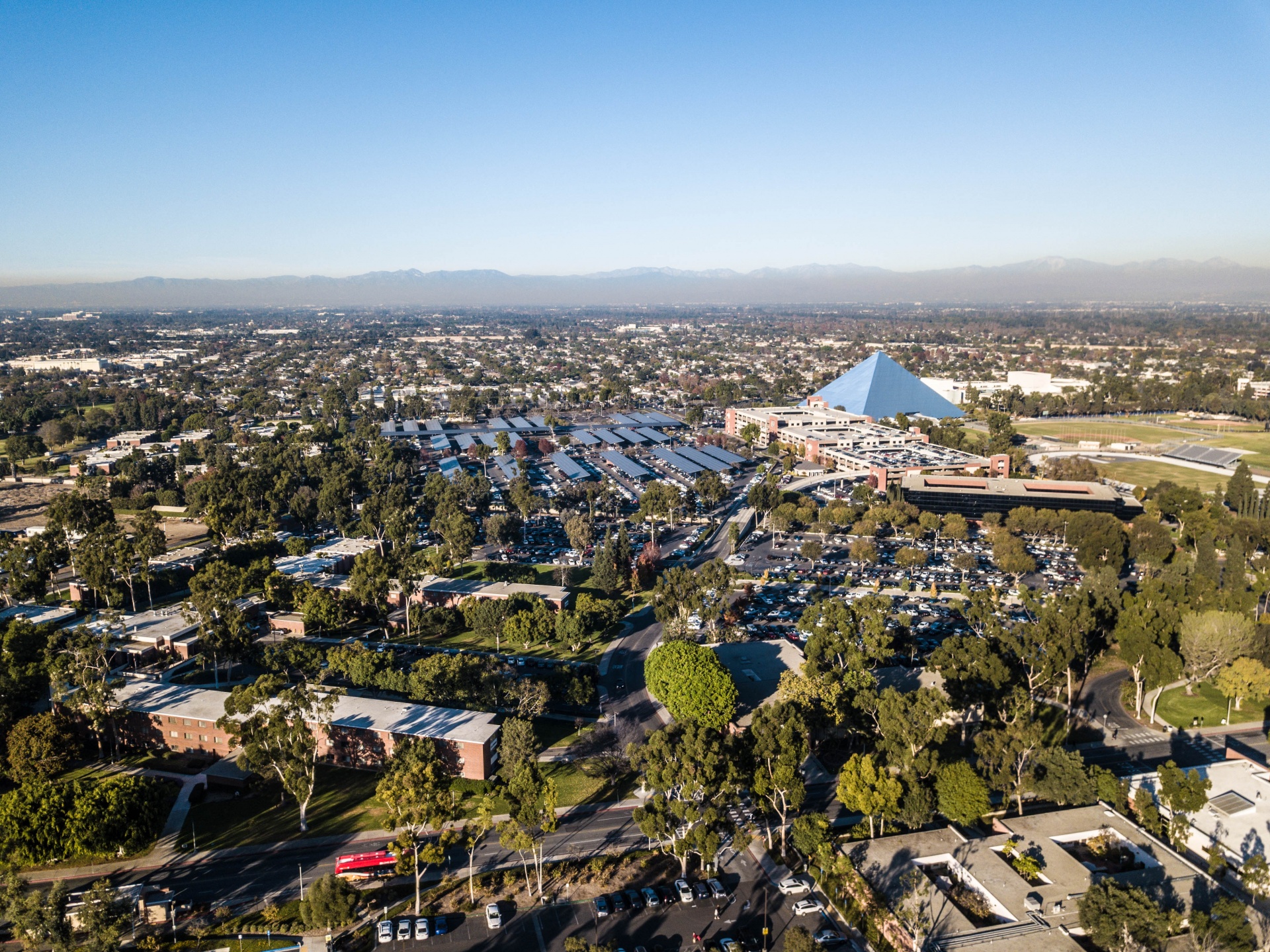 Long Beach State's recent solar panel installation and newly upgraded LED lighting in the Walter Pyramid have been announced as winners of statewide awards for their achievements in energy efficiency and sustainability.
The university will be acknowledged as a two-time winner of the 2018 Higher Education Energy Efficiency and Sustainability Best Practice Awards at the annual California Higher Education Sustainability Conference (CHESC). This year's conference takes place July 9-12 at UC Santa Barbara.
The purpose of the Best Practice Awards is to recognize universities' achievements in sustainability and highlight the winning projects as models for other California college campuses to follow. Through conference presentations and an online database, details about the Best Practice awarded projects are shared so that they can be replicated by other campuses.
According to Long Beach State's Sustainability Coordinator Holli Fajack, being seen as a leader in sustainability helps motivate college campuses to create bigger and better innovations.
Not including this year's CHESC Best Practice awards, Long Beach State has won six since 2011.
"There is definitely a healthy level of competition between the CSUs but generally speaking, the CSU sustainability community is very supportive and always willing to share resources, advice, and best practices," Fajack said.
While many other campuses in the CSU and UC have their own solar energy systems and buildings with LED lighting, Long Beach State's installations are likely being recognized as this year's models because of the scale of the solar installation and amount of energy the LED lights are expected to save.
The university's 4.75 megawatt solar energy project is capable of providing about one-third of the campus's daily energy use during peak hours, while the new energy efficient lighting in the Walter Pyramid is expected to save about $48,000 annually. Construction of the solar panels in parking lots G6-9 and E8 were completed Dec. 1, 2017.
When Long Beach State's President Jane Close Conoley flipped the ceremonial switch on the solar panels in September 2017, the installation officially became the largest in all 23 CSU campuses as well as the largest in the city of Long Beach.
LED light bulbs use about 75 percent less energy than typical incandescent light bulbs and last about 25 times longer, according to the U.S. Department of Energy. In addition to saving energy, Long Beach State's new LED light system in the Walter Pyramid has introduced even more advanced setting options.
The upgraded lights utilize digital controls, dimmers, and changeable colored lights that allow for more energy efficient options.
This project is one of the many sustainability innovations likely to encourage ecological advancements in the CSU system.
Long Beach State's next large sustainability project is the new College of Continuing and Professional Education building which will run entirely on renewable energy.
The CCPE building won't be the first net-zero energy building in the CSU system, but it will be the first net-zero energy classroom building. Construction of the CCPE building is scheduled for completion by the end of this summer.
Details of Long Beach State's new solar panel installation and LED lighting project will likely be released by the end of June. Other CSUs will be able to use the guidelines to create new innovations and help each campus meet their own sustainability goals.
"At the end of the day, we all want the same things: to conserve campus resources, combat climate change, and educate students to be effective leaders and advocates for sustainability," Fajack said. "When one campus wins, we all win."
See the university press release here