Frequently Asked Questions About Applying for Housing
2023-2024 New Student Application Process
There are approximately 2600 beds for new students in Housing. By May 1st, the 2600 students at the greatest distance from campus with completed applications and paid service fee will receive housing priority. After the initial capacity is met, those remaining will be placed on a waitlist based upon date of application.
To apply for housing, you must be admitted to the university and have a MyCSULB account. The housing application can be found on the Housing Portal (located on your MyCSULB). It is highly recommended to complete the application as soon as possible, as we reach full capacity nearly every year. 
Returning Students

Application Opens: March 15th at 10 AM
Application Closes: March 22nd at 5 PM

The first 600 students who apply will be contacted to pay their License Service Fee payment by a given date. Failure to pay by the given date will result in cancellation of their application.
All remaining applicants will be placed on a waitlist. We will offer spaces to waitlisted students on a rolling basis.

New Students

Application Opens: April 5th at 10 AM
Priority Deadline: May 1st 

New student applications received before May 1st will be prioritized by distance from campus. After the initial capacity is met, remaining applicants will be placed on a waitlist based upon date of application.  
After completing your housing application and making the license service fee payment, you will receive an automated email to confirm that your application was completed and received.

You can check your application status online by logging on to the CSULB Housing Portal. 
The license service fee is $275 and is non-refundable. The license service fee is $100 for qualifying students that select the fee deferment option.
The service fee is credited toward your semester housing/meal cost. If you have not paid your license service fee, your housing application is considered incomplete. 
You can pay online through the MyCSULB Housing Portal's secure payment system (CashNet) or send in a personal or cashier's check. Money Orders are not accepted. If paying by check, make checks payable to CSULB. Postmarks will not be honored. Be sure to include your name and Campus ID on all correspondence, on each check, and the completed service fee payment card.
Payments by check can be mailed to:
Cashiers Office BH155
1250 Bellflower Blvd.
Long Beach, CA 9084
When prompted to pay your License Service Fee online, please select "International Payment". This will reroute you to our foreign currency payment partner, Convera, to complete your transaction.
Image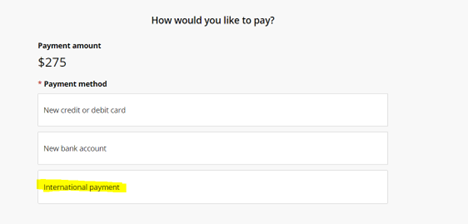 If you are making an international payment, do not select to pay by credit card or bank account payment. The transaction will be denied, which will delay the completion of your Housing Application.
Housing Confirmations and Waitlist
New applicants will be notified of their housing status (confirmed or waitlisted) shortly after the priority deadline. Communication will be sent to your preferred email address, until campus switches it to your CSULB student email. It is imperative that you check your email and the CSULB Housing Portal often for any updates to your status. We will continue to confirm applicants throughout the summer. 
Please note: A completed housing application does not guarantee a confirmed space in housing.
Our primary method of communication is email. Please be sure to update your email accounts to mark housing@csulb.edu as a safe sender. We will use your CSULB email address in communications.
Applicants will be contacted about their housing status depending on their classification: 
Returning Residents: March 24th
New Residents: May 8th 
Housing is not guaranteed to any student, regardless of class level. However, we do prioritize housing spaces to new residents.  
Once you have been notified that you are on a waitlist, you can call or email the Housing Office to get updates on your number.
This is difficult to predict as it varies from year to year. It depends on the number of students who change their decision related to housing or to attending CSULB after their initial acceptance of housing confirmation. Some years we go quite deep into the waitlist and others we do not. We encourage students to look for alternative housing options as it is unpredictable if/when spaces will become available. It is imperative that students constantly check their emails to see if they are offered a space. Our office will be contacting them using their CSULB email address.
The waitlist can also exist a few weeks after the semester starts. This is to account for no-shows, last-minute cancellations, and situations where students request to vacate soon after move-in.
You can cancel your application by logging into the Housing Portal. If you experience issues with cancelling your application on the Housing Portal, please contact the Housing Office and we can assist you.
If your admission was rescinded or you have withdrawn your admission, it is imperative that you cancel your housing application through the Housing Portal (even if you have already cancelled with the Admission or Enrollment Services Office).
Please refer to the Cancellation Policy to read more about cancellation fees and policies.
Canceling while on the waitlist: Your service fee is refundable.
Canceling AFTER being confirmed space: Your service fee is non-refundable. 
Roommate and Room Selection
Academic Year Application:
Roommate selection: All confirmed students are given a timeframe to select a roommate on the Housing Portal.
Room selection: Confirmed students are given the opportunity to select their own room. Room selection is subject to availability, and the room type preference that you selected on your housing application is not guaranteed. 
Spring Semester Application:
Roommate and room selection: All roommate and room assignments will be done by Housing Office personnel, based upon your room type preference and profile answers that you answered on your Housing Application.
When completing your housing application, you can rank the thematic community you are interested in. If you are not interested in a thematic community, please select "General Housing" as your first choice. We try to honor your thematic community preference based on availability. If you wish to change your thematic community preferences, log back into the Housing Portal and update your preferences before the set deadline.
2023-2024 Returning Student Application Process
The benefits of housing for first year students have been proven to be highly impactful. We want to allow as many students as possible to experience and benefit from housing. Also, first-year students are less likely to be knowledgeable about the areas of Long Beach that are most appropriate for student housing. Returners have more experience with the area and are generally able to make more informed decisions about their housing. Finally, as some of our first-year students arrive start their education before they are 18, they are not old enough to sign a lease for an off-campus apartment. 
Returning students who are offered housing will be given a determined window to make payment (generally about six days). If they fail to make payment in the assigned window, they are forfeiting their opportunity to live in housing and their application status will move to canceled.
It is still a possibility, but once the window for payment has passed, your application was cancelled.  You would need to resubmit an application to be placed on the paid waitlist. 
In the past, the third-party payment center (CashNet) that the university uses for housing service fee payments would crash due to the high volume of applicants trying to pay all at once. This two-part process will mean no more than 600 students are in the CashNet system at any given time and spread out over several days.  Also, this will eliminate the need for students to pay and then be reimbursed if they do not get into housing.  
Before May 3, those returning students who are pulled from the waitlist, will be given a payment window timeframe (generally six days) to confirm their spot in housing as earlier students. 
On May 3rd, the remaining students will be offered the opportunity to be part of a paid waitlist that will allow them to be moved more expeditiously to an open bed when one becomes available over the summer.
Students should watch their email throughout the summer, as if they are being offered a space, they will be contacted by housing via their CSULB email.