Upcoming Colloquium
Taking the Measure of Neutron Stars with NICER
Dr. M. Coleman Miller, University of Maryland at College Park
October 18, 2021
11:00am via Zoom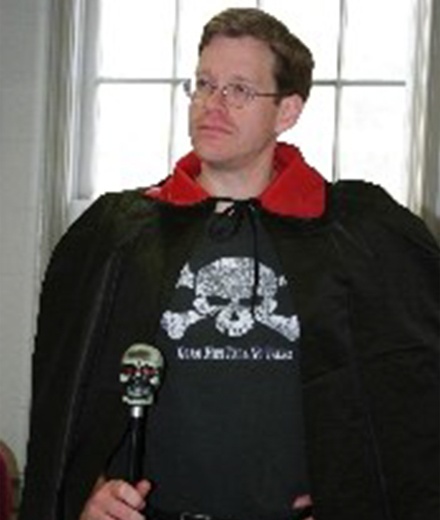 Faculty, staff, alumni, and students of the department will automatically receive a weekly Zoom invitation via email. All others may sign up to receive a weekly invitation.
Precise and reliable measurements of neutron star radii are essential to our understanding of cold, catalyzed matter beyond nuclear saturation density. Recently, NASA's Neutron Star Interior Composition Explorer (NICER) satellite has provided high-quality data sets that have yielded measurements of the mass (M=1.44±0.15 Msun) and radius (R=13+1.2-1.0 km) of the 206 Hz pulsar PSR J0030+0451, and of the radius (R=13.7+2.6-1.5 km) of the M=2.08±0.07 Msun, 346 Hz pulsar PSR J0740+6620.
I will discuss our group's work on these pulsars and will in particular discuss the assumptions that have gone into our analyses, to help the assessment of our results. I will also discuss the implications of our results for the properties of the dense matter in the cores of neutron stars.
The Colloquium is a unique opportunity for students to learn about new developments in physics and what physicists do after they graduate. Hosted by the Department of Physics and Astronomy at California State University Long Beach, the weekly meetings invite guests from universities, research laboratories, and industry to present and discuss current topics in physics. All students are encouraged to attend for a well-rounded experience and training in physics.
Schedule
The Fall 2021 colloquia will start on August 23.
| Date | Title | Speaker and Affiliation |
| --- | --- | --- |
| October 18, 2021 | Taking the Measure of Neutron Stars with NICER | Dr. M. Coleman Miller, University of Maryland |
| October 25, 2021 | topic: fluid mechanics | Roberto Zenit, Brown University |
| November 1, 2021 | topic: biophyics | Saad Bhamla, Georgia Tech |
| November 8, 2021 | topic: particle physics | Juliet Gruzko, University of North Carolina |
| November 15, 2021 | topic: quantum physics | Natalie Brown, Honeywell Inc. |
| November 29, 2021 | topic: solid state physics | Elsa Prada, Instituto de Ciencia de Materiales de Madrid |
| December 6, 2021 | Student Research Presentations | Students, CSU Long Beach |
| December 13, 2021 | Student Research Presentations | Students, CSU Long Beach |
Previous Colloquia
| Date | Title | Speaker and Affiliation |
| --- | --- | --- |
| October 11, 2021 | Constraining the Drake Equation: The Past, Present, and Future of the Search for Life | Dr. Kaitlin Rasmussen, University of Michigan |
| October 4, 2021 | Using Microwaves to Search for New Physics in Nuclear Beta Decay | Dr. Alejandro Garcia, University of Washington |
| September 27, 2021 | Synthetic Microswimmers in Complex Environments | Dr. William Uspal, University of Hawaii at Manoa |
| September 20, 2021 | Coupling Diamond Defects to High-finesse Optical Microcavities | Dr. Lilian Childress, McGill University |
| September 13, 2021 | The Last Supernova Ever | Dr. Matt Caplan, Illinois State University |
| August 30, 2021 | Gravitational Wave Astronomy with a Precision Pulsar Timing Array Detector | Dr. Michael Lam, Rochester Institute of Technology |
| August 23, 2021 | Meet and Mix | Physics faculty and guests, CSU Long Beach |
The Colloquium Archive has the Colloquia from previous semesters.
Sponsors
We acknowledge with gratitude donations and support from the following present sponsors:
H.E. and H.B. Miller and Family Endowment
Benjamin Carter
American Physical Society
Anonymous
We also acknowledge with gratitude our past donors: The Forty-Niner Shops, Inc., The Northrop Grumman Foundation, Sandra Dana, Anonymous.
If you wish to support the Colloquium, please contact the colloquium coordinator or the department chair. Thank you!