Scholarships Support Women in STEM
Natalie Cannon never felt she had the aptitude for Physics. But she knew she had a passion for it.
Image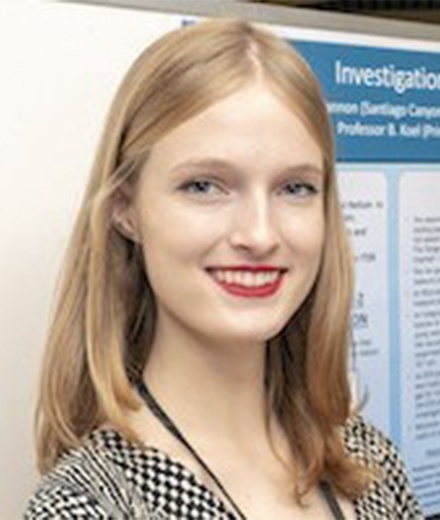 A combination of societal pressures, a personal struggle with ADHD, and having no financial support for higher education from family made it seem as though pursuing her passion for Physics might not be in the cards. But after 3 years of classes to obtain an A.S. in Physics & Mathematics at Santiago Canyon College, Natalie transferred to California State University Long Beach where she found community in the Physics Department.
After only 1 full semester on-campus, the COVID-19 pandemic caused campus to close and for classes and campus activities to move online. "I was worried I would be very isolated," she said, "Because of my ADHD, I struggled with online classes. Everything took twice as long." Natalie was also really worried about her immunocompromised sister who worked as an ICU nurse on a COVID ward. Yet another blow came when both of Natalie's parents were laid off from their jobs due to the pandemic.
Luckily for Natalie, the community she had found in the CSULB Physics Department would prove to be there for her academically, socially, and financially.
Natalie found out that she would be receiving The Richard and Florence Scalettar Scholarship that honors the memories of Physics Professor, Richard Scalettar and his wife, mathematics teacher Florence Scalettar.
With the support from this scholarship, Natalie was able to cut back on the number of hours she needed to work in order to focus on her studies, internship, and her involvement in the college community. In addition to serving as President for the CNSM Student Council, Natalie cofounded the CSULB Women in Physics club with graduate student Maya Martinez. The club's mission is to promote a sense of belonging for everyone in our physics community and to provide opportunities to network and learn about academic and career development as women in physics.
The support also allowed her to buy her own books for the first time in her college career. The time and stress this saved allowed her to get through some of her toughest Physics courses, fully apply herself to her internship at Scientific Applications & Research Associates (SARA) Inc., and apply to graduate school.
Next year, Natalie will be headed to a Ph.D. program in Nuclear Engineering at Georgia Tech University. She is excited to be looking ahead, but she is grateful for the support that helped get her there, "This scholarship changeds my life," she said, "It allowed me the opportunity to focus on my studies and it let me chase my dreams. I definitely wouldn't have gotten into grad school without it. And especially during the COVID-19 pandemic, every bit of support counts.
---
Students interested in applying to scholarships offered by the department can find a list on the Scholarships page.
If you would like to help provide support for our physics students like Natalie, please use the Make a Gift button below: