Facilities
Our most prized resource for teaching and research in marine biology is obvious: the Pacific Ocean is just a few km from CSULB!
In addition to this key resource, however, students and faculty in the Marine Biology program at CSULB have access to a great deal of other facilities and equipment that help support both education and original research in marine biology. A few of these are described below.
Marine Lab
Image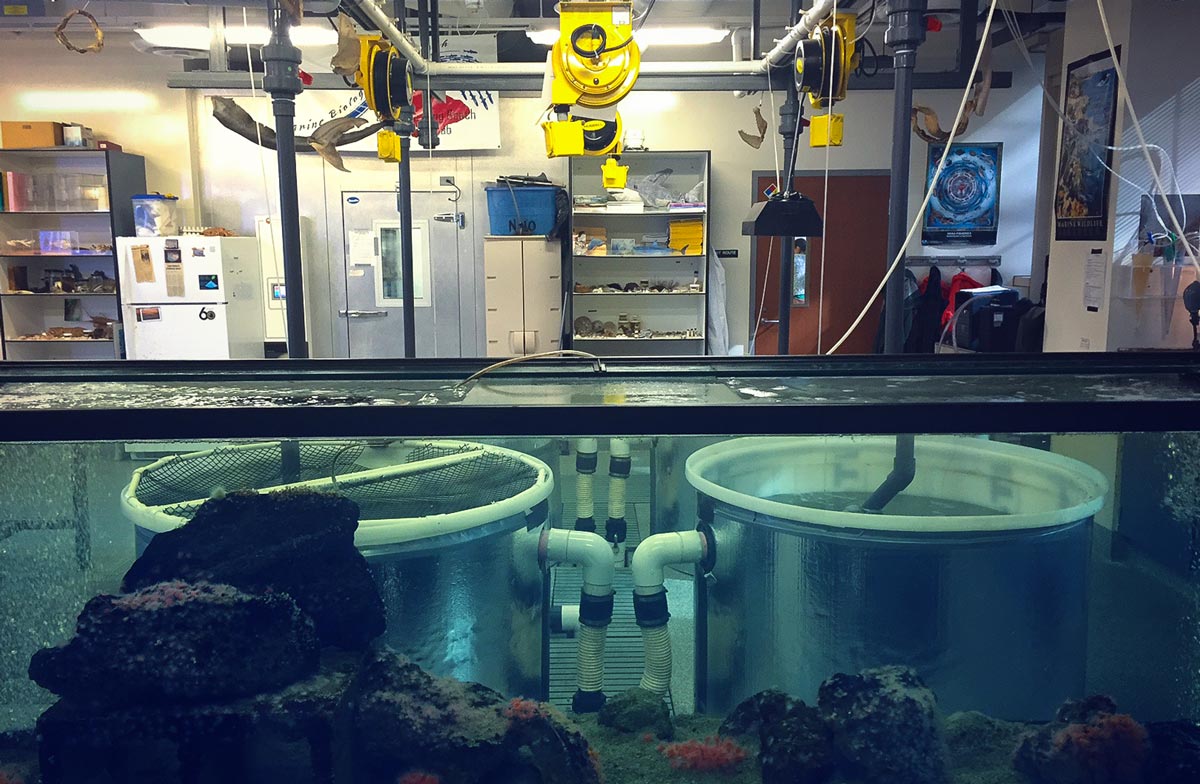 The Marine Lab (located in HSCI-118)  was custom-designed to meet the needs of the marine biology program. The facility has an 18,000 gal recirculating seawater system which supplies tanks in both indoor and semi-enclosed outdoor spaces with a constant supply of clean water at local environmental temperatures. Thus we have the ability to keep locally collected live marine animals (algae, invertebrates, and fishes) for classroom and research purposes. The Marine Lab also has an 80 sq ft walk-in environmental chamber that can be chilled to 5°C if needed. The indoor part of the facility is used for classroom demonstrations and diverse research projects. The outdoor facility is primarily used for research, and houses all the life support equipment, including chillers, protein skimmers, cartridge filters and biological filters, and large tanks and tank racks. A full-time Marine Technician (Yvette Ralph) manages the Marine Lab and trains undergraduate and graduate students to help with collections, maintenance and captive husbandry. Many of our marine biology undergraduates volunteer in the Marine Lab and gain valuable experience. The Marine Lab is also open to all CSULB students and off campus school groups (K-12) for tours on Friday mornings during the academic year.
Dive Locker
The Department of Biological Sciences owns and maintains a dive locker with a scuba compressor and fill station. We have a bank of 26 scuba tanks for use by AAUS scientific certified divers for approved research projects and training.
Boats
In addition to kayaks for work in bays and estuaries, the Department of Biological Sciences owns and maintains four vessels that are used for classes, student training, and faculty and student research. These include:
Image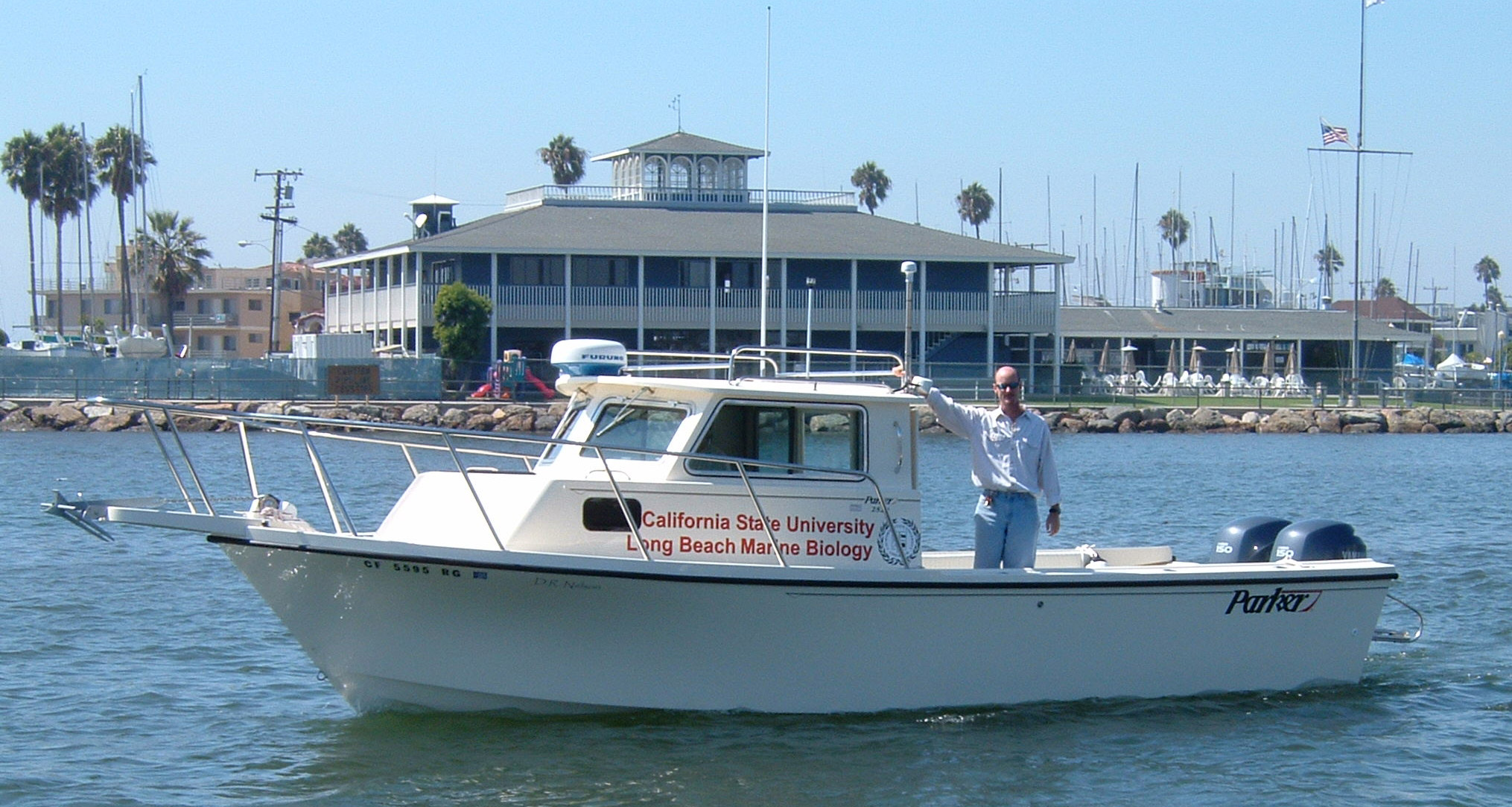 26' Parker with twin Yamaha 150HP outboards (D.R. Nelson), which is named after one of the founding members of the marine biology program.  This vessel is used for taking students offshore on field trips and is used for offshore research.
22' TwinVee with twin Yamaha 90HP outboards (Seriola), used for taking students out to coastal habitats and is used for coastal research.
17' Boston Whaler with a 40HP Yamaha outboard, used for classwork and research in local bays, estuaries and coastal areas at Catalina Island.
15' aluminum Jon boat with 6HP Yamaha outboard. This vessel is used for work in local bays, coastal rivers, and estuaries.
Scientific small boat safety training and operations are offered to CSULB students, faculty and staff through our small boat training program run by our MOTC certified Scientific Boating Safety Officer (Yvette Ralph). Courses and training are offered when needed. Certification is required for use of any CSULB Marine Biology vessels.
Vehicles
The Department of Biological Sciences owns and maintains four State vehicles (2 vans, 2 Suburbans) for transporting students on field trips. We have a Ford F350 4-wheel drive truck for towing our boats and supporting field operations.
Research Equipment
A large array of field and analytical equipment is available to students and faculty in the Department of Biological Sciences and the College of Natural Sciences and Mathematics. Field sampling and measurement equipment includes (among other things) seines, plankton nets, data loggers, a current profiler, and a Li-Cor photosynthesis analyzer. Lab equipment includes microscopy facilities (including epifluorescence, confocal, and scanning and transmission electron microscopes), respirometers, thermal cyclers, plate readers, and flow cytometers. The College of Natural Sciences and Mathematics also supports a large facility (IIRMES) that provides student and faculty access to a variety of techniques including mass spectrometry (ICP-MS, GC-MS, MALDI TOF/TOF) and high performance liquid chromatography.
Image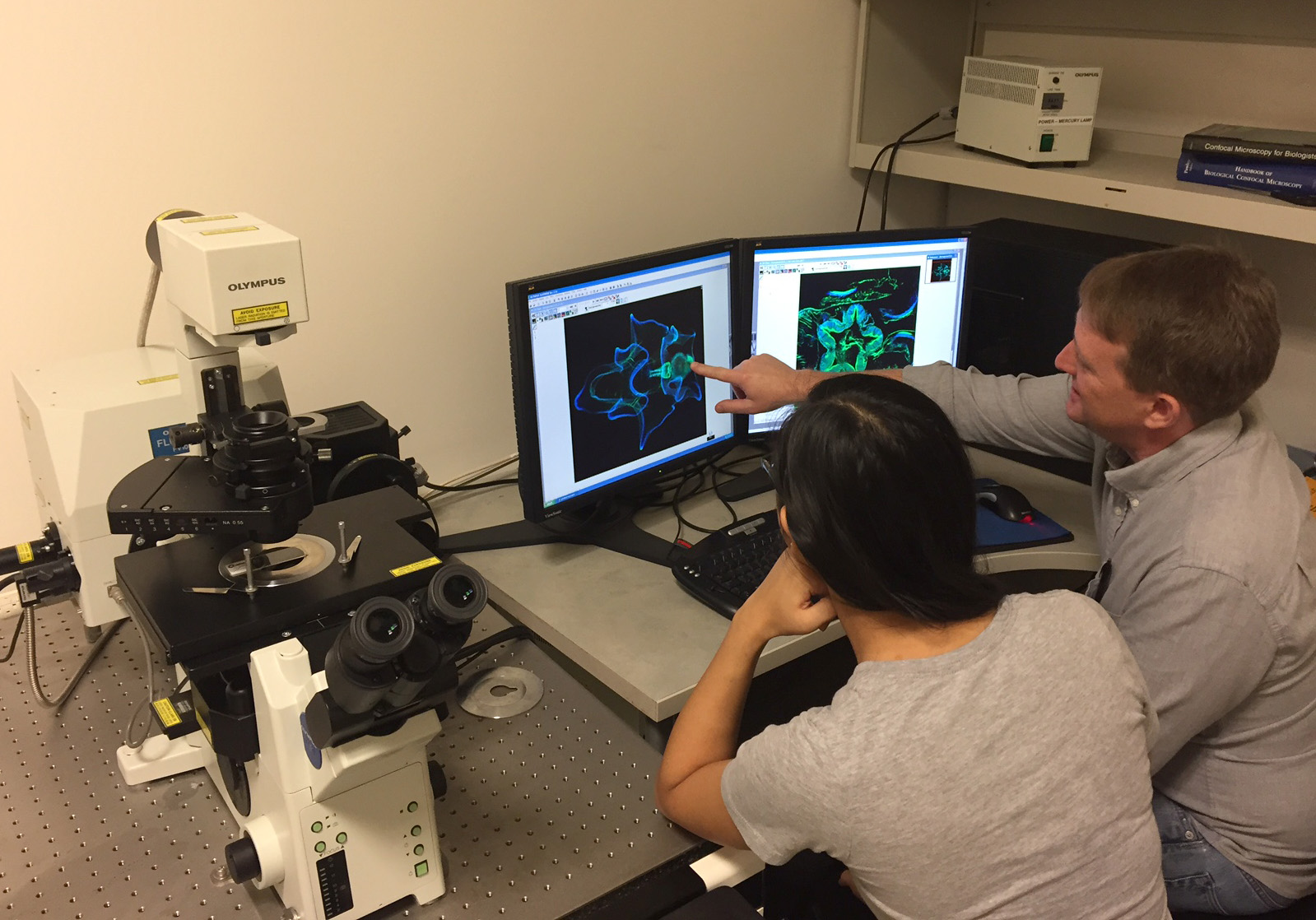 CSU Ocean Studies Institute
CSULB is a member of the California State University's Ocean Studies Institute (OSI), which maintains a marine lab facility located at the Port of Los Angeles. This facility hosts access to a variety of wet lab spaces and waterfront docks. We have access to a 75' research vessel (RV Yellowfin) that is often used for marine biology field trips and research by faculty and students. OSI also offers and supports an American Academy of Underwater Scientists (AAUS) scientific scuba diving certification program required for all scuba diving operations done under University auspices.
Image