Seminar Series
Upcoming Seminar
Using Tags and Tech to Support Conservation and Management in a Dynamic Ocean
Dr. Danielle Haulsee, Hubbs-SeaWorld Research Institute
April 13, 2023
4:00pm-5:00pm in HSCI-102
Image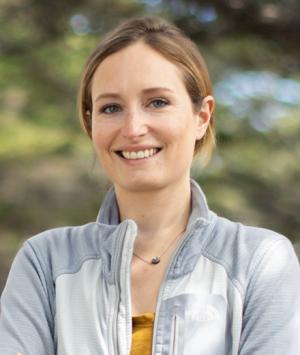 Dr. Danielle Haulsee is the Chief Science Officer at Hubbs-SeaWorld Research Institute, specializing in fisheries oceanography and the spatial and behavioral ecology of marine animals. She obtained her Ph.D. in 2017 from the University of Delaware's College of Earth, Ocean, and Environment, focusing her doctoral work on characterizing the movement ecology and social dynamics of a coastal top predator found along the East Coast of the U.S., the sand tiger shark.
A key feature of her research is integrating advanced bio-logging (using tags carried by animals to record information), remote sensing and underwater robots to study the impact of a dynamic ocean on the occurrence and distribution of marine fish and sharks. Using these technologies, Danielle focuses her research on tackling applied research questions, contributing to bycatch reduction strategies, impact assessments of offshore wind development, and working towards more effective dynamic ocean management strategies.
Her work spans multiple oceans, from studying the movement ecology of sharks and sturgeon in the Atlantic, to the fisheries ecology of billfish in the Eastern Tropical Pacific, to the oceanography of the White Shark Cafe in the Central Pacific and off the Nansen Ice Shelf in Antarctica.
The Seminar Series is a unique opportunity for students to learn about new developments in biology and what biologists do after they graduate. Hosted by the Department of Biological Sciences at California State University, Long Beach, the weekly meetings invite guests from universities, research laboratories, and industry to present and discuss current topics in biology. All students are encouraged to attend.
Seminar Coordinator
For information and suggestions about our Seminar Series, please contact the seminar coordinator:
Dr. Houng-Wei Tsai
Houng-Wei.Tsai@csulb.edu
Schedule
The following schedule is for Spring 2023.
Seminar Schedule

| Date | Title | Speaker and Affiliation |
| --- | --- | --- |
| April 13, 2023 | Using Tags and Tech to Support Conservation and Management in a Dynamic Ocean | Dr. Danielle Haulsee, Hubbs-SeaWorld Research Institute |
| April 20, 2023 | TBA | Dr. Mindy Engevik, Medical University of South Carolina |
| April 27, 2023 | TBA | Dr. Liz Miller, UC San Diego |
| May 4, 2023 | TBA | TBA |
---
Previous Seminars
Previous Seminars from this Semester

| Date | Title | Speaker and Affiliation |
| --- | --- | --- |
| April 6, 2023 | Faith, trust, and a little bit of neutrophil dust - examining the role of neutrophil-derived extracellular vesicles | Dr. Mallary Greenlee-Wacker, Cal Poly SLO |
| March 23, 2023 | Fish out of water: a marine scientist's journey through urban environmental planning | Dr. Ian Kroll, Egis |
| March 16, 2023 | Cooperation and Competition for Xanthan Gum in Gut Microbiomes | Dr. Matthew Ostrowski, University of Michigan |
| March 9, 2023 | Monitoring for management: An ecosystem function-based approach to estuarine assessment | Dr. Jan Walker, Southern California Coastal Water Research Project |
| March 2, 2023 | What's in a Host? The Impacts of Environmental Stress and Pollution on Host-Microbe Systems | Dr. Rachel Diner, UC San Diego |
| February 23, 2023 | Functional Morphology of Fin Rays in (Weird) Fishes | Dr. Natalia Taft, University of Wisconsin - Parkside |
| February 2, 2023 | Here Today-Gone Tomorrow: A Global Perspective of Seasonal Wetlands | Dr. Jamie Kneitel, CSU Sacramento |
The Seminar Series Archive has topics from previous semesters.