Hundreds Celebrate Sustainability at CSULB's 8th Annual Green Generation Mixer
Earth Day is a worldwide phenomenon meant to focus humanity's attention on the beauty and fragility of the natural environment, and empower individuals to engage in solutions that will help to mitigate the impacts threatening our planet on a social, economic and environmental level.
This is also the goal of  California State University, Long Beach's largest annual Earth Day-inspired celebration, an event that has highlighted the sustainability achievements of our campus and Long Beach community each April since 2011.
On Wednesday, April 24, more than 450 people gathered at the Earl Burns Japanese Garden for a celebration of CSULB's sustainability efforts and resilience of the Long Beach community at the 8th annual Green Generation Mixer and Sustainability Project Showcase.
Students, faculty, staff, Long Beach sustainability leaders and community members mingled, nibbled on  vegetarian appetizers, and enjoyed the live entertainment while engaging in conversations about sustainability and forming new connections.This year's event stood out due to several student performances, an impressive lineup of VIP speakers, and outreach tables staffed by more than 30 campus and community organizations and local green businesses.
Image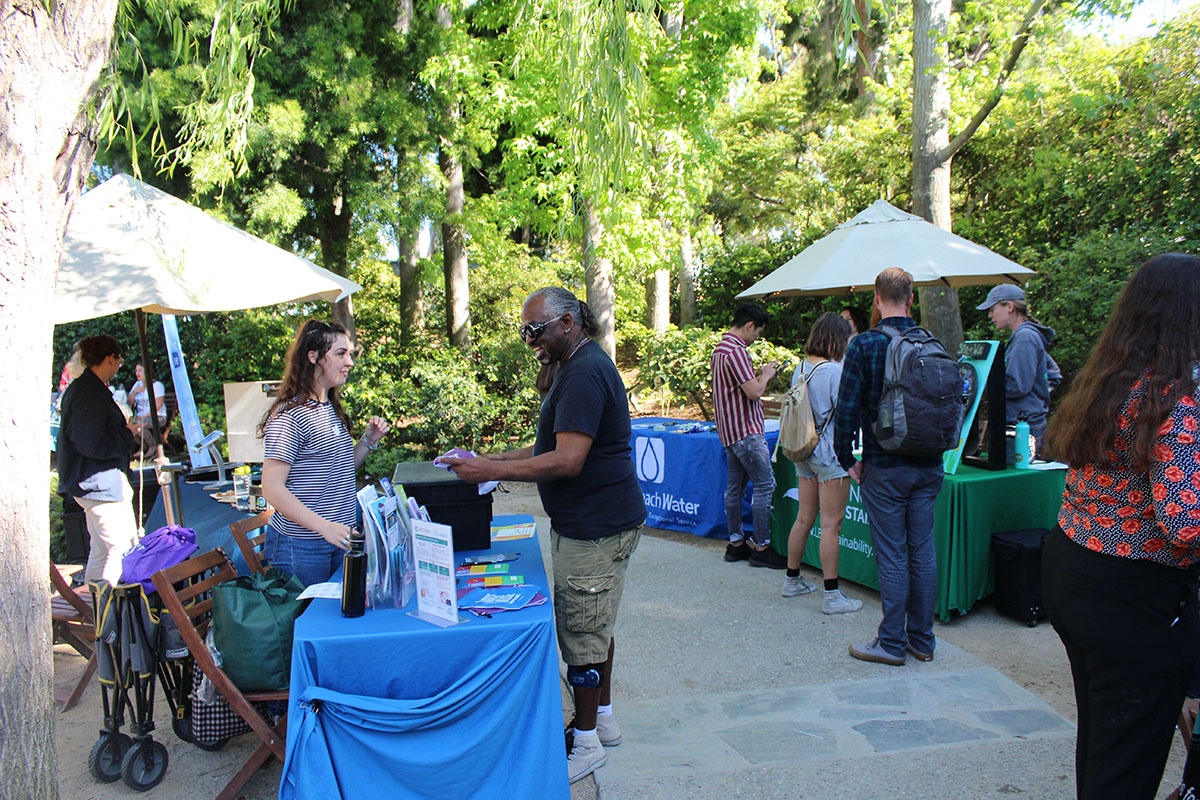 Among the ambiance created by the Bob Cole Conservatory's Jazz Trio, attendees enjoyed the student and faculty projects displayed throughout the garden to showcase various environmental issues and sustainability solutions. Projects from a variety of academic disciplines and ranging from research posters to prototypes to artworks each embodied a different perspective on sustainability.  
Image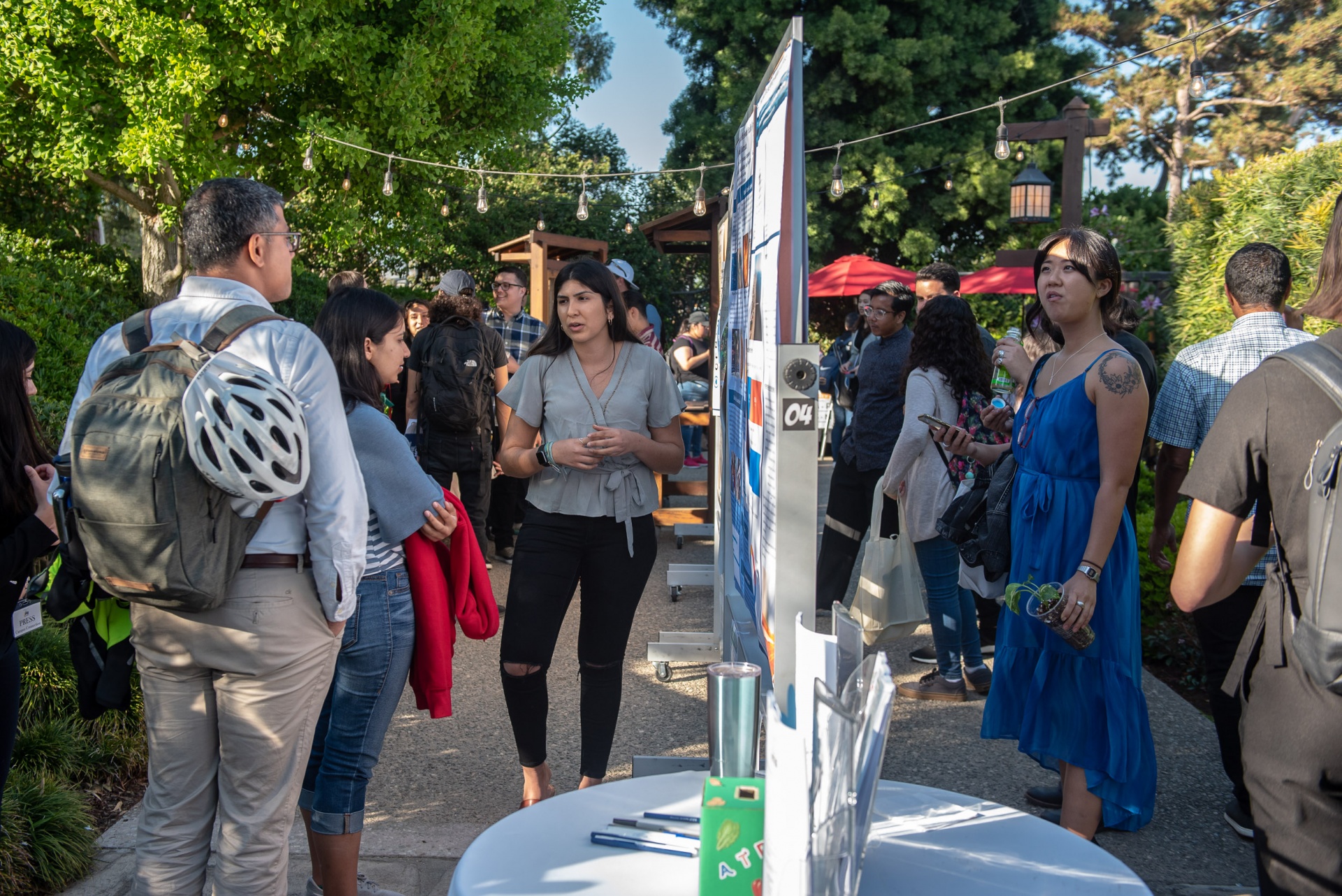 A student theatre group  performed an original piece entitled "Earth Song" which explored the impact of humans on the environment.. The piece illustrated the ways in which human activities can disturb nature's balance and the importance of respecting that balance as the foundation for our species' survival.  The performance earned the group first place in the Fine Arts & Performance category of the Sustainability Project Showcase.
Image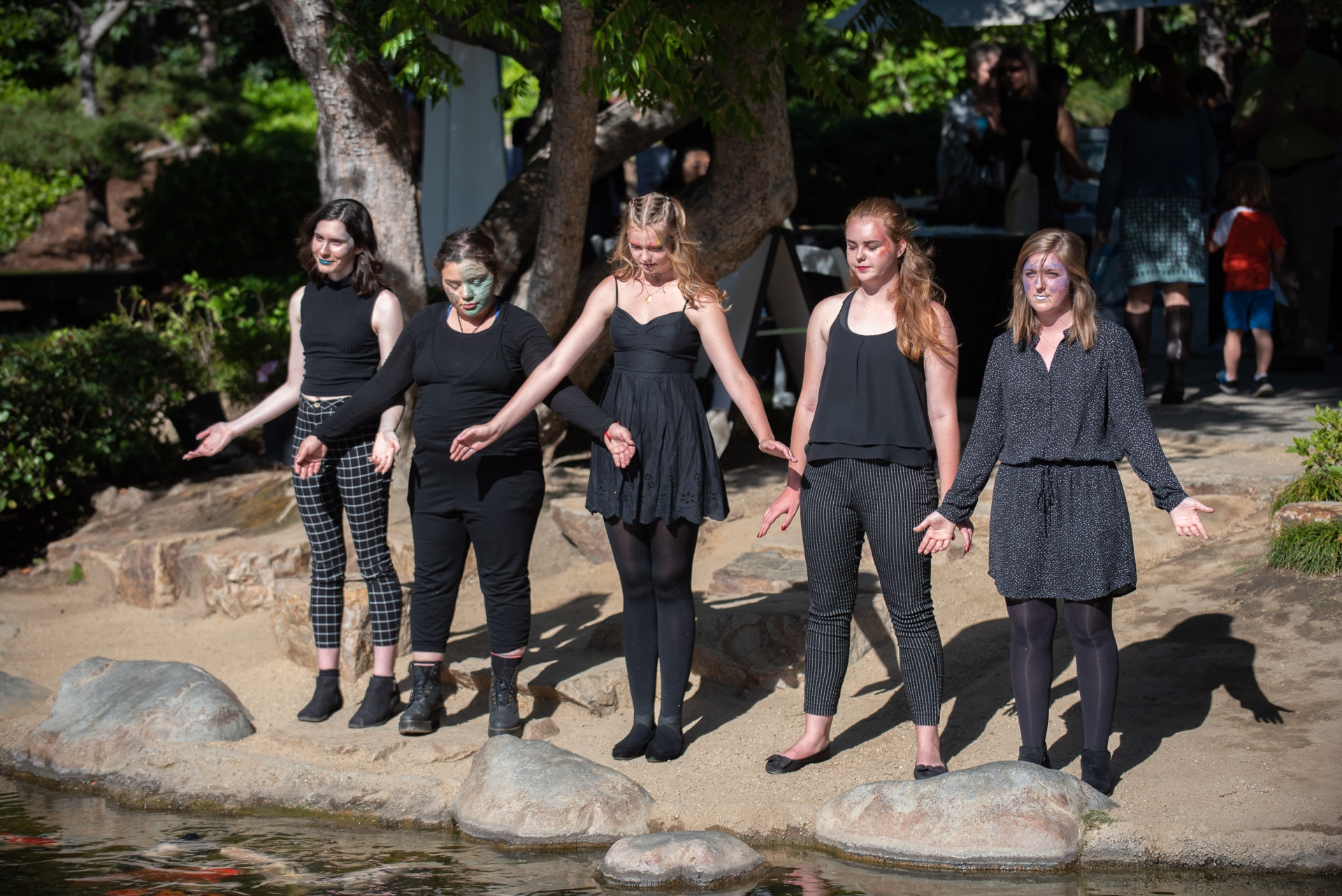 Choreographed by MFA graduate student Erin Reynolds and accompanied by her fellow Dance Department cohort, "Rustle", was truly one of the highlights of the event. The interactive, site specific dance performance made use of the unique performance spaces throughout the garden to connect elements of nature and harmony while inviting  viewers to consider their own movement through life.
Image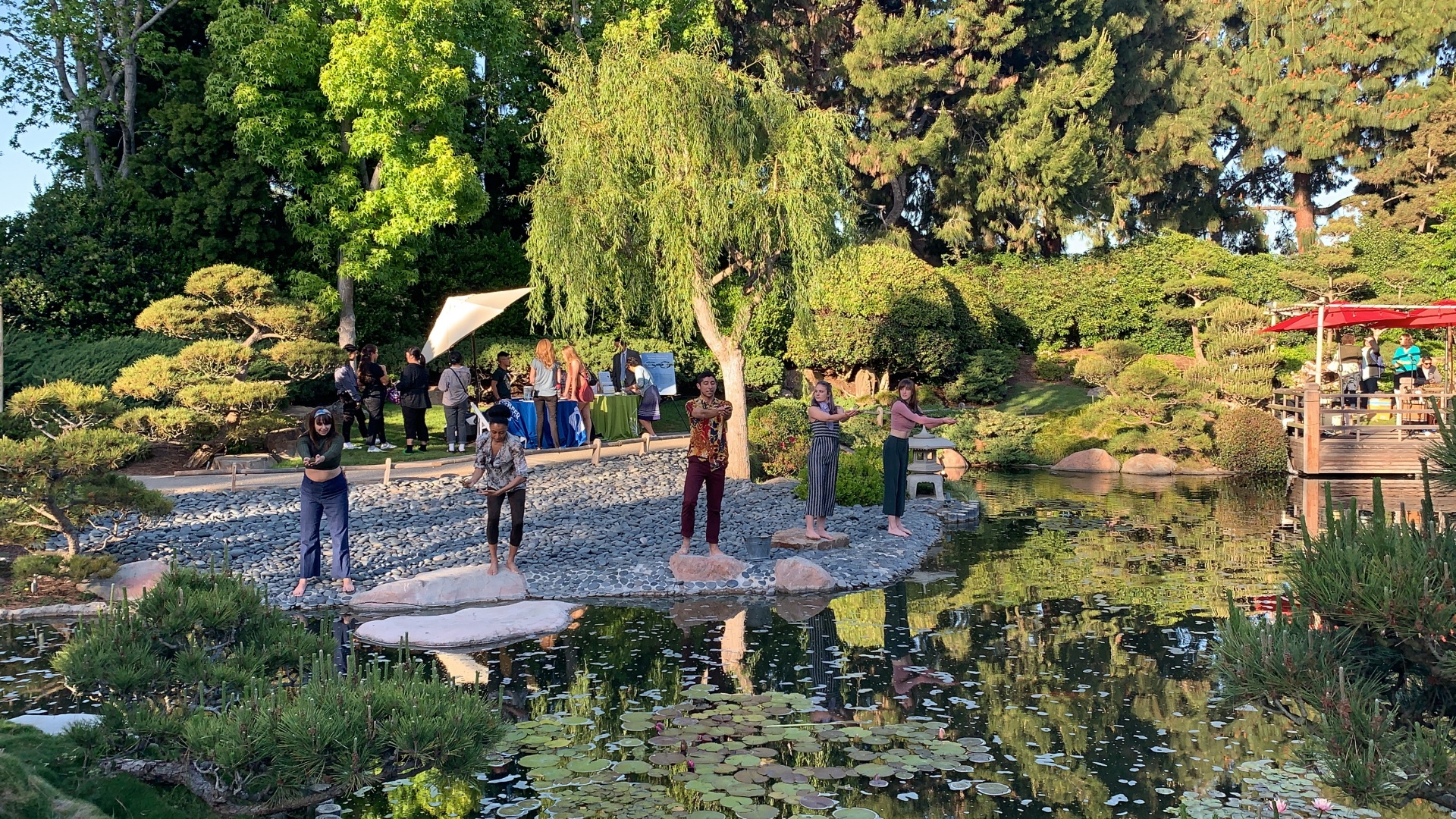 During the formal program, Master of Ceremonies Christine Whitcraft, Chair of President's Sustainability Commission, introduced a line-up of of  distinguished speakers who communicated a strong call to action while recognizing several sustainability accomplishments on campus and in the city of Long Beach.
In her remarks, ASI President Genesis Jara commended the campus and  Long Beach community for its commitment to the environment while communicating the urgent need to become more resilient. "There is still much work needed to be done," said Genesis. She urged further collaboration between the campus and community partners and stated her belief that  the vision of a healthy and sustainable future is within our reach. She cited Sustain U, the ASI Recycling Center, and outreach programs like Compost Happens as some of the ways that ASI is leading  efforts to bring the university closer to our Zero Waste goal.

U.S. Congressman Alan Lowenthal was also in attendance and shared how impressed he was  by the hard work and innovative ideas on display in the Sustainability Project Showcase. Having taught community psychology at CSULB for over 20 years, Lowenthal has a strong connection to the university and the Long Beach communities he represents. In his remarks, Lowenthal highlighted the need for equitable economic development and zero emissions transportation systems to ensure that downtown Long Beach residents and those who live along the 710 freeway will not continue to experience the impacts of climate change and pollution disproportionately.  
"What we are really demonstrating today is that we are embarking on a new era," said Lowenthal.
Image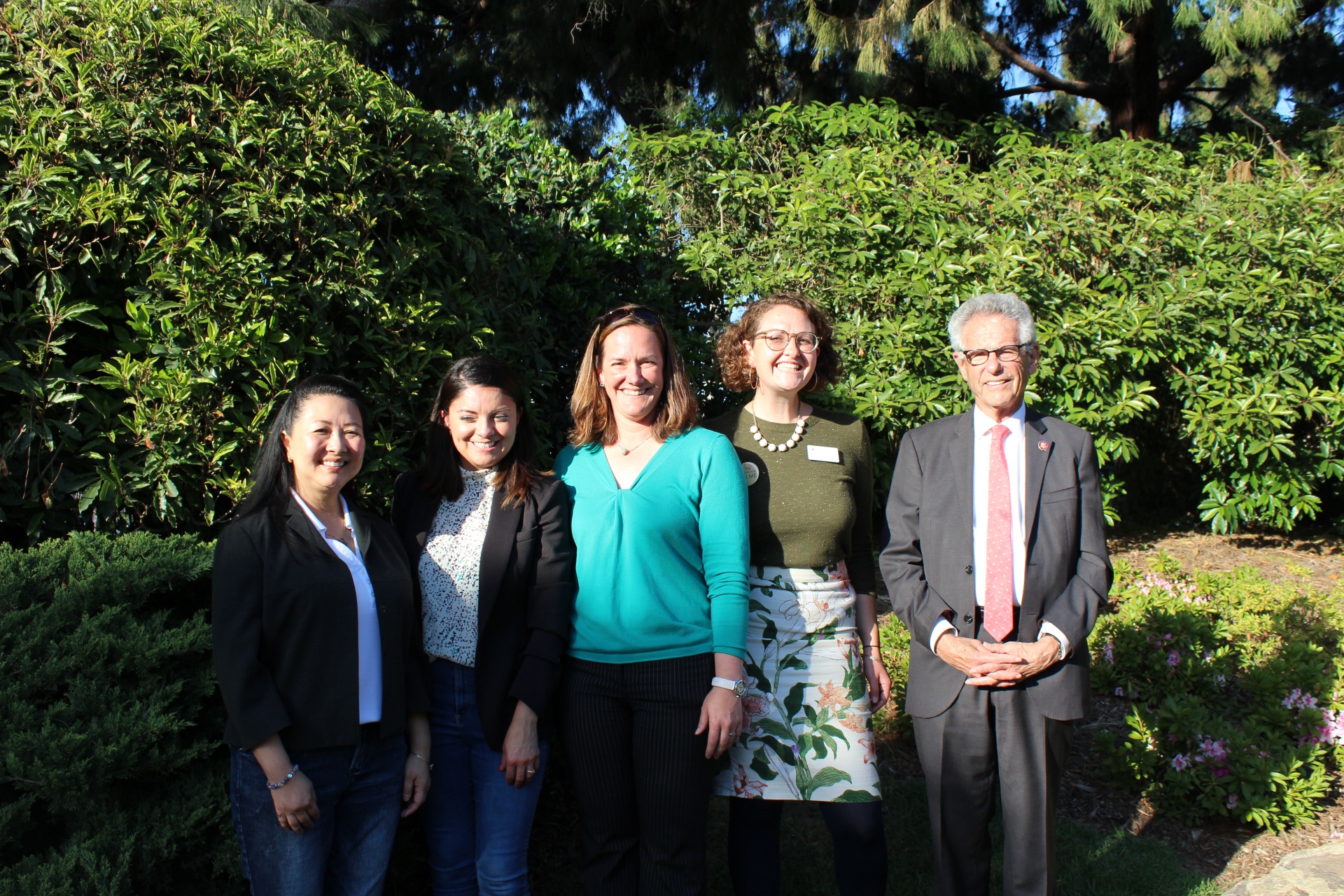 Justin Ramirez, Deputy Chief of Staff to Mayor Garcia, discussed some of the ways the mayor has shown leadership to help the environment. Following President Donald Trump's decision to pull out of the Paris Climate Accord, mayors around the world, including Mayor Garcia, committed their own cities to adhering to the global climate compact to help mitigate the negative effects of climate change despite the lack of national leadership.
Long Beach City Councilmember and CSULB alum Lena Gonzalez offered a bright outlook for the City of Long Beach. Gonzalez highlighted the passage of the city's legislation in 2016 to eliminate styrofoam, which she championed, as a real sign of progress. The city has also signed on in support of SB54, a state-wide proposal sponsored by Senator Ben Allen to phase out single-use plastics by 2025.. Gonzalez called on Long Beach residents to participate in the regularly-held Climate Action Plan meetings, which are held to gain community input and ensure that the city's goals are met, such as the goals to reduce greenhouse gas emissions and improve air and water quality.

Adeline Yoong, Government Relations Manager for Edison International, which provided sponsorship for this year's event, talked about how the company is working to help California meet its sustainability goals by making it easier and more affordable for consumers to purchaseclean energy. Edison International's local utility, Southern California Edison is also working to create  cleaner air and a healthy environment by spearheading a solution to significantly reduce emissions released by freight traffic on Interstate 5.
As a  supporter of innovative solutions, Edison International selected the student project titled "Bicycle Generator" by Jose Rodriguez, Johnathan Valdez, and Emilio Lua to receive the Southern California Clean Energy Award in recognition of the team's creative use of  recycled materials to generate electricity.
Image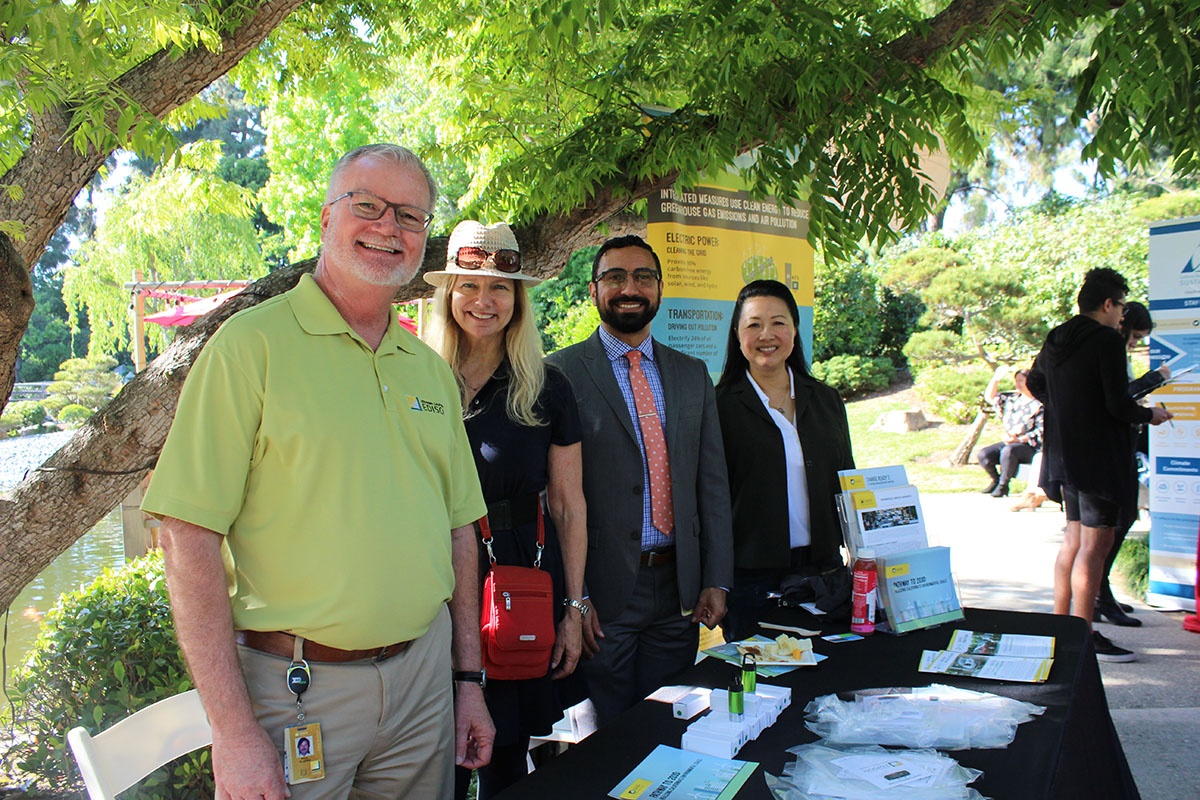 By all accounts, this year's Green Generation Mixer and Sustainability Project Showcase was the most well attended and successful event yet, with something for just about everyone. "One of our primary goals for this event every year is to bring our campus and city community together around our shared commitment to make the world a better place while also having a good time in a beautiful place," said Sustainability Coordinator Holli Fajack. "I think we can say we achieved that goal."
CSULB Office of Sustainability thanks all participants, sponsors, faculty judges and attendees who help make this event an inspirational hub for sustainable innovation, celebration and collaboration.
Ways you can get involved
Participate in the Climate Action Plan meetings
Attend Sustain U's outreach meetings
Follow us on social media @CSULB_Sustainability (Facebook & Instagram) @CSULB_Sustain (Twitter)
Vote!