Congratulations to the 2022 Green Generation Showcase Winners!
Image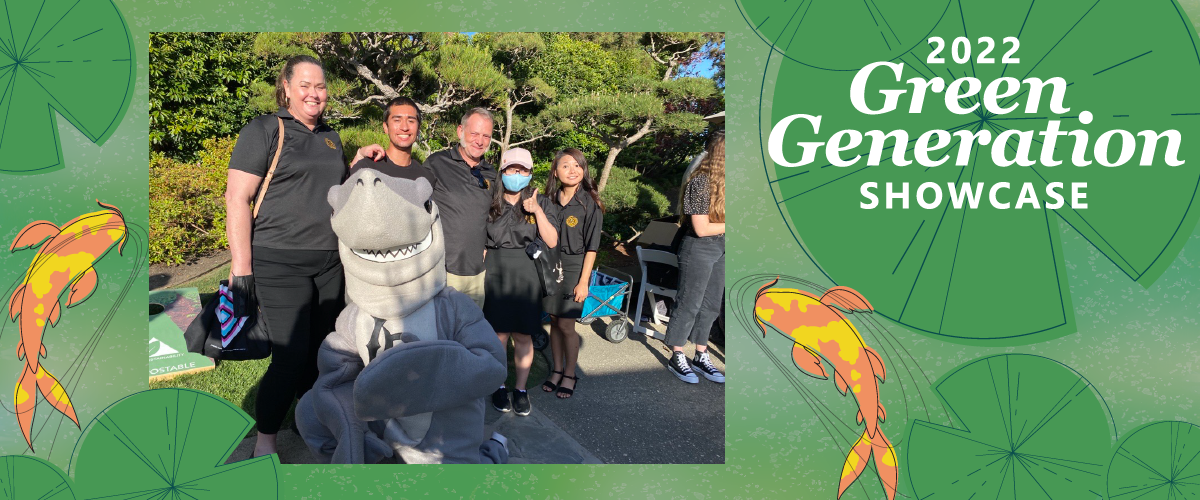 On April 21, the Office of Sustainability, Earl Burns Miller Japanese Garden, Southern California Edison, and the President's Commission on Sustainability hosted the Green Generation Showcase event which featured student sustainability-related projects from the following disciplines:
Design Concepts/Solutions
Business or Marketing Solutions
Research Related to Public Policy, Education, or Social Issues
Research Related to Environmental or Natural Sciences
Fine Art or Performance 
The Office of Sustainability and our showcase judges were extremely impressed with the diverse implication of innovative student-led sustainability projects displayed in the Showcase this year! Over 57 projects were submitted by 187 participants across 5 courses. Thank you to all who contributed to making this an unforgettable and enriching experience for those who attended. Way to go!
A huge congratulations to our 2022 Green Generation Showcase Winners and Participants!
1st Place
"Fizzy Fruit Leather"
Kelly Alarcon, Joshua Cooper, Anh Le, Andres Flores, Ngan Hong, Chi Nguyen, Ryan Ngo
---
1st Place
"Crayola's Sustainability Marketing Plan"
Hikaru Tamashiro, Seon Jung, Kaitlin Thompson, Derek Tademy, Kenna Loveland, Gabriela Kurtz
---
1st Place
"Small Changes in our Diet Can Make All the Difference"
Tiffany Kennedy, Garrett Crosby, Amy Cifuentes, Ciara Plancarte, Ish Marquez, Anna Hernandez, Cedric Sanders
1st Place
"Living Sustainably in Long Beach"
Serena Palmer, Isabel Reveles, Mary Niehaus, Marie Ann Antiga, Lisa Anderson, Nicole Macatrao, Hailey Wesling
1st Place
"The Three Poisons"
Mary Christen Vu
---
---
A Special Thanks to Our Official Judges for the Sustainability Project Showcase
---
JUDGES
Natalie Quinones - Volunteer
Tae Im Han  - Assistant Professor, Fashion Merchandising & Design 
Steve Boyer - Assistant Professor - Design
Miriam Mercado  - President's Ambassador
Lily House Peters  - Assistant Professor — Geography Undergraduate Advisor
Kimiko Miyoshi  - Professor - Program Head of Printmaking
Christine Jocoy  - Professor - Director of the Applied Internship Program for Geography
Jason Gallup  - Sustainable Transportation Coordinator
Zoran Falkenstein  - Community Partner