Scholarships and Funded Support
Students in the Science Education Department may be eligible for a number of scholarship and funded support opportunities.
New scholarship available:
Joe Russo Art of Science Scholarship
In Memory of Joe Russo
The purpose of the Joe Russo Art of Science Award is to reward SCED 100 students submitting the most creative Abstracting assignment. Students eligible for this scholarship must:
Be enrolled in SCED 100 fall semester
Complete and submit the Abstracting assignment by the assignment due date
Recipients will be selected by a committee of SCED 100 fall semester section instructors. Awards will coordinated with Financial Aid before disbursement.
For more information, please contact your SCED 100 instructor.
About Joe Russo
Image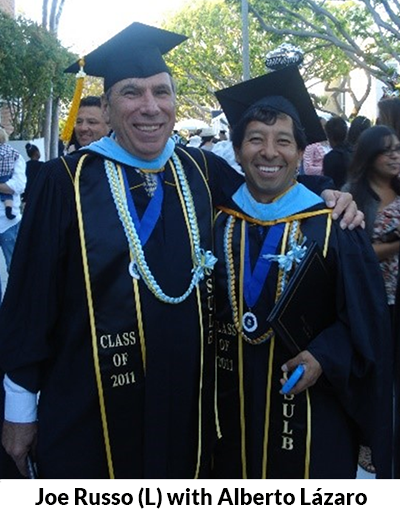 Joe's passion for learning and teaching had no boundaries. He was comfortable sharing his knowledge of the mathematics applied to the construction of ancient Greek temples or discussing the economic and architectural development of the Bund in central Shanghai's historical district with CSULB undergrad students sitting at The Hut.
The Joe Russo Art of Science Scholarship is awarded every Fall to students who exhibit the most creativity. The Joe Russo Art of Science Scholarship was established both to honor Mr. Russo and to reward SCED 100 students challenging them to creatively examine spatial reasoning using real-world art.
TEACH Grant
Funded by the Federal Government, this program provides up to $4,000 per year for future science teachers. In return for funding you must teach in a high need school (if you don't the grant becomes a loan with interest). See Financial Aid Office's Credential Aid Programs for details.
Knowles Science Teaching Fellowship
Physical science teachers-to-be can be supported through this generous fellowship. See Knowles Teacher Initiative for details.
College Scholarships
Additional opportunities are available through the College of Natural Sciences and Mathematics scholarships and the College of Education scholarships.
---
On-Campus Funding
The Graduate Studies Resource Center maintains a list of on-campus funding opportunities. Most of the opportunities are aimed at graduate students, but a few are also available to undergraduate students.