2015 University Achievement Awards
Image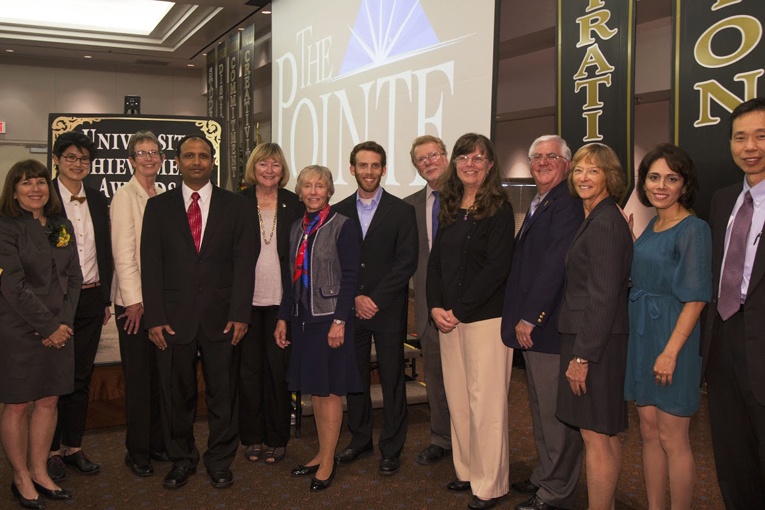 Dr. Henry Ye, Electrical Engineering
Dr. Henry Yeh has been a leader in developing a vital part of the electrical engineering curriculum focused on digital signal processing – technology that is used in today's telecommunication industry – and creating electrical engineers who can solve any problem they are presented with.
Dr. Yeh has created three lab-based and four project-based courses to help students solve real-world problems.  Since 1986 he has obtained almost $6 million in external funding for digital signal processing courses and laboratory development research.
His passion for green energy has led him to chair the Institute of Electrical and Electronic Engineering's Green Energy and Systems Conference for the past five years.  The conference, which brings UC and CSU students together with engineers, bridges the gap between academia and industry.  It has opened the door for many students to get internships and jobs and has allowed them to collaborate with Southern California Edison engineers and managers on a project titled "Smart Grid and Power Systems."
Dr. Yeh has written more than 90 technical publications with his students in the areas of signal processing, communications, and controls. He has supervised four doctoral students, earning the Outstanding Ph.D. Advisor Award in 1995. He has supervised 35 master's theses and 48 master's projects.
Dr. Yeh has been granted four U.S. patents, received five NASA JPL awards, and won the Aerospace Corporation Inventor's Award.  He was selected as a NASA JPL Summer Faculty Fellow twice. He was a Boeing Welliver Faculty Fellow in 2006 and was awarded the Northrop Grumman Excellence in Teaching award by the College of Engineering in 2007. 
Anna Ambrose, Marketing and Communications
Anne Ambrose joined CSULB in 2001 as External Communications Editor.
She is chief editor of the university's award-winning Beach Magazine, an editor and writer for a variety of campus publications and digital content, and a contributor to covering campus news.
Ms. Ambrose began her career as an Orange County Register reporter.  She has spent more than 33 years in higher education communications and marketing including at Whittier Law School, UC Irvine, the CSU Office of the Chancellor and Saddleback College.
At CSULB, she served as a long-time member of Staff Council including multiple terms as secretary and at-large executive committee member.  She has assisted with a variety of council-sponsored events including Staff Day and Cherishing the Children toy drive. Additionally, she was a staff representative and secretary for the International Education Committee and Advisory Council on Enrollment Management and served as an interim Academic Senator. She is an Alumni Association Commencement volunteer and a member of the Friends of the Earl Burns Miller Japanese Garden.
Ms. Ambrose' European immigrant parents moved from Illinois to Long Beach when she was 2 years old. When she enrolled at CSULB she became the first in her family to attend college. She is proud of the university's academic, research and creative opportunities that help turn students into successful alumni. She and her husband, Gary, a 1977 journalism graduate, live in Huntington Beach and enjoy traveling and bicycling.
Dr. Jen-Mei Chang, Mathematics and Statistics
Dr. Jen-Mei Chang is known as an outstanding instructor, a leader in excellence and innovation, and an inspiration to others.
Since she arrived at CSULB in 2008, she has taught 12 different courses. Always working to improve her own instruction, Dr. Chang was among the first to adopt the flipped learning approach to teaching, in which students spend class time conducting inquiry-based or problem-based group work rather than listening to lectures.
Dr. Chang has inspired other professors to incorporate flipped learning, offering technical advice and pedagogical insights to her colleagues. She is currently working with an undergraduate student to see if students who learn in the flipped environment are more likely to be successful in the class and leave with positive attitudes towards mathematics.
Dr. Chang was recruited as the co-curriculum developer in the Chancellor's Office Proven Course Redesign Project on Business Calculus (MATH 115). Her contributions have made the course a better fit for the business degree program. She worked with colleagues to create writing projects for a social homework system that empowers students to solve real-world problems.
Outside of the classroom, Dr. Chang has been involved in programs aimed at improving teaching and learning. She launched a Lunch and Learn for College of Natural Sciences and Mathematics faculty. She also participated in and led the College's faculty learning community, in which faculty read about and discuss ways they can adopt innovative teaching pedagogies in their classes.
But the greatest testament to her success as an instructor is the impact she has had on her students who say she has helped them realize their potential and reach higher than they would have ever dreamed.
Dr. Joanne Conley, Recreation and Leisure Studies
In Joanne Conley's 42 years as an administrator, teacher, and advisor, she has gained a reputation university-wide as someone who is student-centered, dedicated and compassionate.
So it's no surprise that she was recommended for the Distinguished Faculty Advising Award not just by those in Recreation and Leisure Studies, but also by colleagues across campus. 
As the department's undergraduate academic advisor, Ms. Conley meets with every student completing a degree in Recreation and Leisure Studies.  She has created forms and processes to help students understand the choices available to them and established advising practices that others have adopted.
As the department's internship coordinator, Ms. Conley meets with students individually to help them develop their résumés and cover letters. She has successfully placed hundreds of students in competitive internships, putting them on the path toward meaningful careers.
Each year she serves on several graduate student thesis and project committees. And her role as an advisor doesn't end when students graduate. She often hears from alumni who seek her advice as they make job and career decisions or look into graduate school. She coaches them and writes letters of recommendation.
As a dedicated mentor with Partners for Success for 14 years, Ms. Conley has touched the lives of some of the university's most at-risk students. She has been a senior mentor on the program's leadership team and earned the program's Mentor of the Year award in 2012.
In addition to her role as an instructor and advisor, Ms. Conley has served as director of Recreation and Leisure Studies. She has received numerous awards, including Most Valuable Professor and Most Inspirational Professor.
Dr. Shadnaz Asgari, Computer Engineering and Computer Science
In just three years at CSULB, Dr. Shadnaz Asgari has had a substantial impact on students, the Computer Engineering and Computer Science Department and the university.
Dr. Asgari is an expert in signal processing, data mining, and machine learning. Her research looks at the patterns in biomedical data to diagnose and treat patients with various neurological and cardiovascular disorders including brain trauma and arrhythmia.
She has taught five different courses, incorporating her research into each of her classes.  She has developed two new courses and is part of a multidisciplinary team of seven faculty members who are creating a biomedical engineering program. 
Recognized as among the most productive faculty members in her department and in the College of Engineering, Dr. Asgari has authored or co-authored 28 journal papers, 29 conference publications, and a book chapter. Her papers have received more than 500 citations to date, attesting to the high impact of her research on the field. A patent has been filed based on her work in detecting the dilation and constriction of blood vessels in the brain using a novel pattern recognition method. She has received six grants, including a CSUPERB new investigator grant, a CSULB research stimulation award and a Metrans Transportation Center grant.
Dr. Asgari is also playing a key role in the implementation of the BUILD program, funded by a $22.7 million National Institutes of Health award, which will prepare underrepresented students for doctoral programs and biomedical research careers.
In addition, Dr. Asgari has served on two university committees, five college-level, and seven department-level committees. She has been a grant reviewer for the National Science Foundation and NASA and a reviewer of more than 10 prominent journals and conferences.
Dr. Selena Nguyen-Rodriguez, Health Science
Dr. Selena Nguyen-Rodriguez's career as a faculty member in Health Science has been shaped by her life experiences.
Her research interests stem, in part, from personal tragedy. Within a two-year period, two close family members were diagnosed with cancer. It was the difference in their attitudes when faced with terminal illness and the impact that had on their time left with loved ones that inspired Dr. Nguyen-Rodriguez to look into the effect mental health has on a person's physical well-being. Her research interests are in exploring the effects of psychosocial factors on a person's ability to cope with and survive chronic disease as well as psychological influences on immune system functioning and health behavior.
Dr. Nguyen-Rodriguez has authored or co-authored 23 peer-reviewed journal articles, 64 conference presentations, six invited lectures, and five book chapters. She has been a prolific grant writer, submitting 16 proposals to various funding agencies. In addition, she played a pivotal role in helping CSULB secure a $22.7 million award from the National Institutes of Health that aims to prepare underrepresented students for doctoral programs and biomedical research careers. She continues to play a leadership role in the program as behavioral co-director of the Research Enrichment Core.
Throughout her own college experience, Dr. Nguyen-Rodriguez always had a mentor or faculty member by her side to help her succeed.  Now, she is committed to making a difference in students' lives wherever she can.
She has served on eight master's thesis committees, one master's directed project and has been the advisor for an undergraduate honors thesis student. She takes students to Sacramento each year to meet with state leaders in public health agencies. And even though she isn't an advisor, she attends events organized by the Health Science Student Association, Eta Sigma Gamma and the Health Science Graduate Association.
Ezra LeBank, Theatre Arts
Ezra LeBank is in the midst of an extraordinary career in physical theatre performance, pedagogy and innovation.
The upcoming publication of his book, CLOWNS: ln Conversation with Modern Masters, by the leading academic theatre publisher in England, Routledge Publishing, is an indication of the level of scrutiny, rigor, and analysis that LeBank brings to his work.
Academic examination into the pedagogy and philosophies of movement in theatre is challenging, vital, and underrepresented in American theatre. As the Head of Movement for the Theatre Arts Department, Mr. LeBank's work strives to address that.
In the last 18 months, Mr. LeBank developed and directed CSULB's own community-based physical theatre ensemble, creating and touring their first performance Beneath the Surface: Stories of Water in Long Beach. He served as Co-Editor of ATME News, a peer-reviewed journal for the Association of Theatre Movement Educators. He published two peer-reviewed articles and was a featured practitioner at the Poland International Contact Festival in Warsaw. His short film Twig House was selected by a jury to appear in the Breaking 8 Film Festival of New Dance in Cagliari, Italy and he recently completed a second film Finding Home.
This summer he will be a featured presenter at the Israeli Acrobatics Convention, followed by a residency with the Adama Dance Company in Mitzpe Ramon outside of Tel Aviv. He has been invited to share research at the European Contact Improvisation Teacher's Exchange at the University of Orléans in France, and in August he brings an original physical theatre performance piece, FLIGHT, to the Edinburgh International Festival Fringe. In creating FLIGHT, Mr. LeBank has chosen to work with CSULB alumni and current students, impacting their education and experiences far beyond the classroom.
Dr. Praveen Shankar, Mechanical and Aerospace Engineering
Inside the Collaborative Autonomous Systems Laboratory students are designing and building unmanned vehicles that can measure the length of sharks underwater, explore Mars, inspect the hulls of ships, and monitor the marine environment.
The cutting-edge robotic systems are being developed under the mentorship of Dr. Praveen Shankar who established the lab three years ago with a focus on providing real-world, hands-on experience to engineering students.
One of the projects, the Planetary Rover, is being developed for the NASA RoboOps competition. Dr. Shankar's students are among eight teams nationally selected based on project plans submitted in October. In June, the team will demonstrate the rover's capability to perform a series of competitive tasks in field tests at the NASA Johnson Space Center's Rock Yard.
Since joining CSULB four years ago, Dr. Shankar has mentored or is mentoring two doctoral students, eight master's thesis students and 15 undergraduate students. Among them is 16-year-old Joaquin Martinez, the first CSULB student to earn NASA's prestigious Aeronautics Scholarship. Many of his students have received recognition, scholarships, travel awards, excellent job offers or acceptance to graduate school.
In addition to working with students in the lab, Dr. Shankar serves as a faculty advisor for Mechanical and Aerospace Engineering students in the Engineering Honors Program, mechanical engineering students in the Antelope Valley Engineering Program and aerospace engineering undergraduate students.
Dr. Betty McMicken, Speech-Language Pathology
Dr. Betty McMicken's research is revolutionizing the way speech-language pathologists understand speech and swallowing.
An associate professor in the Speech-Language Pathology Department, Dr. McMicken is an expert on disorders of the voice, dysphagia (swallowing), motor speech disorders and aphasia, a disorder usually caused by a stroke or injury affecting the part of the brain that deals with language.
She is renowned for her work with patients born without a tongue, a rare condition known as congenital aglossia, and is the only person in the world with cineradiographic studies of such individuals. While the condition is extremely rare – there are only 11 cases of congenital aglossia recorded in medical literature since the 1700s – the results of her research are far-reaching. Dr. McMicken's research indicates that people may not need tongues to talk or taste and it has the potential to help people who have partially or completely lost their tongues.
Throughout her 49-year career, Dr. McMicken has received numerous awards for her work.  Last year she received Honors of the American Speech-Language-Hearing Association, the highest recognition the national organization bestows, acknowledging that an individual's contributions have enhanced or altered the course of the profession.
In addition to her ground-breaking research, Dr. McMicken is the personal speech therapist for actor Kirk Douglas, who suffered a stroke in 1996. Since 2007 she has volunteered countless hours as a speech-language pathologist for the Los Angeles Mission–specifically for the Anne Douglas Center, a women's residential facility created by Douglas and his wife, Anne.
Dr. Leslie Reese, Teacher Education
As a young college graduate, Dr. Leslie Reese didn't set out to become a university professor.  After earning her bachelor's degree in anthropology at Stanford in the early '70s, she moved to Peru to teach English and help rebuild communities following a devastating 7.9 magnitude earthquake. 
Five years later she returned to California, earned her master's degree in bilingual education at CSULB and began a 20-year career in the Long Beach Unified School District as a bilingual teacher, specialist, program facilitator and District-level consultant.
Her experiences in Peru and Long Beach fueled her interest in research on the education of immigrant Latino students, in particular connections between families and schools.  She earned her Ph.D. in comparative and international education at UCLA and began a prolific research career that has helped to improve the quality of education for immigrant youth in U.S. schools. 
Dr. Reese has collaborated on several longitudinal studies of the language and literacy development of Spanish speaking students in California, Texas and Mexico. Together with one of her former students, she is currently working with teachers and administrators in an indigenous community in Guerrero, Mexico on the implementation of a dual immersion program in 22 elementary schools. Her research there focuses on cultural integration and school/community connections.
Dr. Reese has written more than 30 publications and given about 40 presentations. She served as executive director for the Center for Language Minority Education and Research for four years and, more recently, helped develop the College of Education's new Urban Dual Credential Program, In addition, she is regularly called on to evaluate K-12 programs.
Alireza Ameri, Electrical Engineering
Since he arrived at CSULB in 2013, Alireza Ameri has focused on building theoretical knowledge and conducting practical research on embedded systems with Electrical Engineering's Dr. Mohammad Mozumdar.
Over the past two years, Mr. Ameri has worked on five different projects – building sensor networks, electric power distribution systems, smart road systems and, most recently, wearable biomedical devices.
Although the Internet has made it easy to get a lot of information immediately, people can't always get relatively basic personal health data without visiting a physician. In addition, there is no wide-spread system that provides vital health information, such as heart rate, skin/core body temperature, respiratory rate, and blood pressure, to health care providers without visiting a doctor. BioMeSensi, the wearable biomedical device being developed by Dr. Mozumdar's team with help from Mr. Ameri, is based on a layered body sensor framework which will be connected with cloud infrastructure to collect and provide health data.
Mr. Ameri helped design the electrocardiogram (ECG) board which was part of the sensor platform. Now he is focused on proposing algorithms that can recognize various daily activities using the BioMeSensi wearable platform.
After creating the sensor platform, Dr. Mozumdar and Mr. Ameri submitted "BioMeSensi: A wearable multi-sensing platform for bio-medical applications" for the Information Processing in Sensor Network 2015 conference. The paper was accepted and is being presented this month – making it the fifth paper Mr. Ameri and Dr. Mozumdar have presented at a conference or published in a journal.
Mr. Ameri earned his bachelor's degree in electrical engineering from Amirkabir University of Technology in Iran. He will graduate in July.
Judy Green, Social Work
Judy Green's outreach has brought healing and peace to families and individuals, who had until now, for the most part, been collectively and individually suffering in silence.
Similar to survivors of the Nazi Holocaust in the decades immediately following the war, Cambodians typically do not talk about the atrocities they faced under Pol Pot's regime in the 1970s.  Calling on her own personal experiences as the daughter of Holocaust survivors and on her background as a licensed clinical social worker, Ms. Green is helping to change that.
A faculty member and an alumna of the School of Social Work, Ms. Green had facilitated support groups for children of Holocaust survivors before she became formally involved with the Cambodian community in 2013. Since then, she has been a panelist at forums discussing the impact genocide has on the mental health of survivor families. Last year she was part of a panel called Collaboration Across Communities at the national conference of the largest Asian American advocacy organization in the U.S.
Additionally, Ms. Green has served on the local advisory board for the Jewish Family and Children's Service Conference on Jewish Material Claims Against Germany, a reparation program funded by the German government.  This committee oversees the administration of funds for low-income Holocaust survivors.  As a member of the advisory board since the early 1990s, her primary focus is to ensure that the physical and emotional needs of survivors are being met.
Ms. Green has also conducted staff development training for the South Central Los Angeles Ministry Project and been involved with the EndAbuse Council of Long Beach.
Phillip Orland, Dance
Phillip Orland has dedicated his life to serving others.
Even before he enrolled at CSULB, he had served his country in the U.S. Navy during the Vietnam War.  From 1975 to 2010, he worked for the City of Los Angeles, Recreation and Parks Department, managing recreation programs for all ages. But some of his most rewarding work has come since he retired.
Mr. Orland has been a valuable volunteer for the College of Health and Human Services. He served as a key alumni representative on the planning committee for the College's Wellness Week last year. He has been instrumental in obtaining sponsors for the Donald P. Lauda Lecture Series.  He has initiated and facilitated a matching scholarship grant fundraiser that helps students enrolled in "Recreation in the Ocean Environment" study on Santa Barbara Island. In addition, Mr. Orland mentors students, counseling them about career objectives and expanding their professional network through his connections in the recreation profession.
Mr. Orland continues to dedicate his time to the City of Los Angeles. He is a member of the Board of Directors for Retired Los Angeles City Employees, Inc. and has coordinated educational seminars for retirees on the Affordable Care Act and financial planning. He also plays an important role in promoting the Los Angeles City Retirement System's wellness program, which is designed to help retired members enjoy a healthy and active retirement.
As a board member for the professional organization Men in Leisure Services, he helps raise money to provide training and networking opportunities for those in the recreation field. He is a board member for the Retired Senior Volunteer Program in Orange County and is an ambassador to the Korean Bell of Friendship Committee.