2013 University Achievement Awards
Image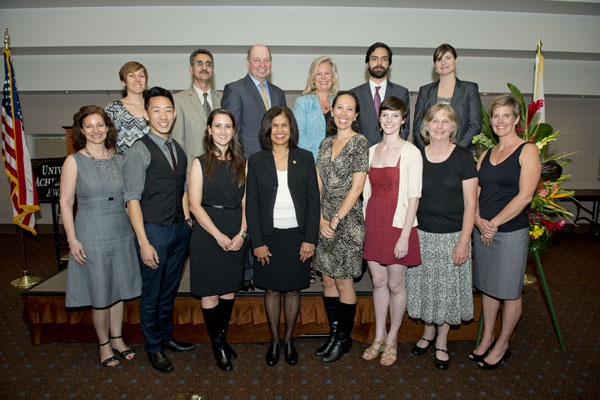 Dr. Britt Rios-Ellis, Health Science
In 1994 Dr. Britt Rios-Ellis came to CSULB seeking a fertile environment to synthesize health education, social justice, and community-based participatory research (CBPR) while growing a vision of health and educational equity for Latinos and other underrepresented populations.
Almost 20 years later, Dr. Rios-Ellis has significantly influenced Latino health research and education. She is a nationally recognized leader in the field of Latino health, serving as a member of the CDC/Health Resources Services Administration (HRSA) Advisory Committee on HIV and STD Prevention and Treatment; the National Multicultural AIDS Education and Training Center at Howard University; the UCI Medical School Prime-LC Advisory Board; and the Hispanic Advisory Group to the NIH Office of AIDS Research (OAR), and is Co-Director of the Research Training and Education component of the BRITE Center at UCLA, among other affiliations. She has also created alliances with the National Council of La Raza (NCLR) - the largest Latino U.S. civil rights and advocacy organization, the NIH OAR, HRSA, and others.
She is recognized as an extraordinary teacher, scholar and mentor and has delivered exemplary service to the university and nation. She has taught courses in five departments, developed transdisciplinary programs, served on theses committees, and as a McNair and Partner for Success mentor. Dr. Rios-Ellis has secured over $20 million in research funding for programs emphasizing Latino health research and education and guided CSULB's efforts in becoming a Hispanic Serving Institution. In this effort she has highlighted Latino cultural assets and resilience and developed the Latino Cultural Capital Model and Promotores programs. She has numerous peer-reviewed publications, book chapters and white papers regarding her work in Latino health and education and is the recipient of two Mujer del Año awards as well as the Sol Award.
Through a Congressional Earmark spearheaded by Hilda Solis, Dr. Rios-Ellis founded and directs one of the most successful research centers on campus, the NCLR/CSULB Center for Latino Community Health, Evaluation and Leadership Training. The Center not only improves, promotes and advocates for the health and well-being of diverse Latino/Hispanic communities through the implementation of multi-year grant funded research projects, it is currently engaging more than 50 students in CBPR through scholarships, internships and assistantships. Further, the Center provides technical assistance and evaluation to NCLR's Institute for Hispanic Health, AltaMed, Latino community-based organizations throughout the U.S. and Puerto Rico, Farmworker Justice, and YMCA REACH. To improve its CBPR capacity the Center is expanding to a downtown location.
Dr. Rios-Ellis earned her doctorate in community health, her master's in health and fitness management and a dual bachelor's in political science and Spanish from the University of Oregon. She and her husband, Enrique, have three children, Xóchitl, Enrique and Itzél.
Sherry Pawneshing, Physical Planning and Facilities Management
Sherry Pawneshing's pursuit of lifelong learning has propelled her along several different career paths.
She began her career at CSULB in 1981 as a gardener in the Plant Operations Grounds Department, first managing the Plant Operations corporation yard greenhouse, and later serving as a landscape maintenance gardener and interim lead grounds worker. During her interim tenure, she accomplished several improvement projects, including re-designing the Psychology Building courtyard's interior plant bed.
In 1989, she participated in a Division of Student Services' Professional Career Development internship, which led to a CSULB multiple subject teaching credential in 1992 followed by a leave of absence to teach school.
In July 2006, after more than 20 years in the Grounds Department, Pawneshing entered the CSU-State Employees Trades Council Joint Apprenticeship Program at CSULB, working in the electrical shop under mentor Greg Hayes. The four-year program provided on-the-job training by day and classes two to three evenings a week. In 2010, she completed the program and became a journeyman electrician in Facilities Management.
Pawneshing has been involved with Staff Council since its formation and has served in several capacities, including secretary, member-at-large and, from 1996-97, Special Events Committee chair. Additionally, she chaired the Facilities Management Event Planning Committee and sits on the Facilities Management Safety Committee.
In the community, Pawneshing chairs the Job's Daughters statewide scholarship committee and serves as the local association's vice president. She also belongs to Ladies of the Oriental Shrine and Order of the Eastern Star.
Pawneshing earned her bachelor's degree in Ornamental Horticulture in 1981 at Cal Poly Pomona. She is married to her husband of 37 years, Bob, and they have two daughters: Melissa and Amanda.
Susanna Speirs Ali, Art
When Susanna Speirs Ali was recruited to teach in the College of the Arts' Metals and Jewelry Program in the late 1990s, she began to breathe new life into the discipline by creating a renewed sense of community. She reinvented the facility and designed courses that offered rigorous and compelling content. Fourteen years later, Metals and Jewelry is thriving and attracting students throughout the country. Classes are full and often have wait lists.
Colleagues credit Susanna, who now heads the program, with turning it around. She is recognized as an outstanding teacher and mentor who has created an environment that accommodates a wide range of metalworking capabilities. Students now have the opportunity to work in one of the most diverse metals programs in the country that hosts a state-of-the-art facility. Access is available to jewelry benches, enameling kilns, a casting area, a large blacksmithing and sculptural metals area, and individual workstations for graduate students.
Susanna has taught and developed more than 12 classes in the Metals Program and two outside of her discipline in the Foundation and Sculpture Programs. Classes incorporate hands-on demonstrations, lectures, and presentations, as well as class discussions and regular critiques that encourage peer exchange.
Susanna's dedication to students extends outside the classroom and lab. She serves as faculty advisor for the Metal Arts Guild. In the past five years, she has been the primary sponsor of more than 27 graduate and undergraduate solo exhibitions, 10 on-campus group exhibitions, and three off-campus exhibitions. In this capacity, she mentors the students, oversees the installation of the exhibitions, attends openings and evaluates student performance, spending as many as 10 weekends each semester on campus. She also regularly attends conferences and symposia with her students to deepen the connection to the field and increase students' professional practice. Under Susanna's leadership, the Metals and Jewelry students' excellent exhibitions are highly acclaimed - proof of the quality of her teaching and the vision Susanna holds for her students and the program at large.
Dr. Lauren Rauscher, Human Development
Since becoming a faculty advisor in the Human Development Department in 2008, the number of students Dr. Lauren Rauscher advises has grown considerably, from 376 students to 632.
Despite the significant increase in the number of majors, she makes it a priority to get to know students both academically and personally so she can best help them achieve success and be a mentor they can trust. She works diligently to accommodate students' schedules, ensuring there is plenty of time for them to discuss concerns and create plans for success. She meets with students individually, in weekly New Majors Sessions, and during walk-in advising hours.
Social, economic, and cultural factors shape student experiences, and being attentive to the barriers and opportunities they present for students is key for successful advising. Over 50% of students at CSULB require remediation in math, English or both; an overwhelming number (over 90%) combine paid work with school; a significant number are first-generation college students, and many struggle with depression and anxiety. Conversations with many students in our department reveal that our students face public transportation issues to get to campus, some taking 3 buses each way from home to school. Others are responsible for juggling significant family responsibilities while they move toward degree completion - caring for their own children, their siblings, their parents, and/or holding multiple jobs so that they can contribute financially at home. Dr. Rauscher has learned that other students are homeless and live out of their cars. And, given that the Human Development major is 95% young women, she frequently talks with students about their experiences with sexual assault and stress between gendered and cultural expectations of them and their own aspirations. These structural and cultural constraints have a significant impact on the path to degree completion and post-graduate plans. Dr. Rauscher strives to create open spaces for students to talk about these issues, create student-specific plans for success, and connect them with additional resources on campus for support if needed.
She serves on students' theses committees and often meets with students informally to discuss graduate school and their professional goals. Since an advisor, she has written more than 200 letters of recommendation for graduate school, academic awards, scholarships, and study abroad opportunities.
When not on campus, Dr. Rauscher serves as Chair of the Board of Directors for Girls on the Run of Los Angeles County, a sports-based positive youth development program designed to educate and prepare preteen girls for self-respect and healthy living. To date, over 30 CSULB students have participated in Girls on the Run as mentors, research assistants, and interns.
Dr. Savitri Singh-Carlson, School of Nursing
Dr. Savitri Singh-Carlson, a member of CSULB's School of Nursing since 2008, got off to a fast start toward her Early Academic Career Excellence Award after acquiring her doctorate in 2007 from the University of Alberta.
After only two years on the job, Dr. Singh-Carlson was asked to serve as Assistant Director of Nursing's graduate program. Her successful restructuring of MSN degree specialties made it possible for Nursing majors to graduate faster. Her use of adult learning strategies and mentoring has resulted in the completion of 97 student projects/theses since 2009, including ongoing or incomplete projects for students who would not have graduated otherwise.
Dr. Singh-Carlson's research focuses mainly on qualitative research methodology that helps to understand breast cancer patients' experiences and the meaning of their illness. She has been the recipient of three consecutive RSCA mini, summer and assigned time grants that allowed her to become involved in interdisciplinary research projects at the Long Beach Memorial Todd Cancer Centre where she helps to evaluate and implement the benefits of a mentorship program for breast cancer survivors. Dr. Singh-Carlson is also involved in BCS research projects in Victoria and Vancouver, Canada, as principal or co-investigator.
Together with faculty from Physical Therapy, Psychology and Nursing, she received one of CSULB's first multidisciplinary research grants for a study titled, "A Multifactorial, Interdisciplinary Intervention to Reduce the Risk of Falling in a Group of Community Dwelling Older Adults."
She is the author of two books, a book chapter and 19 peer-reviewed articles. She has made 46 presentations at conferences and has been invited to three major national and international workshops.
In 2010, Dr. Singh-Carlson was one of 50 people nationally to receive a prestigious fellowship award from the American Association of Colleges of Nursing.
She has served on CSULB's International Education Committee and the President's Commission on the Status of Women as well as the College of Health and Human Services Research Committee and the Graduate Council.
Dr. Kevin Malotte, Health Science
Dr. Kevin Malotte's research accomplishments and extensive contributions and services in community-based research have brought national recognition to CSULB.
Currently the Archstone Foundation Endowed Chair and Director of the Center for Health Care Innovation, Dr. Malotte has been an investigator on multiple Centers for Disease Control (CDC) funded studies, including one on pre-exposure prophylaxis (PrEP) for HIV prevention.
Dr. Malotte was part of a team of researchers which conducted a study that involved giving a combined drug to heterosexual adults in Botswana to prevent HIV infection. He and his colleagues published their research, Antiretroviral Preexposure Prophylaxis for Heterosexual HIV Transmission, in the prestigious New England Journal of Medicine in July 2013. This was one of the studies cited by the FDA in licensing the first drug for the prevention of HIV in the United States. Dr. Malotte and his colleagues are continuing to conduct analysis on the data from this study, with his work supporting CDC behavioral scientists. He has also served as a consultant for the CDC on PrEP clinic-based counseling guidance work.
Dr. Malotte serves as the Director of CSULB's Research Infrastructure in Minority Institutions (RIMI) Project, a five-year, $4.7 million project funded by the National Institutes of Health. It has brought together faculty members and students from across the university to focus on minority health and health equity research and training. During the first few years of the project, 13 students have served as health scholars, five of whom have enrolled or been accepted in doctoral programs.
Dr. Malotte is the evaluation and learning team leader for Building Healthy Communities, Long Beach, which is committed to building a community where health care and prevention resources are available for all children, school attendance increases, the childhood obesity epidemic is reversed and youth violence is reduced. He is also working with Dr. Thomas Alex Washington (Social Work) on research funded by the National Institute on Drug Abuse that focuses on an HIV testing intervention.
Dr. Editte Gharakhanian, Biological Sciences
Since she joined the Biological Sciences Department in 1990, Dr. Editte Gharakhanian has developed a notable reputation for inspiring and challenging students as well as mentoring them through the entire scientific process from research design to implementation, presentation and publication.
Over the last 18 months, Dr. Gharakhanian has secured an NSF grant and an NIH award that support the research of eight students - five undergraduate students and three graduate students. Together, in her lab, they conduct research on cellular biology, specifically the study of cell trafficking and its impact on cancer and diseases such as Tay Sachs and Alzheimers. The students have co-authored three peer-reviewed publications and made several conference presentations.
In the past five years her students have presented their work at CSUPeRB, CSULB student competitions, National ABRCMS meetings, National American Society for Cell Biology, and National American Society for Biochemistry and Molecular Biology. Students have received honors for their poster and oral presentation achievements at these conferences.
After graduating, most of Dr. Gharakhanian's students continue on to work in scientific fields or advance to PhD programs - a testament to her vested interest in developing the career trajectory for her mentees.
Dr. Gharakhanian is known for her sustained and concerted effort to mentor students at multiple levels. In addition to the CSULB students she works with, Dr. Gharakhanian serves as a mentor to high school and community college students eager to participate in laboratory research.
She is also the research director for the NIH- Bridges to Baccalaureate program, a nine-week summer research experience for minority students from Long Beach City and Cerritos Community colleges. Dr. Gharakhanian coordinates CSULB mentor selection and matching with community college student applicants and directs workshops on scientific methods, poster presentation and laboratory experimental approaches for each cohort of this program.
Dr. Gharakhanian has a doctorate in cell, molecular, and developmental biology from UCLA and a certificate in professional program development and grant communication from The Grant Institute at USC.
Dr. Young-Seok Shon, Chemistry and Biochemistry
Dr. Young-Seok Shon is exploring new ways of synthesizing nanomaterials and using them for a variety of technological applications that have implications for cancer diagnosis and therapy as well as wastewater treatment.
Currently, a principal investigator for an NIH project as well as research funded by the American Chemical Society - Petroleum Research Fund, Dr. Shon's work on hybrid nanomaterials has provided many research opportunities for graduate and undergraduate students.
Since 2006, he has advised five graduate and 44 undergraduate students. Dr. Shon works to help his students develop a logical problem-solving and an intuitive understanding of chemistry through research. He works closely with his students to help them gain a clear understanding of the immediate and far-reaching goals of their projects. They have co-authored 11 papers published in peer-reviewed journals and presented their results 18 times in national and international conferences; 21 times at regional and local meetings. He has also served as research advisor for a high school student as well as seven community college students who were part of the summer Bridges to Baccalaureate program.
Since joining the Chemistry and Biochemistry Department in 2006, Dr. Shon has given 51 presentations, 24 of which were made at national and international meetings. He has had 28 papers published in prominent chemistry journals. His papers have received more than 90 citations to date, attesting to his prominent standing in the field of materials science and nanochemistry. He has also worked with Dr. Yohannes Abate (Physics and Astronomy) and together they have published three peer-reviewed articles in the past two years.
After Dr. Shon graduated from Sogang University in Korea in the 1990s, he earned his Ph.D. at the University of Houston and then was a postdoctoral research associate at Kenan Laboratories at the University of North Carolina, Chapel Hill, where his interest in the synthesis of nanoparticulates developed. He continued his work in this area while a professor at Western Kentucky University from 2001-2006.
Sarah Grefe, Physics and Astronomy
Sarah Grefe is investigating optical properties of very small particles called nanoparticles, which are about 10,000 times smaller than the width of a human hair.
Shortly after starting the graduate program in Physics at CSULB, Grefe discovered the work Dr. Yohannes Abate was doing in the field of nano-optics, the study of the interaction of light with nanostructured materials, and contacted him about joining his lab.
At the nanoscale, electrons on the surface of a metal demonstrate a phenomenon called plasmons. There is a great deal of interest in plasmons for communications technology investigators, chemists, and electrical engineers, but the basic physics of plasmons is not well understood, particularly in low dimensional correlated materials. Working with Dr. Abate has given Grefe the opportunity to work in a highly advanced near-field optics laboratory based on a high spatial resolution near-field microscope that can investigate surface states. As a result, she and Dr. Abate are working to gain a better understanding of the basic physics of low-dimensional systems.
Since she began working with Dr. Abate in January 2013, Grefe has co-authored two articles with Dr. Abate and other students, and are preparing to submit another publication soon. In April 2013, she was awarded a CSULB Graduate Research Fellowship based on a research proposal to study the optical properties of quantum dots. In February she won second place in the CSULB Student Research Competition for her research, "Near-field Plasmonic Coupling of Infrared Nanoantennaes: Experiment and Simulation." Recently, she contributed a talk at the Materials Research Society Spring 2013 Symposium on a nanoscale investigation of a novel class of materials called topological insulators, with the help of a Student Travel Fund awarded by ASI. She will go on to present her work at the CSU Systemwide Student Research Competition in May at Cal Poly Pomona.
Grefe earned her bachelor's degree in applied mathematics with a minor in physics at CSULB. After she completes her master's degree this summer, Grefe is accepted for the Ph.D. program in physics at Rice University in Houston, Texas with Professor Qimiao Si, who is a leader in the field of strongly correlated electron systems. She hopes to further pursue work in condensed matter theory and ultimately become a professor.
Shahab Taherian, Mechanical and Aerospace Engineering
With pollution causing health crises throughout the world, Shahab Taherian's research has never been more important.
Taherian is working with Dr. Hamid Rahai (Mechanical and Aerospace Engineering), CSULB's Center for Energy and Environmental Research and Services, the Long Beach Veterans Affairs Hospital and UC Irvine Medical Center to develop a diagnostic system of the human respiratory system using computational fluid dynamics.
Currently working on his doctorate in Engineering and Industrial Applied Mathematics, Taherian takes CT scans and MRI scans to make 3-D models. Then he analyzes them to find out how much pollution is being deposited into the lungs and the respiratory tract. His research can be used to design new inhalers and surgical masks, better drug delivery systems and improved preventative measures for controlling the quality of air. It has the potential to help people all over the world - particularly his family in Iran, where pollution has never been worse and has been attributed to thousands of deaths.
Taherian is also conducting research on how particles spread in public transportation systems, which can lead to new ways of preventing the spread of viruses on trains and airplanes when people sneeze or cough.
He has co-authored two papers and has another that will be published in November. He has presented his research at four conferences throughout the country. In February, Taherian won first place in the CSULB Student Research Competition for his research, "CFD Modeling and Analysis of Pulmonary Airways/Particles Transport and Deposition." He will go on to compete in the CSU System-wide Student Research Competition at Cal Poly Pomona in May.
Taherian currently works as a teaching assistant at CSULB. He has a bachelor's degree in mechanical engineering from Eastern Mediterranean University in Cyprus. He earned his master's degree in Mechanical and Aerospace Engineering at CSULB in 2009. After graduating from the CSULB/Claremont Graduate University Ph.D. program in 2013, Taherian hopes to continue his research and teach at the university level.
Tamara McCarty, Dance
Court dances from the Renaissance period integrated with contemporary movement. It's not what you expect to find at a dance concert, but it's what Tamara McCarty choreographed for her University Honors Program thesis, which has been lauded at dance concerts and research competitions.
Mentored by Colleen Dunagan (Department of Dance), the senior dance major explored the codification of gendered movement in Renaissance court dances by tracking choreographic changes in the dance practice and the sociopolitical influences of elite society.
McCarty attended workshops with the Dolmetsch Historical Dance Society in England to learn how to perform historic court dances. She created Boundaries to physically explore choreographic elements of the court dances and masculine and feminine gender constructs in movement. During her process, she took historic steps and integrated them with contemporary dance ideas to explore gender today.
In her research, McCarty notes that elite rulers used dance as a political tool to exemplify and demonstrate power. Social roles were rehearsed as men moved strongly and women softly. Today, she notes, it is not necessary to maintain those social constructs - male and female dancers are equally capable of performing a wide range of movement qualities and styles.
Boundaries was one of 10 dances selected for CSULB's Contemporary Dance Concert in February. That same month, McCarty presented her research at the CSULB Student Research Competition, winning first place in the Creative Arts and Design category. As a result, she will present at the statewide CSU Student Research Competition at Cal Poly Pomona in May.
McCarty also presented her choreography and dance research at the American College Dance Festival Association's (ACDFA) Baja Regional Conference earlier this month and was featured in the Gala Concert.
A dancer since she was 4 years old, McCarty plans to move to New York to dance with a professional company after she graduates next month. She also wants to attend graduate school to study dance history and inspire a new generation of dancers as a teacher and choreographer.
Dr. Maria Claver, Family and Consumer Services
An assistant professor in the Department of Family and Consumer Sciences (Gerontology Program), Dr. Maria Claver is notable for her commitment to enhancing quality of life through community involvement and her research.
Dr. Claver is widely recognized in her hometown of Whittier as a community leader dedicated to diverse causes. She has helped raise funds for Whittier's Relay for Life event as Event Co-Chair, Team Development Chair and Team Captain, and currently serves on the Governing Board of Directors for Whittier Hospital Medical Center.
She has served as membership chair and grant writer for the Whittier Conservancy, a non-profit organization formed in the wake of the 1987 earthquake with the goal of protecting historical buildings and natural hillsides. Since 2009, she has secured more than $125,000 in grants to plant trees, pay for a professional assessment of a historical building and build a rest station along the Greenway Trail.
Dr. Claver also runs her own non-profit foundation called the Ozzy Foundation. Named for her cat that was diagnosed with kidney failure, the foundation works with local veterinary clinics and rescue groups to help people with costly veterinary bills. In addition, she co-founded the Whittier Dog Park Task Force, dedicated to successfully advocating for a dog park in Whittier.
Dr. Claver's research focuses on two areas: 1) best practices in service-learning and 2) emergency management, especially in nursing homes. She continues to conduct research at the Greater Los Angeles VA Healthcare System where she completed her master's internship in the inpatient geriatric ward and the out-patient geriatric clinic.
She has received numerous awards for her work, including a Distinguished Faculty Scholarly and Creative Achievement Award, a curricular development award through the Ukleja Center for Ethical Leadership to develop curriculum about ethics, and awards from the Center for Community Engagement. She also received the Betty and James E. Birren Emerging Leadership Award from the California Council on Gerontology and Geriatrics in recognition of her advancement of the field in California.
Mary Ann Rose, College of Education
For the past five years, Mary Anne Rose, the Director of Graduate Studies in the College of Education, has brought together CSULB students and community volunteers to rebuild homes and improve lives in Long Beach.
Rose serves as president of the Board of Directors for Rebuilding Together Long Beach (RTLB), which restores owner-occupied homes for low-income residents, particularly the elderly, veterans, and those with disabilities. She provides leadership to RTLB's board and staff, oversees the coordination of workday events, and directs an annual budget in excess of $300,000.
Since she became president in 2010, the number of homes RTLB repairs annually has increased from less than 10 to 25 in 2011 and 33 in 2013. RTLB also created the Community Stabilization Program to acquire, rehabilitate and sell homes to qualifying low or moderate income buyers. Since the program was created in 2010, RTLB has closed escrow on over 400 properties and rehabilitated and sold nearly 300 homes.
Through her leadership at both RTLB and CSULB, more than 100 Cal State Long Beach students volunteer each year on Make a Difference Day to perform repairs, paint and landscape the homes of RTLB recipients. In addition, Rose works closely with service learning students who serve as house captains or who are examining the effects of city ordinance enforcement on low-income homeowners.
Professionally, Rose has been a leader in student affairs serving as a program reviewer for professional conferences and volunteering with the Western Regional Career in Student Affairs Day.
Rose earned her bachelor's degree in Psychology at CSULB in 1999 and her master's degree in Counseling: Student Development in Higher Education at CSULB in 2002. She joined CSULB as a staff member that same year, working as a Program Coordinator for the Learning Alliance. In 2006 she became the Assistant Director of the Learning Alliance and last year she took on her current role in the College of Education. She has taught several courses at CSULB including CLA 490: Making a Difference with Leadership, CLA 195: Introduction to the Learning Community and University 100: The University in Your Future.
Tony Hoang, Communication Studies
Community Service is second nature to Tony Hoang who began his outreach efforts as a member of the service fraternity Alpha Phi Omega and as an unpaid summer intern with the Christopher and Dana Reeve Foundation. This non-profit organization focuses on improving the quality of life for victims of spinal injuries through sports platforms such as "They Will Surf Again" and "They Will Skate Again," offering paraplegics and quadriplegics the chance to surf or skate.
A Communication Studies major, Hoang's community service activities have been wide-ranging. Instead of enjoying a relaxing vacation in spring 2013, he participated in the Alternative Spring Break program for victims of Hurricane Katrina. For a Study Abroad trip, he chose to visit The Hague to study at the International Criminal Court and the International Criminal Tribunal for Crimes in the Former Yugoslavia. He has also helped find a bone marrow donor for a 2-year-old child diagnosed with a rare subtype of Acute Myeloid Leukemia. With Hoang's efforts, there is still hope and a chance for life for the child.
His primary focus, however, is on helping the homeless and the elderly. After he joined Alpha Phi Omega he brought forward an idea that developed into an event on Skid Row to help the homeless in Los Angeles. He has also been instrumental in organizing Alpha Phi Omega's canned food drive to support Food Finders, a multi-regional food bank. In addition, he is planning a renovation of a garden at a local elementary school this month.
Hoang, who is majoring in Communication Studies and minoring in Marketing, participates in as many service activities as he can because he believes any group of individuals with physical, mental or life disabilities ought not to be subjected to silence. He also finds it personally rewarding. One of his favorite quotes is from Gandhi who once said, "The best way to find yourself is to lose yourself in the service of others."
Dr. Jalal Torabzadeh, Mechanical and Aerospace Engineering
Since Dr. Jalal Torabzadeh joined the Mechanical Engineering Department at CSULB in 1986, he has worked tirelessly on behalf of the university.
A member of the Academic Senate since 1999, Dr. Torabzadeh has helped draft and pass many policies, including policies on Retention, Tenure and Promotion, University Awards Committee, Research, Scholarly and Creative Activities, Undergraduate Advising, Student Evaluation of Teaching, and the Graduation Writing Assessment Requirement.
He became a member of the Academic Senate Executive Committee in 2005 and served as Vice Chair of the Senate in 2008-09. He also served on the Senate's Nominating Committee and is a member of the Program Committee for the Academic Senate Retreats.
With service on more than 18 University committees, councils, and task forces during his 27-year career, Dr. Torabzadeh has had an impact on a wide variety of issues from enrollment management to grade appeals and advising. In addition to numerous committees for the department and the College of Engineering, including the Department and College Curriculum Committees and the ABET Accreditation Committee, Dr. Torabzadeh has served on the University Resource Council, University Lottery Committee, Faculty Personnel Policies Council, the University's Western Association of Schools and Colleges Accreditation Committee and served as the Co-chair of the WASC Subcommittee on Student Success, University Task Force on RTP Policy and Procedure, just to list a few. His professionalism, integrity, ethical values, kindness, willingness to hear others' viewpoints and exceptional analytical skills have earned him the respect of his colleagues Universitywide.
Currently the interim chair of Mechanical and Aerospace Engineering (MAE), Dr. Torabzadeh served as the Mechanical Engineering Program Coordinator and Undergraduate Advisor and Vice Chair for MAE from 2001 - 2013. He was an Adjunct Professor in the Petroleum Engineering Program at USC from 2000-2009. He has been a consultant with Chevron, The Gas Company, the Petroleum Technology Transfer Council, West Coast Resource Center since 2010. He is also active in numerous professional organizations like the American Society for Engineering Education, the Society of Petroleum Engineers, the Los Angeles Council of Engineers and Scientists and the Orange County Engineering Council. He is the recipient of many academic and professional awards including Distinguished Engineering Educator, TRW Excellence in Teaching, SPEI Fellow, SPEI Distinguished Member, SPEI Outstanding Service, PTS Outstanding Service, and CSULB CFA Outstanding Service awards.