2014 University Achievement Awards
Image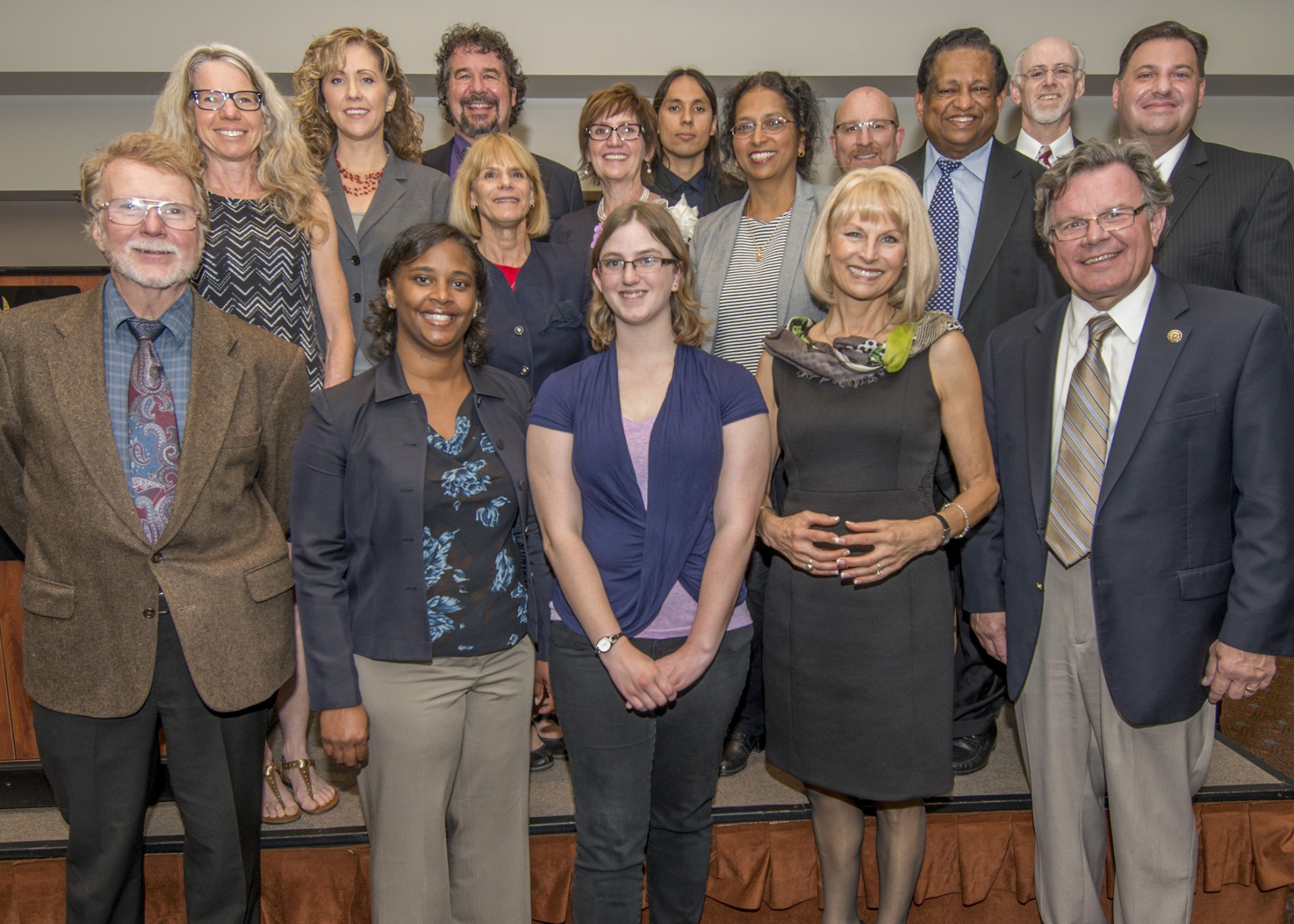 Dr. Stephen Mezyk, Chemistry and Biochemistry
Dr. Stephen Mezyk's accomplishments in teaching, research and service are recognized as among the most impressive in the Chemistry and Biochemistry Department.
Dr. Mezyk has an extraordinary talent for both teaching and research. He has taught eight different courses, including General Chemistry and two graduate courses in physical chemistry. Scores on his teaching evaluations are excellent, consistently far above department and college norms. He is highly regarded for his ability to make complex, quantitative material easy to understand, engage students in class and help them develop problem-solving skills.
A physical chemist with interests in energy and the environment, Dr. Mezyk is a prolific researcher with more than 100 papers published in top-notch journals since he joined CSULB in 2001. His research has been supported by more than $3.6 million in external grants and contracts.
His lab has attracted some of the most talented students in the college. He has supervised the research of 75 students, 68 of whom were undergraduates. Many of them have gone on to PhD, MD and MD/PhD programs in highly prestigious universities across the country.
Dr. Mezyk has served on numerous department and college committees and is actively involved in professional organizations. He was also part of a team that developed videos to support online chemistry instruction at Coastline Community College. The series was purchased by the Public Broadcasting Service and won an Emmy award for instructional programming.
Kathleen Engberg, Nursing
California State University, Long Beach holds a special place in Kathleen Engberg's heart. She earned her bachelor's degree in English Education in 1980 and 25 years later returned to The Beach as an Administrative Coordinator in the School of Nursing.
Throughout the years, her responsibilities expanded and she is now the lead department coordinator overseeing office duties, the department budget and class scheduling. She coordinates hiring for all part-time instructors, maintains department records and assists faculty and students.
Engberg joined the university's Staff Council in 2005. She has served as secretary twice and as a member-at-large on the Executive Committee. In 2011-12 she was chair of Staff Council's Special Events Committee organizing, coordinating and participating in the summer picnic, Spooktacular, the Cherishing the Children Holiday Party and Staff Day. She has also volunteered on the Staff Development Committee, organizing a "Munch-n-Learn" at the KJAZZ radio station.
Engberg has served on campus search committees and administrative review committees. She has been recognized in her department with the Outstanding Staff award twice.
Her appreciation for CSULB's spirit of community inspires her to continue working to promote and improve campus life. She looks forward to finding new ways to serve on campus and encourage projects that support partnerships in scholarship and community.
Dr. Judy Brusslan, Biological Sciences
For Dr. Judy Brusslan teaching is an ever-evolving art.
Each time she teaches a course, whether it's General Genetics with 180 students or Molecular Plant Physiology with 24 students, she strives to improve it. And while the need to break down and explain problems step-by-step has not changed since she started teaching at CSULB in 1995, the technology in the classroom certainly has.
Overhead slides have been replaced by a tablet that allows her to write on her PowerPoint slides. She has started creating videos using Panopto software that show her working through difficult problems. The videos, posted on BeachBoard, are popular with students, allowing them to follow her instructions at their own pace.
Dr. Brusslan's ability to communicate and her rapport with students provides a positive learning atmosphere. She makes herself available to students and holds review sessions prior to tests. She incorporates skills students will need in their professional lives – writing, oral presentation and group work.
Her passion for science extends beyond the classroom. Dr. Brusslan mentors students in her lab, guides graduate students as they complete their MS degree and serves as a teaching mentor for new faculty in Biological Sciences. In addition, for the past eight years she has run a science outreach program, in which CSULB students teach and conduct hands-on science experiments with fourth- and fifth-graders at Burnett Elementary School in Long Beach Unified School District.
Dr. Nancy Meyer-Adams, Social Work
Dr. Nancy Meyer-Adams knows how important it is to have an advisor who listens to each student.
As a former high school dropout who earned her GED at age 37, teachers and advisors played a vital role in her life as she pursued her education, earning her doctoral degree from the University of Tennessee, College of Social Work at 47.
Dr. Meyer-Adams joined California State University, Long Beach in 2005. Since then she has served as the Undergraduate Program Coordinator for the School of Social Work as well as Interim Associate Director and Coordinator of Academic Programs. During her career, she has been the major academic advisor for all undergraduate students, the academic advisor to 20 specific master's students and the advisor for any of the 600 graduate students in need of extra assistance with program modification or particular program needs.
Her experience as a "non-traditional, adult learner'' has shaped her approach to advising and teaching. She sees each student as an individual whose life experiences and challenges play a unique role in his or her success.
Her students see her as an inspiring mentor. She has been named Most Valuable Professor by her students four times in recent years. Some students who have been accepted to prestigious programs at private universities have opted instead to continue their education at CSULB's School of Social Work because of Dr. Meyer-Adams.
Dr. Jennifer Ostergren, Speech-Language Pathology
Dr. Jennifer Ostergren has brought national recognition to the Speech-Language Pathology Department at California State University, Long Beach.
In 2009, she developed a specialized course that paved the way for individuals with a bachelor's degree in Speech-Language Pathology and 70 hours of clinical experience to become licensed speech-language pathology assistants. With that course established, CSULB became one of the first four-year universities in California to offer this type of clinical education for undergraduate students.
Dr. Ostergren has published a textbook for that course. She has also published 10 manuscripts, seven of which were accepted in peer-reviewed research journals. Two of them received the Editor's Choice Award from Contemporary Issues in Communication Sciences and Disorders for significant contribution in the field.
Dr. Ostergren has also created a graduate course on traumatic brain injury. She has supervised 19 independent graduate student projects and chaired committees of four master's theses. Dr. Ostergren serves as the department's graduate advisor and chair of the department's Admissions and Standards Committee. She is a member of the department Administrative Committee and an advisor for graduate and undergraduate students. Dr. Ostergren is also Co-Director of the department's Special Cohort Master's Program.
In addition to her work at CSULB, Dr. Ostergren is also involved in the accrediting body of the American Speech-Language Hearing Association and was elected to serve as a coordinating committee member for ASHA's Special Interest Group on Supervision and Administration. She also conducts weekly group therapy sessions at the Joseph B. O'Neal, Jr. Stroke Center in Carson.
Dr. Sarah Gunatilake, Health Science
Dr. Sarath Gunatilake's research over the past two years has focused on the herbicide glyphosate and its relationship to an epidemic of chronic kidney disease that began in Sri Lanka in the mid-1990s.
In 2012, the Secretary to the Ministry of Health invited Dr. Gunatilake to look into the cause of chronic kidney disease (CKD) occurring in young farmers in Sri Lanka.
Dr. Gunatilake, an occupational and family medicine physician who also has a doctor of public health degree, evaluated the research that had previously been done on the epidemic and traveled to Sri Lanka to conduct his own research with Dr. Channa Jayasuman, a faculty member from the Rajarta University School of Medicine. Based upon preliminary analyses conducted at the Institute for Integrated Research in Environments, Materials and Society (IIRMES), Dr. Gunatilake published a tentative hypothesis in the International Journal of Environmental Research and Public Health of the possibility that glyphosate in combination with hard groundwater could act as a chelator of various metals such as cadmium and arsenic, altering their bioavailability and ultimately toxicity. Confirmatory data to support this hypothesis has yet to be published.
While a direct causal relationship between glyphosate and CKD still needs to be established and verified by empirical data, the hypotheses caused sufficient concern that in March the Sri Lankan president banned glyphosate sales in the country. That decision has since been reversed.
Work is underway in Sri Lanka to provide safe water and create organic rice paddy farms. Dr. Gunatilake has been appointed as a special advisor to a new ministry in Sri Lanka dedicated to addressing this issue. He aims to organize an international conference on CKD to involve scientists from other affected nations to work collaboratively to ascertain the environmental causes underlying CKD.
Dr. Vasanthy Narayanaswami, Chemistry and Biochemistry
Dr. Vasanthy Narayanaswami can claim many impressive research accomplishments since she arrived at California State University, Long Beach in 2008. But it is her involvement as a research mentor that is truly extraordinary.
In the la,st 18 months Dr. Narayanaswami has trained six graduate and 11 undergraduate students in her lab, which focuses on the role of a protein called apolipoprotein E in relation to cholesterol transport in the vascular and the central nervous system, particularly in cardiovascular and age-related neurodegenerative diseases such as Alzheimer's.
During that time her research resulted in three peer-reviewed publications involving seven students as primary and co-authors. They presented their findings at 37 conferences.
Several undergraduate and graduate students in her lab have won competitive awards and fellowships and received monetary recognition that amounted to $48,550 for the research carried out under her mentorship. Her students have also received the Outstanding Graduate Award for the College of Natural Sciences and Mathematics and the Outstanding Graduate Research Student Award.
Dr. Narayanaswami is also a principal investigator on four grants aimed at providing research opportunities for students. She has been praised as a mentor who not only gives her students the skills they need to conduct research independently, but also helps them develop leadership skills.
Dr. Angela Locks, Educational Leadership
In the six years that she has been at California State University, Long Beach, Dr. Angela Locks has gained a reputation as a passionate researcher who works tirelessly to help her students succeed.
She has chaired 11 doctoral dissertations and 13 master's theses and is currently chairing two dissertations and three theses. She is principal investigator or co-principal investigator on five external research grants that focus on student retention and support for diverse students.
Dr. Locks has included graduate students in one published work and three manuscripts that are under development. Two of her doctoral students wrote case studies in her latest book, Diversity and Inclusion: Supporting Racially and Ethnically Underrepresented Students in Higher Education. Her students have also been co-authors in five peer-refereed national conference presentations.
In Fall 2013 Dr. Locks created the successful Undergraduate Research Opportunity Program, which allows undergraduates in their first and second year at CSULB to work on research under the supervision of a faculty member. In addition, she provides hours of informal research assistance to students throughout the Educational Leadership Department and integrates research activities in her courses.
Her commitment to students continues after even after the workday ends. Dr. Locks has taken on the role of a Faculty-in-Residence for students living at Beachside Residential College.
Dr. Henry Fradella, Criminology, Criminal Justice, and Emergency Management
Dr. Henry Fradella is a nationally recognized expert on "insanity" and "diminished capacity" defenses and on the evolution of constitutional criminal procedure. The impact of his scholarly activity on law and public policy is evidenced by the numerous courts that have relied on his work.
Eight published judicial opinions have cited his work. The Seventh U.S. Circuit Court of Appeals used his scholarship to help set standards for attorney performance in insanity defense cases. The Second U.S. Circuit Court of Appeals, the Connecticut Supreme Court, and the Utah Supreme Court all created new rules of evidence citing his scholarship on the inclusion of eyewitness expert testimony. And a federal court in Michigan relied on Dr. Fradella's work when ordering a new trial for an inmate who may have been wrongfully convicted.
Dr. Fradella is the author or co-author of eight books, including Mental Illness and Crime, which was published this year. He has authored or co-authored 75 articles, book chapters, reviews, and scholarly commentaries that have appeared in numerous outlets such as the American Journal of Criminal Law and Criminal Justice Policy Review.
In addition, Dr. Fradella has delivered more than a dozen invited lectures, 50 conference presentations, and has served as the editor of four scholarly journals. He currently serves as the editor of the society's journal, Criminology, Criminal Justice, Law & Society.
Dr. Kevin Sinchak, Biological Sciences
A recognized expert in behavioral neuroendocrinology, Dr. Kevin Sinchak has been working on two major lines of research supported by National Institutes of Health (NIH) R01 grants since 2009.
One area of research looks at the mechanisms through which the hormones estradiol and progesterone turn on and off reproductive behavior circuits in the brain. He is also studying how the brain makes its own progesterone and what role this neuroprogesterone plays in female reproduction. His findings may aid in discovering new drug treatments to regulate fertility and treat infertility. He has been invited to give seminars at UC Davis, UCLA Laboratory of Neuroendocrinology, UC Irvine and Brigham Young University in Idaho.
His research has been an important training/mentoring program for students in his laboratory, who design and carry out the experiments. Dr. Sinchak currently has three graduate students, five upper division directed research undergraduates, two lower division directed research undergraduates, and four student volunteers working in his lab. Since he arrived on campus in Fall 2006, he has mentored six graduate students, 60 upper-level directed research undergraduates, two lower-level undergraduate students, and several volunteers.
Their findings have been published in peer-reviewed neuroscience and endocrinology journals, review papers and a book chapter. His students have also co-authored and presented 28 posters/abstracts and three talks at national neuroscience and endocrine meetings.
Roy Hernandez, Chemistry and Biochemistry
For the past three years, Roy Hernandez has worked in Dr. Vasanthy Narayanaswami's lab conducting research on a protein called apolipoprotein E that could help scientists better understand neurodegenerative diseases like Alzheimer's Disease.
His work has led to unique opportunities and several awards. In 2011 Hernandez received an NIH-funded scholarship for the Children's Hospital Oakland Research Institute's Summer Research Program. He did so well in this project that he was invited to return the following summer as a funded scholar.
Hernandez has presented his research at several local, regional and national/international meetings, including the Gordon Research Seminar, CSU Biotechnology Symposium, the Biophysical Society Meeting and the Annual Biomedical Research Conference for Minority Students.
He is working with Dr. Narayanaswami to submit his research findings as two manuscripts in high-impact peer-reviewed journals, in which he will be the first author.
He has received the Louis Perlgut Award and the McAbee-Overstreet award for excellence in biochemistry. He has also been a finalist for the Don Eden graduate student award, honoring excellence in graduate student research throughout the CSU.
Hernandez has been a teaching associate for freshmen chemistry courses and a peer mentor for several undergraduate students. In fall he will enroll in the doctoral program at the University of Southern California.
Amberle McKee, Biological Sciences
Over the past few years, Amberle McKee has been involved in three research projects, presented at three conferences and won several awards.
In Dr. Bruno Pernet's lab, she investigated the movement of snails to understand why they sometimes loped instead of using adhesive crawling. Her research can have important implications for researchers trying to perfect robot snail prototypes. She was the first author on a paper published in Biological Bulletin.
She presented her findings at a national conference of the Society for Integrative and Comparative Biology, winning the Best Poster Presentation Award and runner up for the Adrian M. Wenner Strong Inference Award. She also won first place at both the CSULB Student Research Competition and the CSU Student Research Competition.
In her third year, McKee worked in Dr. Ashley Carter's lab investigating the effect of inbreeding on female mate choice in the fruit fly. The research has important implications for understanding reproduction in commonly inbred populations such as endangered species and zoo populations. She was the first author on a paper under review in the Journal for Insect Behavior.
McKee is currently working in Dr. Pernet's lab to understand how effectively larvae feed on particles of different sizes since particle size distributions in the oceans are predicted to shift due to climate change.
McKee, who plans to become a professional scientist and educator, will be enrolling in the doctoral program at UC Irvine in the fall.
Marianne Venieris, Alumni '90, '92
For more than 17 years, Marianne Venieris has worked tirelessly to bring national recognition to California State University, Long Beach and the College of Continuing and Professional Education in the area of trade and transportation.
After earning her bachelor's degree in Business Administration and Marketing at CSULB in 1990 and her MBA in Human Resource Management and Organizational Development in 1992, Venieris taught courses in the College of Business Administration, then went on to oversee staffing, programming, and budget management as the director of operations for CSULB's World Trade Center offices. It was there that she developed an interest in international trade and transportation.
Venieris has served as the Director of International Trade and Transportation at CSULB and established the Center for International Trade and Transportation (CITT), serving as its executive director.
Under her direction, CITT developed the Global Logistics Specialist professional designation program which was the foundation for the Master of Arts in Global Logistics. She also established the State of the Trade and Transportation Industry Town Hall, an annual event that brings together industry, government and community to discuss and address issues of common concern.
Venieris retired in 2013, but the success of her work is evidenced by the fact that her partners from community and industry have worked with CSULB to establish a scholarship endowment fund in her name for trade, transportation and logistics students.