How CSULB keeps its campus energy efficient
From solar panels to "smart" buildings that can turn off lights and reduce air flow by themselves, Cal State Long Beach is continuing to pursue innovative ways to increase its energy efficiency and decrease its harmful emissions. 
Measures the university has taken since 1974 have reduced the overall energy intensity – or amount of energy use per square foot of space – of campus buildings by more than 50%. For the past five to six years, Beach Building Services has had a $1.6 million annual budget dedicated solely to energy-efficient practices, a huge allocation compared to others in the CSU, officials say.    
Conserving energy at The Beach is important for two essential reasons: It saves money and the planet. It's also consistent with goals set by the state and California State University system. 
"One of our main objectives is to incorporate energy-efficient measures into every opportunity within our means," said Josh Cichuniec, director of Facilities Management at CSULB. "This objective affects the decisions we make every day related to the design and physical construction of new and existing space on campus. It's also a driving factor behind the creation and implementation of new maintenance and repair practices." 
Here's a look at some of the energy conservation practices on campus: 
LED Lighting and HVAC Systems
According to the U.S. Department of Energy, light-emitting diode (LED) bulbs use about 75 percent less energy than typical incandescent light bulbs and last 25 times longer. Much of the lighting inside buildings and along exterior areas on campus have been replaced with LED lighting. Sensors in classrooms and offices can shut off the lights when occupants leave. 
Heating, ventilation and air-conditioning (HVAC) systems consume 60% of the energy output throughout campus, so Beach Building Services has made a concerted effort to upgrade existing buildings with technology that can reduce or shut off HVAC systems when no one is those spaces. Filters are also replaced regularly.
Newer buildings take advantage of the newest architectural and design innovations to greatly reduce reliance on traditional HVAC systems.
In 2017, the California Energy Commission awarded CSULB a $2.5 million grant to install LED lighting and lighting controls in the Engineering and Computer Sciences (ECS) building and integrate ECS into the campus building energy management system (BEMS). The project also integrated the ECS heating and air conditioning system into the BEMS, utilizing internet of things (IOT) technology. 
Altogether, the "smart" building project is expected to save $98,000 per year in energy costs, representing a 20% drop in energy consumption.
In 2018, CSULB won two statewide Higher Education Efficiency and Sustainability Best Practice Awards, which recognized The Beach's solar power installations and upgraded LED lighting inside the Walter Pyramid, an estimated savings of about $48,000 annually. 
The Beach has won six best practice awards since 2011.
Solar Power
The Beach has four solar power systems, which account for 15%-33% of the campus peak electrical load. Energy from the solar panels feeds into the campus' main electricity grid and can be used throughout campus. 
When the 4.75-megawatt cluster of panels in the north and south parking lots began operating in September 2017, it was the largest solar installation on any of the 23 CSU campuses and the largest in Long Beach. 
Smaller photovoltaic systems are located on the roofs of Brotman Hall and the Vivian Engineering Complex, along with a carport in the lot of Facilities Management. More than 20 golf carts are charged at Facilities Management and run by solar power, which can be stored in batteries.
Image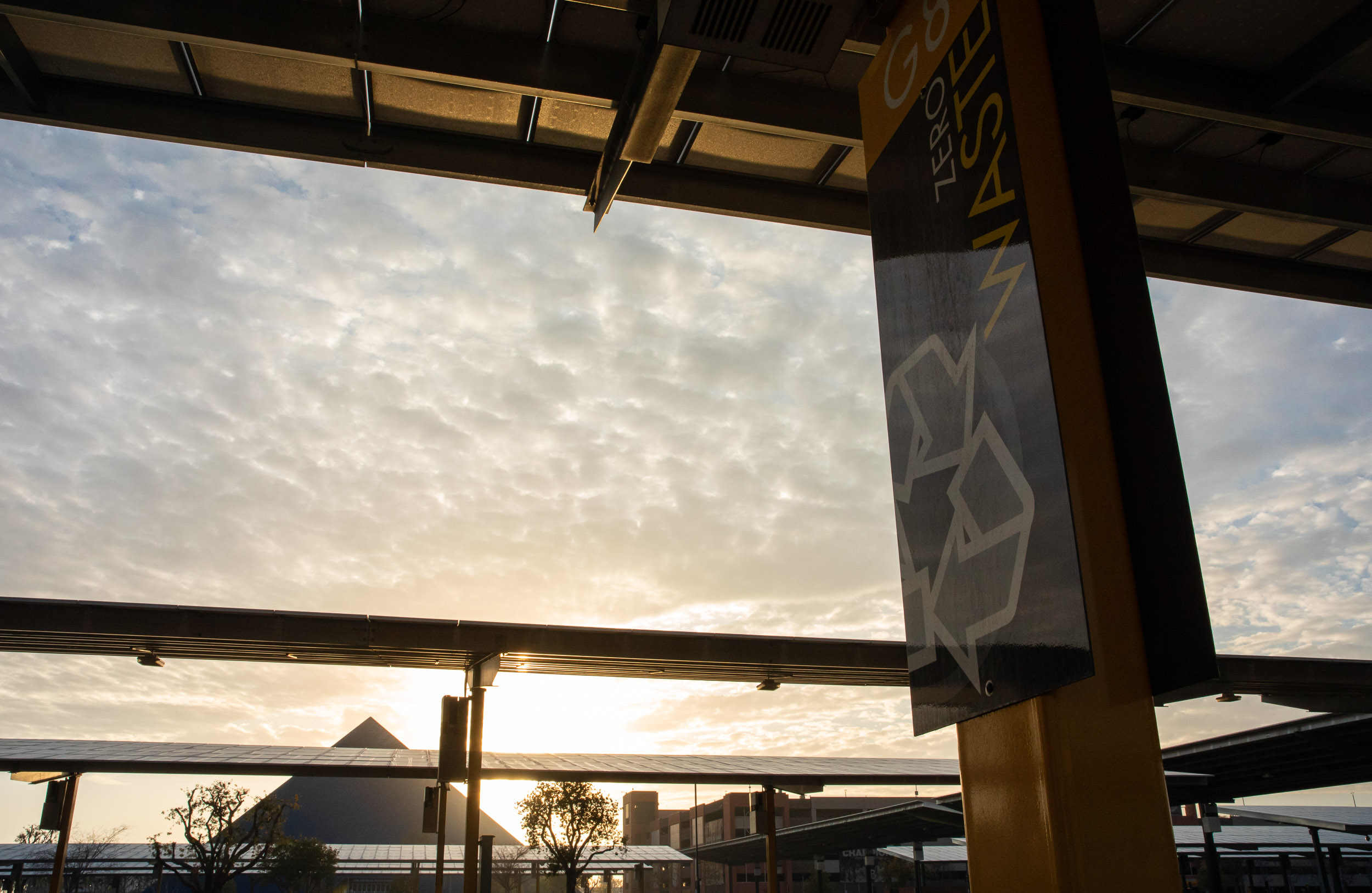 College of Professional & Continuing Education (CPaCE)
Formerly the College of Professional & International Education (CPIE), the 35,000-square-foot CPaCE building is CSULB's first net-zero energy consumption building. It's also The Beach's only LEED Platinum-rated building, and the first of its kind in the CSU system. 
The CPaCE building was designed with energy, water and resource efficiency in mind. The structure is situated at angles where it takes advantage of daylight yet does not absorb much heat from the sun. Also, canopies and tastefully designed barriers block out solar heat but allow light to filter through. 
Solar panels from the parking lots feed electricity into the building. CPaCE also features radiant underfloor heating and cooling, with tubes carrying hot or cold water; smart ceiling fans; monitors that sense when people are present; windows that can open or close by themselves; and automated temperature controls greatly reduce the energy consumption of a traditional HVAC system.
"It's a perfect illustration and commitment to actively address the global climate crisis," President Jane Close Conoley said at the grand opening of the building in 2018. 
Parkside North and Hillside Gateway
Two of CSULB's newest residential structures, Parkside North and Hillside Gateway, were built with the highest standards of energy efficiency and sustainability in mind. Both completed in 2021, the buildings will be the first in the CSU system to carry certifications under the International Living Future Institute's (ILFI) Living Building Challenge program.  
Parkside North is a net-zero energy building, creating as much energy through solar panels as it uses. It is designed to meet three of the categories, or "petals," in the Living Building Challenge – energy, beauty and health & happiness, according to project manager Matt Grant. The four-story glass-and-wood building is wired with smart, energy-saving technology, uses and features reclaimed water and is consistent with the CSU's carbon neutrality goals.
Hillside Gateway – which comprises Hillside Commons and the Housing & Residential Life Office buildings – is another smart complex that features a bioswale (a gutter used to collect rainwater), solar panels, public art, universal accessibility, drought-resistant plants, the use of natural light and chemical-free materials used during construction. 
It is also poised to achieve several petals in the Living Building Challenge. To date, only 30 buildings worldwide have completely met the ILFI challenge. Both structures are pursuing LEED v4 Platinum certification. 
Beach Building Services Internship Program
Every semester, two to four CSULB students serve as interns in Beach Building Services, working with Energy and Utilities Manager Shawn Cun to learn about energy efficiency on campus and in the working world. They get hands-on experience monitoring and adjusting systems in campus buildings, plus the chance to meet engineers in the field. 
"Part of my vision is to support workforce training opportunities," Cun said. "I didn't have opportunities like that when I was a student." 
The program is entering its third year in the fall.