CSULB officially opens sustainable residential hall
With its warm, homey touches, sustainable features and study-oriented spaces, Cal State Long Beach's Parkside North Residence Hall provides students with a modern new place to call home. 
CSULB unveiled its state-of-the-art residence hall Wednesday in a ribbon-cutting ceremony attended by President Jane Close Conoley, Mayor Robert Garcia, CSULB administrators, staff and building contractors. It is the campus's first new housing building in 34 years. 
Image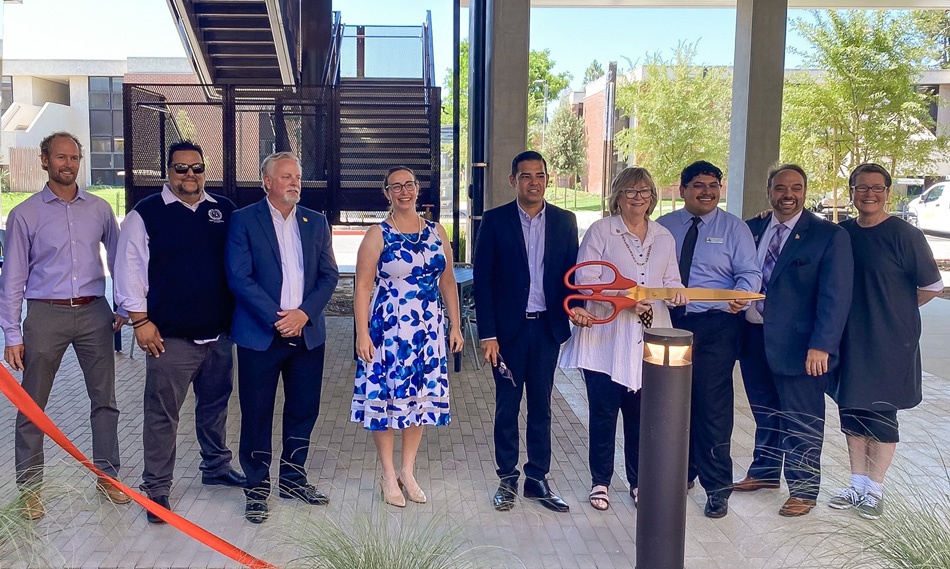 The four-story glass and wood "smart" building, featuring a blue and yellow wave-like metal façade on two outside walls, adds 472 beds to The University's housing complex, which has three other multi-building villages. The older dorm rooms have all been renovated with updated features and technology. 
Students will start moving into all the residential halls Aug. 17. 
"(The building) has been conceived as a home away from home," Conoley said. "Parkside North will enrich The Beach experience for our students. This will allow us to increase the indoor/outdoor space for our students that will inspire and facilitate collaboration, community building and creative thinking." 
Parkside North, located at the far northwest corner of campus along Atherton Street, was designed by Gensler Architects with high sustainability goals, maximizing the natural elements and emphasizing the university's responsibilities to the planet, while adhering to the campus's mid-century modern aesthetic. The building will create as much renewable energy as it uses and features reclaimed water and a solar rooftop terrace that aims toward reaching the CSU's carbon neutrality 2030 goals. 
The building will save 1 million gallons of water each year, equivalent to two Olympic-sized pools and increase energy through its solar panels from 1.2 kilowatt hours to 1.3 kilowatt hours. 
It is the CSU system's first net-zero energy Living Building Challenge Petal Certified residential building. Parkside North has been designed to meet three of the seven petals - Energy, Beauty and Place, said project manager Matt Grant. 
The Energy petal focuses on maximizing free solar energy through the building's orientation for use during daylight hours in interior spaces.
The Beauty petal celebrates the culture and spirit of its location. Parkside North embraces "this is sustainability in Long Beach" mantra, according to Grant. This petal requires providing a case study, website and annual site tours, and educational tours for the public about the benefits of a high-performance building. 
The third petal, Place, requires the building to have a sustainable development, such as avoiding and respecting natural resources (wetlands, old-growth forests, prime farmland). 
On-site renewable energy is provided by the solar canopy built above the roof terrace area, as well as utilizing energy from existing solar canopies in Parking Lots G6-G9. The roof top solar canopy provides shade to the roof terrace seating area. 
The building will also offer pod study rooms, kitchens, multiple levels of community space and outdoor courtyard space. Parkside North is situated around two courtyards that offer students outdoor social as well as study areas. 
Laundry facilities and a large multi-purpose room are located on the first floor. Double rooms and suites are available. 
Vice President of Student Affairs Beth Lesen called the building a milestone in CSULB's history. The additional beds will increase the on-campus student resident population to nearly 3,200. 
"The number 3,000 indicates critical mass and Parkside North puts us over that threshold … and that shapes the campus culture in powerful ways," Lesen said. "To what was once a commuter institution to a 24-hour, 7-day-a-week hub of perpetual activity. 
"We will now have just shy of 3,200 students living on campus breathing life into every corner around the clock."