CSULB's new Hillside Gateway building raises the bar for sustainability
Published November 19, 2021
Living near the new Hillside Gateway Courtyard has given first-year Cal State Long Beach student Jack Taugher a community of friends and activities. There are numerous places to hang out, eat, study and play games, such as foosball and ping pong. 
"I really like foosball," he said. 
What Taugher might not realize is the high standard of sustainability factored into the new Hillside Gateway Courtyard, which comprises Hillside Commons and the Housing and Residential Office buildings. Both were revealed Thursday in a ribbon-cutting ceremony. 
"The opening of Hillside Gateway is a milestone moment for our campus for so many reasons," said President Jane Close Conoley. "To call this building unique is not enough." 
"Hillside will be one of the most efficient, sustainable buildings in the world. This is something Long Beach and our region should be proud about." 
Image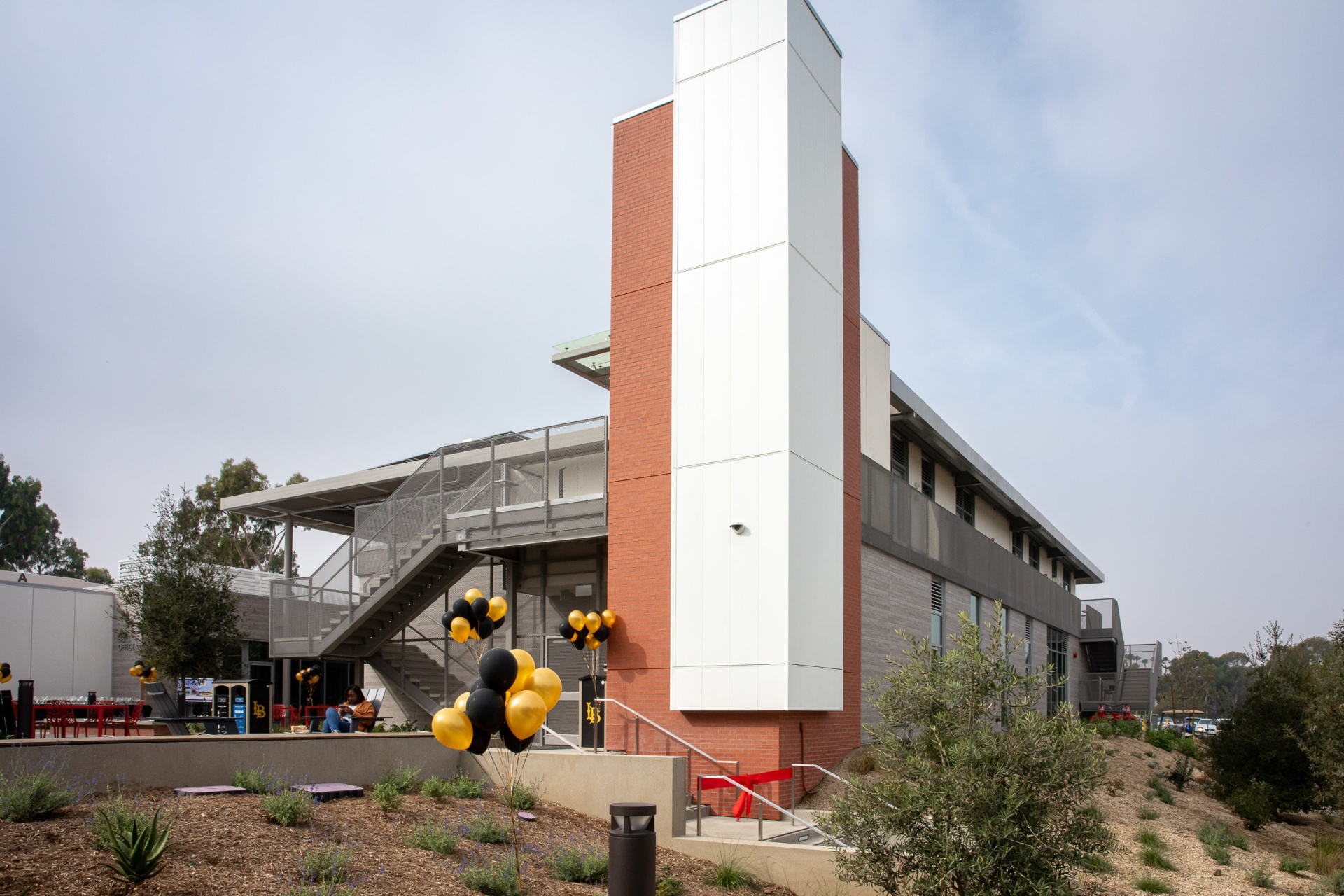 Hillside Commons is one of only 30 buildings worldwide to meet the Living Building Challenge - one of the most ambitious green building standards in the world - according to Corry Colonna, executive director of housing and auxiliary services. The LBC Standard consists of seven categories, known as "petals": place, water, energy, health & happiness, materials, equity and beauty.  
Noticeable elements in and around Hillside Commons are the bioswale (a gutter used to collect rain water) and the use of reclaimed water; solar panels; public art; universal accessibility; drought-resistant plants; the use of natural light and the chemical-free materials used in the construction. 
"This was a huge undertaking," Nathan Kim, of Gensler Architects, said of the self-sufficient two-story building that blends nature and community. "We have met the seven benchmarks, or petals ...  the most rigorous standards in building." 
Conoley called the building and surrounding area "a living laboratory" where students can learn about environmental techniques. 
"With this building, we are taking our commitment to sustainability to the next level," she said. "There are only 29 other buildings in the world that have met the Living Building Challenge - to have utilized the leading-edge technical knowledge and advanced practices in green buildings to achieve the kind of actual real-world performance." 
The two nearby residential halls that were built in 1959 - Los Alamitos and Los Cerritos - were updated as well with an energy-efficient HVAC system, new luxury vinyl tile, paint and contemporary furniture. There also are new study spaces, an elevator for greater accessibility and state-of-the art kitchens.  
"They were built in 1959 but now they feel like 2021," Colonna said. 
Los Alamitos also has a staff office and counseling-in-residence program. 
Now, students can visit Hillside Commons, which replaces Hillside Service Center, to pick up their mail, check out kitchen and gaming equipment and use the wellness room. Music students will even find practice rooms in the building. 
On the second floor of the Commons are five apartments for Housing, Residence Living staff, allowing them to be closer to students in case of emergencies. 
"These improvements will have tremendous impact on our students' lives every day with counseling and honors classrooms," said Beth Lesen, vice president of the Division of Student Affairs. "We are paying attention to the way our students live and helping them to that honestly and successfully." 
Much of the construction was done during the pandemic, when the students were not on campus and much of the world shut down. 
"What you see in front of you is a raging success that could only have happened because President Conoley continued to put the needs of our students at the center of our decision-making even when things were nerve wracking and unsure," Lesen said.