Shenaya Yazdani Places 2nd in the 35th Annual CSU Student Research Competition!
Pre-Industrial Design Freshman Shenaya Yazdani placed Second in this year's 35th Annual CSU Student Research Competition in the Creative Arts and Design category!
Shenaya braved through and conqurered this multi-phase competitive process that ran outside her regular course load of assignments and set the bar for future design students!
For this university sponsored competition, students from Lecturer Michael LaForte's Spring 2021 two sections of Design 255: 2D Computer-Aided Graphics classes were challenged to evaluate and reflect on design work they've produced previously and marry it to a meaningful contemporary humanitarian concern, using at least one of the 17 (currently) UN Sustainable Development Goals as corresponding conceptual anchor. Students had little over a week to respond! Talk about "crunch time"! From a roster of 29 students, 12 were selected to advance to the in-person presentations. For various reasons five opted to withdraw, leaving a short-list of seven designers who put together a 5-8 min video presentation of their work and took part in a Juried Q&A session in March, competing against other submissions from across the College of the Arts (COTA).
Among an array of impressive work from not only our own design students but across COTA, Shenaya's submission, 'Coming Home' Refugee Shelter Design was ultimately selected to represent CSULB at the systemwide CSU competition against entries from all 23 campuses. Finalist presentations with a Q&A were held online via zoom on Friday, April 30th.  
Shenaya summarizes her project, "Inspired by my mother's refugee journey to the United States and the 26 million refugees worldwide, I designed the "Coming Home" refugee shelter. This shelter design provides a sense of comfort and acceptance for those fleeing their homes, while taking into consideration struggles faced by refugees."
Feel free to watch Shenaya's complete video presentation here!
---
Image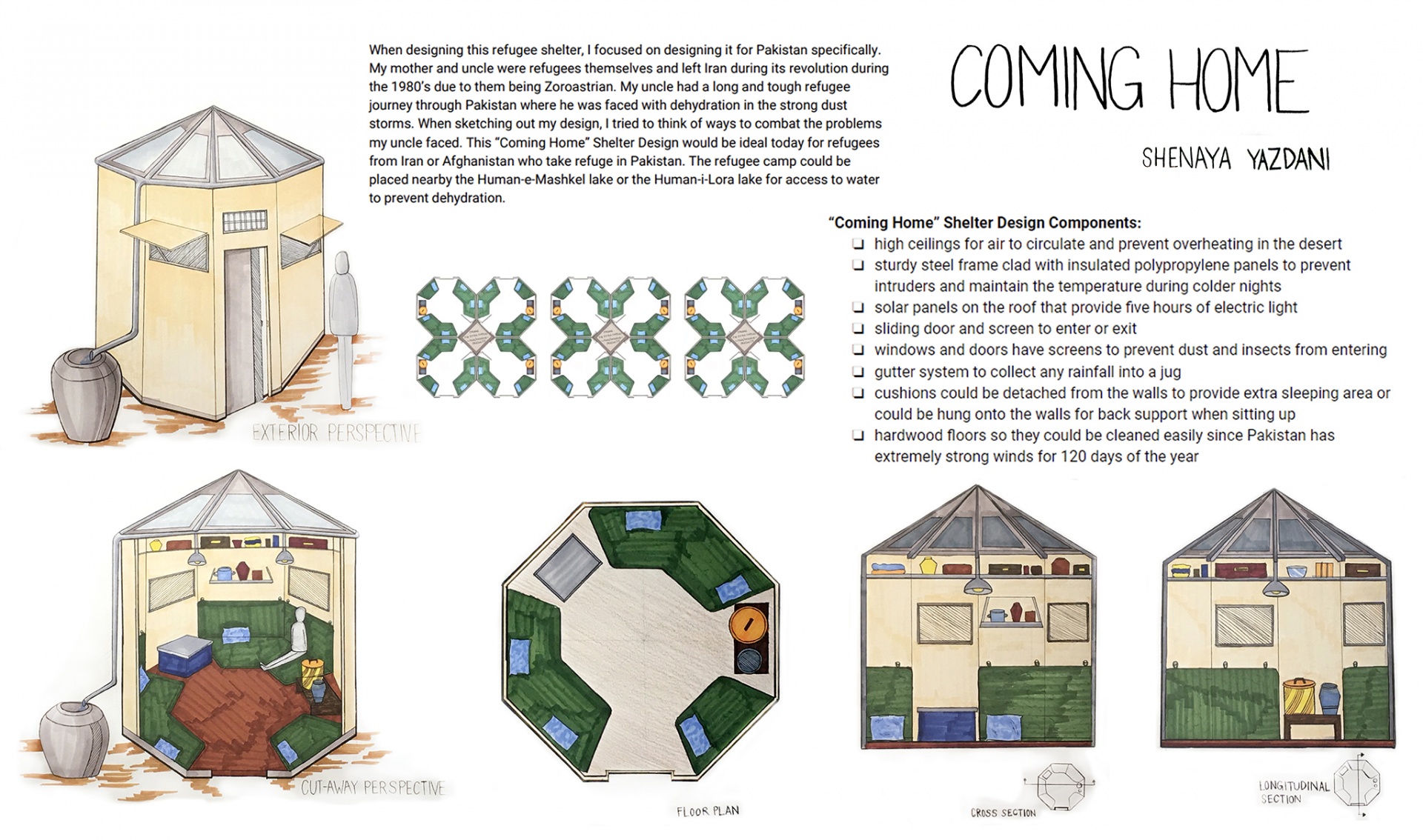 ---
We in Design extend our gratitude to the volunteer jury members at both CSULB and CSU events who spent many hours of their time hearing a wide range of entries, and gave meaningful and genuinely engaging thought to their questions.